Kyle Orton vs. Vince Young as the Next Miami Dolphins Quarterback
July 24, 2011
Christian Petersen/Getty Images
So much passion. So much debate. So much focus over who could lead the Miami Dolphins back into AFC East championship contention or, even the playoffs! So much is being said over one position that can make or break an NFL organization. 
Now the Miami Dolphins know what they had in the magnificence of Dan Marino. And the front office is still trying to figure out how to fill Marino's position.
Most did not like Jay Fiedler, I personally enjoyed watching him. He always broke my heart, but he kept me engaged. I was a fan of Fiedler to the point that I still have the Sports Illustrated article with Jay on the cover after the Dolphins came back to beat the Oakland Raiders. 
Because of the NFL lockout, I believe that Chad Henne is a decent option, "decent" being the defining word. It's hard to root for him because he looks exactly like the quarterback he was at Michigan: shows signs of greatness mixed in with major setbacks which make me want to jump through my living room window. 
Now, there's been a ton of arguing....errrrr....discussion about who the Miami Dolphins may pursue once the lock out is over. Many are clamoring for a younger, franchise-type player (somebody to build around). Others want a veteran, Chad Pennington-type who is established and has great accuracy and leadership qualities but, maybe, his finer days in the NFL are past him. 
Which leads us to the Kyle Orton vs. Vince Young debate. Personally, I like 'em both. I think Brandon Marshall would be happy with Kyle Orton for obvious reasons (21 catches, 202 yards, two touchdowns versus Indianapolis).
Again, personally, the numbers don't lie. I think that there are several considerations which we have to consider when choosing one or the other: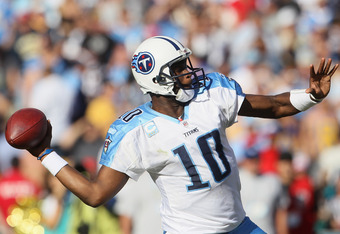 Jeff Gross/Getty Images
1. Does the Quarterback Fit the System?
Tony Sparano is obviously no Don Shula. One of the coaching dimensions which made Shula so great was to develop a system of offense or defense based on the talent he had. This is where Sparano is vastly different. Sparano is a run-first coach. He sees the game from a run-first dimension from quarter one to four. 
Now this is where Vince Young probably fits better with Sparano's system. Kyle Orton fits well into a spread type offense with short to mid-range passing (this doesn't mean he doesn't have a great arm, he can throw deep just fine).
Orton ran a pass-first system at Purdue. Kyle Orton is a New England Patriots kind of system quarterback. Vince Young can run the multidimensional run-first offense Sparano is looking for.
Winner: Vince Young. 
2. Who Is the Better Leader?
Without a doubt, we have to go with Kyle Orton. He's shown more cool and collected-ness on his teams. He's been in quarterback controversies, he's been discarded, forgotten about and underestimated. And, yet, he continues to play at a strong level.
He continues to show the strong personality needed to play quarterback. He knows how to manage a Brandon Marshall.
Vince Young is moody and, at least last year, unstable. I think his Miami Dolphin teammates would support him. I think his receivers would stay in stride with him. Young doesn't need to have a big personality on this team.
Winner: Kyle Orton.
3. Stats
Vince Young: 42 touchdowns, 42 interceptions and 8,098 yards in six seasons. This is while playing with an incredibly gifted Chris Johnson. VY has over 1,300 yards rushing and 12 touchdowns. This simply shows his running game ability. 
Kyle Orton: 71 touchdowns, 48 interceptions and 12,774 yards in seven seasons. This is without much help from the running game in Denver's offensive system.  I will not bother with Orton's rushing stats, only to say that his last year in Chicago he had a monster year as he had three rushing touchdowns. 
Winner: This was a bit of a tough decision because of Young's ability to rush the ball. If Young had seven years he would need 17 touchdowns to equal Orton's numbers which is completely possible. However, Young's turnover number would also be higher (unless he never threw an interception or fumbled the ball).
I'm going to go with KYLE ORTON AS THE WINNER BECAUSE HIS NUMBERS ARE CURRENTLY BETTER. HOWEVER, I'm going to leave an asterisk here because Vince Young is a double-threat, leaving the possibility for touchdowns through the air and on the ground. 
4. Who Will Give Them the Best Chance to Win Now?
Isn't this the real question? Isn't this the reason why the Fins would give up draft picks to get Kyle Orton. Frankly, the Dolphins need a quarterback who resembles Kurt Warner. This is the kind of quarterback the Dolphins are really looking for: under the radar and largely underrated.
However (and this is a huge however), VY can bring playoff experience with him. He is familiar with playoff pressure while competing for a Super Bowl. Young best fits the Dolphins offensive system, Orton has the better stats.
Winner: Vince Young. (A head coach wants to preserve his job. Tony Sparano must be consistent with his offensive style of play.)
5. Finally, Who Brings the Least Baggage and Why Does This Matter?
It matters because leadership at the quarterback position means so much in the direction of a team. Think Aaron Rodgers, right?!? A quarterback who can navigate through the mental and emotional ups and downs of a game and, even more so, a season.
Kyle Orton has had head coaches ignore him, despite his performance. He's never publicly wavered in his desire to be a starting quarterback.
Vince Young...wow, well. He's been a depressed prima donna in the NFL. He's had a head coach grow tired of his antics and he's lost the confidence of his team. Vince Young has to prove his mental stability to his next employer.
Winner: Kyle Orton by a landslide.
It seems like we've got Kyle Orton as the winner simply according to the a few criteria in which I consider important when playing quarterback. The Dolphins are a quarterback starved team. They were really hoping that Chad Henne would take advantage of starting at such a young place in his career. This hasn't happened. 
Personally, not surprising anyone, I think that Vince Young is still the best option for Miami at quarterback. I've written several articles on why that's so. However, I would be thankful for either. I've always liked Kyle Orton and followed him when he was lighting up the college ranks at Purdue. 
Tell me, what do you think?