SF Giants Trade Rumors: Why They Should Not Trade for Carlos Beltran
July 24, 2011
Ronald Martinez/Getty Images
The defending champion San Francisco Giants are once again in prime position to make a deep run in the playoffs. Rumors have been flying that they are interested in finding some help for their pedestrian offense, which ranks near the bottom of the NL in runs scored, home runs, batting average and OPS.
Easily the best hitter on the market for the trade deadline is New York Mets outfielder Carlos Beltran. Beltran, at 34, has had a resurgence of sorts this year, batting .291 with 30 doubles, 15 home runs, 63 RBI and an OPS of .913 after having struggled the past two years due to injury and inconsistency.
The Giants are rumored to be one of the top contenders for Beltran's services, according to this tweet from ESPN's Buster Olney on Friday, July 22nd.
Obviously, this would be a great fit for San Francisco this season. They get what would become their best, and most feared, hitter for the stretch run in what could be a chance at back-to-back World Series championships, something that hasn't been done since the New York Yankees back in the late '90s.
Look back at the first sentence of the previous paragraph. Want to know what the key phrase is? "This season." Those two words are exactly why the Giants should not make a deal for Beltran. Allow me to explain...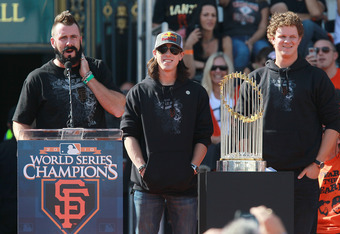 Justin Sullivan/Getty Images
New York is going to be asking for a pretty penny for Beltran, as well it should. He's clearly the best available hitter (at least publicly) on the market, and quite a few teams, as Olney tweeted, are interested in his services. The Mets will probably want at least one top prospect, maybe two, if they up their asking price, in exchange for his services that will last all of two or three months depending on how well his new team fares.
For the Giants, that probably means dealing a combination of Brandon Belt, Gary Brown and Zack Wheeler.
Beltran's contract is up at the end of the year, so he will be a free agent, and at 34, a long-term contract shouldn't be the best thing for teams to consider unless they're desperate. Nothing against Beltran. He's having a fantastic season, and I'm happy to see he's made a comeback to the player he once was, but signing him to a long-term deal would be a poor decision due to his age and injury issues.
Giving up one or two of their best prospects for a two- or three-month rental player is not the best decision long-term for the Giants. San Francisco has built its club around guys from its farm system in Tim Lincecum, Matt Cain, Brian Wilson, Buster Posey and Pablo Sandoval. Clearly, their scouts and minor league coaches know what they're doing and are getting fantastic results.
Sure, the Giants have acquired players to help their club, but they've done so either via free agency or in trades that didn't involve giving away their top prospects in the way they would if they dealt for Beltran. Stick with what works, and what the team has been doing the past few years has clearly been working.
Also, it's not like their core is old. Their oldest core player is Wilson at 29, and for all we know that beard might make him immortal. When those prospects that they'd give up to rent Beltran are ready for the majors, guys like Lincecum will still be there and in their primes. Instead of having a window for a championship this year, they'd have a larger window in the near future.
Now, if this were a team like Pittsburgh, Kansas City or Cleveland, then I would say absolutely. Go for it. Why? Because those fanbases are begging for a winner in October. Pittsburgh and KC haven't sniffed playoff baseball in decades, whereas Cleveland just needs to win a championship so the city can rest in peace.
The Giants, on the other hand, won the World Series last year. There's no reason for them to feel the desperate urgency to get into the playoffs because they were there last season. The monkey is off their back for a few years.
Considering the NL West isn't that strong anyway (sorry, Arizona), it'd be a shocker if the Giants didn't win the division—and as last season's playoffs showed, anything can happen come October.
Would it hurt the Giants to go out and get some help for their offense? Absolutely not, but there's no reason for them to sacrifice a bright future by trading some of their best prospects for a rental player.