St Louis Rams: Will We Witness the Greatest Show on Turf, Part 2?
July 23, 2011
Dilip Vishwanat/Getty Images
Whenever I go back to my parent's house, regardless of how short of time I am there, I always tend to go through my old room. 
As I dig through boxes and drawers I typically come across numbers of trinkets that remind me of the simpler times of my childhood: pokemon cards, Madden for Nintendo 64, my old baseball gear and a collection of sports cards that still make me beam with pride. 
I'll smile as I wipe the dust off my Joe Montana holographic or pull my Shaun Alexander card, complete with a piece of a game used football, out of its case. 
There was a time where I could probably go on a rant for a couple of hours explaining all of the rare cards I have in my possession. 
This weekend I was going through a chest I'd searched several times when I noticed that a blue binder had fallen behind it.  I didn't think much of it, figuring that it was just a school binder that had fallen behind sometime in between my visits. 
When I went to open the binder however, it immediately clicked in my head what I had just stumbled upon: a binder containing every St Louis Rams card I ever owned. 
The first page was filled with Kevin Curtis, Marc Bulger, Mike Jones, Leonard Little and other Rams I'd passionately cheered for over the years. 
I flipped through the pages, laughing at my Tony Banks rookie card, groaning at my Eric Crouch card and getting wide-eyed when I saw that I had a Steven Jackson college card, not a rookie card, but a card that recognized him solely as an Oregon State running back. 
I was pretty happy about the rediscovering of the binder already, but then I flipped to the last section.  Before me there were rows of Kurt Warner, Torry Holt, Az-Zahir Hakim, Isaac Bruce, Marshall Faulk, Ricky Proehl, heck, even Trung Candidate took up a single space. 
It was about five pages of cards just dedicated to The Greatest Show On Turf, arguably the greatest offense to ever grace the field of any sport.
The offense that set the team record for points scored in 1999 with 526 points only to break their own record the next season with 540 points. The offense that took the team to two Super Bowls in three seasons.
The offense that was led by a man who a short while earlier was stacking groceries at Hy-Vee Supermarket.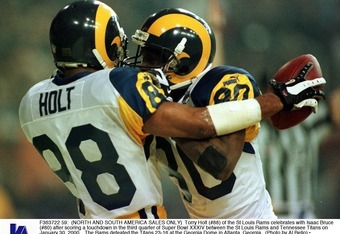 Al Bello/Getty Images
The cards not only caused me to reminisce; they caused me to wonder about the future. 
I thought of Sam Bradford and all the talent he showed in his rookie season.  Then I thought of Steven Jackson and everything he has meant to this organization since coming over from Oregon State. 
Then I took a long, hard look at Josh McDaniels and his spread offense, and I continued to wonder. At some point in the future, near or distant, does this team have what it takes to be the second coming of the Greatest Show on Turf? 
The following is what coursed through my head on this beautiful Saturday night.
Quarterback
TGSOT (Kurt Warner):
Kurt Warner was everything you could want in a quarterback.  He possessed a strong, accurate arm capable of making difficult throw after difficult throw.  His ability to remain calm in pressure situations was outstanding, and his confidence proved absolutely unbreakable. 
It was always a pleasure to watch Kurt Warner lead an offense, regardless of what jersey he was wearing when he did it.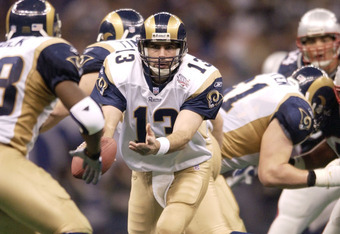 Ezra Shaw/Getty Images
Present (Sam Bradford):
Watching Sam Bradford grow is going to be a whole lot of fun.  He possesses an ultra-accurate arm with enough strength to make plenty of impressive throws, a skill that was on display on numerous occasions throughout his rookie season. 
It is difficult to say for sure how good of a quarterback Bradford will be in the NFL since he was protected by the conservative play calling of Pat Shurmur all throughout 2010, but all signs thus far are positive. 
He throws a pretty deep ball and his ability to keep himself collected was as impressive as can be.  Many experts have stated that Bradford has a good chance of being the next great NFL quarterback, and should that hold true, the Rams have their biggest piece of "The Greatest Show On Turf: Part 2" all figured out.
Are the pieces in place? Yes
Running Back
TGSOT (Marshall Faulk):
I always felt like Faulk was the most important part of TGOST.  There was nothing that Faulk couldn't do with a football in his hands and excitement levels all across the crowd would leap the second the ball went anywhere near the running back. 
His blend of speed, agility, vision and just about every other ability a running back should have made him one of the most dangerous threats in all of football. 
Faulk appears to be one of those players that will be impossible to replace.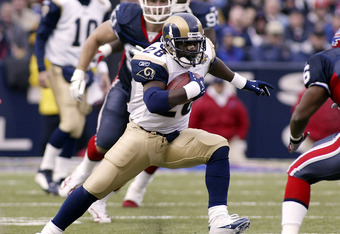 Rick Stewart/Getty Images
Present (Steven Jackson):
As talented as Jackson may be, it is difficult to say he'll be as effective for much longer.  If the Rams do ever see their way through to becoming the TGSOT: Part 2, Jackson may find himself either in a mentor role or recently retired. 
As it stands though, Jackson is the best player on the entire offense, similar to how Faulk was during his reign.  He possesses impressive strength and adequate speed. 
His leadership ability and toughness is unquestioned and if the Rams were to become a feared offense sooner rather than later, Jackson would be at the center of all of it.
I predict however that when the Rams' offense does reach their peak during the Bradford era, someone else will be manning the backfield. 
Are the pieces in place? Near future, yes.  Distant future, no.
Wide Receiver
TGSOT (Isaac Bruce, Torry Holt, Ricky Proehl, Az-Zahir Hakim):
A receiver set loaded with talent, it is easy to see how Warner racked up so many passing yards throughout his time in horns.  Bruce and Holt were about as reliable as receivers as you can have on the outside, both blessed with reliable hands and precise route-running skills. 
Proehl was an incredibly clutch slot receiver, picking up key touchdowns in the 2000 NFC Championship win over the Buccaneers and Super Bowl XXXIV against the Tennessee Titans. 
Hakim was also incredibly effective as a slot receiver, racking up 2,000 yards in his time as a Ram.
Present (Mark Clayton, Donnie Avery, Danny Amendola, Danario Alexander, others):
This is where you'll see the biggest talent drop-off between the teams of TGSOT era and the present team.  While the Rams current set of receivers is manageable, it certainly isn't ideal. 
They lack a true No. 1 receiver, and while there is potential amongst the group of pass catchers, it is difficult to imagine a scenario where they have the talent equivalent to that of TGSOT. 
Although a lot can happen between now and the peak of the Spagnuolo/Bradford era, they do not have the right pieces at the moment.
Are the pieces in place? No.
Offensive Style
Both Mike Martz and Josh McDaniels are known as offensive geniuses, with Martz running a more complex scheme.  Both systems rely heavily on the passing game, spreading out the field and utilizing several different receivers. 
Many quarterbacks have thrived in the coaches' systems, including Tom Brady, Kurt Warner, Marc Bulger and Kyle Orton.  The Rams would've never maxed out their offensive productivity with a conservative play-caller such as Pat Shurmur leading the charge. 
With the hiring of McDaniels, they take a giant step towards becoming one of the most feared offenses in the league again.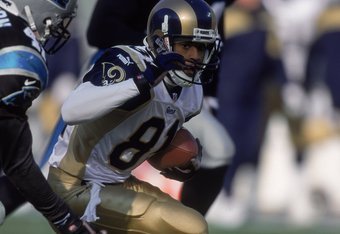 Scott Halleran/Getty Images
Are the pieces in place? Yes
So, can we expect to see another reign of offensive dominance? It is difficult to say really. 
The absence of stellar receivers and a running back for the distant future doesn't have the team set up for a long run of dominance.  Danario Alexander and Danny Amendola should develop into very productive receivers, and rookies Greg Salas and Austin Pettis's abilities at the NFL level are yet to be seen.
If the team can find an heir to Steven Jackson and pick up a dangerous receiver along the way, they'll be well on their way.  Although I wouldn't be surprised if many Ram fans feel the same way I do when it comes to the subject.
No matter how great of an offense this team may develop over the next few seasons, there will just never be another Greatest Show on Turf.