The 30 Worst Teams in NFL History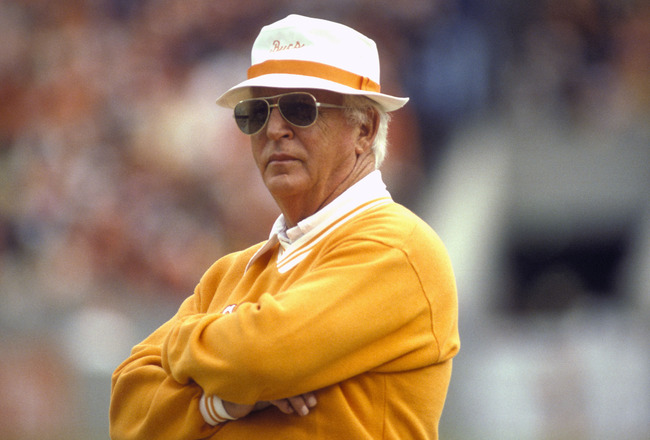 A. Messerschmidt/Getty Images
It's time to break out the paper bags.
Some of the most memorable teams in annals of the NFL are also some of the most putrid. These clubs had the personality of a car wreck: an ugly sight but too tempting to look away.
This is a list of the 30 worst teams over the course of a single season in professional football.
Get ready to plug your noses...
30. 1982 Baltimore Colts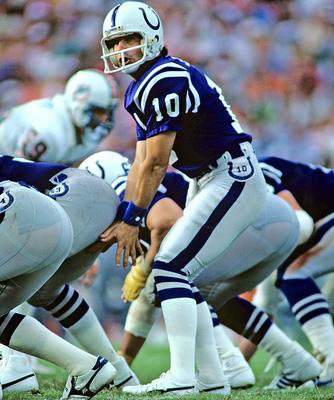 Courtesty of SI.com
Thanks goodness for a strike-shortened season in 1982. Otherwise, that year's version of the Colts would have prolonged the pain for their fans in what turned out to be an 0-8-1 effort.
Baltimore was last in offense, as 22-year-old Mike Pagel struggled to the tune of seven interceptions and just five touchdowns. Fellow rookie Art Schlichter didn't fare much better.
By having the worst record in football, the Colts had the opportunity to solve their QB issues. They went ahead and drafted John Elway, who didn't want any bit of the Baltimore misery and forced a trade to Denver.
29. 1946 Detroit Lions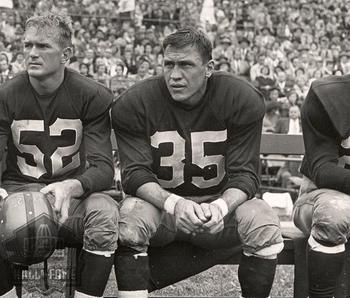 Courtesy of the Pro Football Hall of Fame
Following a 7-3 effort in 1945, the bottom fell out for the Lions in 1946.
After losing close contests to the Redskins and Packers, Detroit managed its only victory against the Pittsburgh Steelers on Nov. 10.
That was little consolation, as the Lions crumbled to a 1-10 finishing mark.
28. 1992 Seattle Seahawks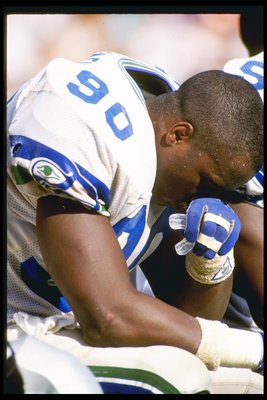 Chris Covatta/Getty Images
In 1990, the Seahawks were 9-7. Then things slowly went south in the pacific northwest. Seattle and head coach Tom Flores beat the lowly Patriots in the third week of the 1992 campaign by a score of 10-6.
Whatever enjoyment that might have brought went away with a string of eight straight defeats. That drought ended with an overtime win over Denver on Nov. 30. But that was it for victories in 1992, finishing 2-14.
The Seahawks' undoing was their offense—one that was ranked 28th in the NFL and never posted more than 17 points in a game.
27. 1961 Washington Redskins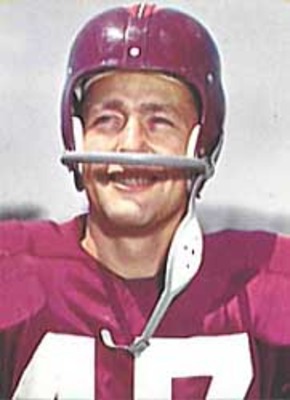 Courtesy of SportsEncyclopedia.com
After going 1-9-2 in 1960, it seemed as if the only way you could go was up. But leave it to Redskins to ruin that notion.
Bill McPeak's club went winless in the first 13 weeks of the 14-week regular season, which included a 28-28 tie with the Cowboys.
Then, in their last chance to post a crooked number in the "W" column in 1961, the Redskins, for once, came through with a 34-24 triumph against those soon-to-be bitter rivals from Dallas.
26. 1966 New York Giants
Courtesy of Artelics.com
The 1966 season got off on an indifferent note for New York. But any indecision one had about how the Giants were going to do that year would be solved after watching the remainder of the regular season.
A 34-34 tie on the road in Week 1 against the Pittsburgh Steelers was followed by a 52-7 thrashing at the hands of the Dallas Cowboys one game later. Big Blue then broke through with a victory against the Redskins on Oct. 16. That was followed by an eight-game swoon to end the season.
The defense, once the pride and joy of Giants football, was awful. They gave up 501 points in 14 games, including allowing 72 to Washington on Nov. 22.
25. 1986 Tampa Bay Buccaneers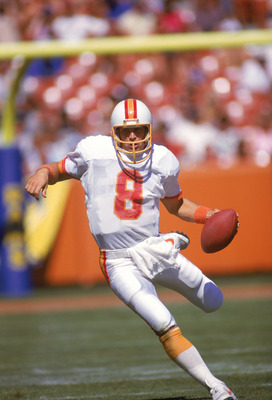 Stephen Dunn/Getty Images
The '86 Bucs are a prime example of how it takes more than just a good quarterback to even have a decent club.
Steve Young, a standout at BYU and a star in the USFL, had severe difficulty leading an inept Tampa offense.
The defense didn't help matters, either, as they allowed nearly 30 points per game.
The end result was a 2-14 record, and Young's ticket to San Francisco.
24. 2000 San Diego Chargers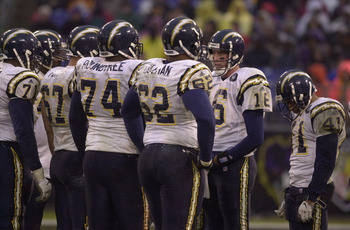 Doug Pensinger/Getty Images
When the Chargers drafted Ryan Leaf in 1998, they envisioned winning seasons and playoff appearances.
The 2000 season affirmed their worst fears of this all-time bust. Leaf only started in nine games but proved lousy enough (18 INTs, 11 TDs) that he was removed for 37-year-old Jim Harbaugh.
San Diego avoided imperfection with a 17-16 squeaker of a win over the Kansas City Chiefs after losing its first 11 contests. The Chargers then returned to form by losing their final four games.
23. 1967 Atlanta Falcons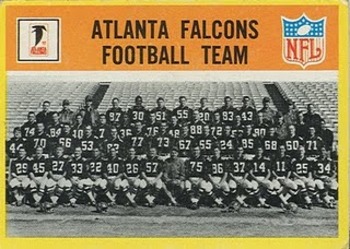 Courtesy of 1967fbcards.blogspot.com
Norb Hecker was giving the impossible duty of trying to win with the expansion Atlanta Falcons. In all, he went 4-26-1 in just over two seasons. His "masterpiece" was 1967, finishing 1-12-1.
The Falcons were at the bottom of the barrel in both offense and defense. Their turnover differential was minus-12. And their quarterback was the lesser-known Randy Johnson.
Hecker saw his club succumb to losses of 38-7, 37-7, 49-7, 31-3, and 23-0. The Falcons were on the right side of the score when they trumped the Vikings 21-20.
22. 2001 Detroit Lions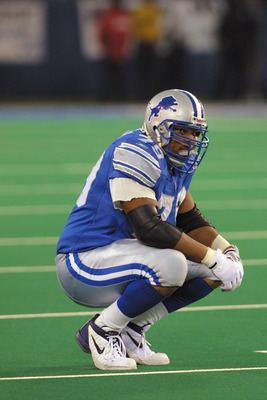 Tom Pidgeon/Getty Images
The Lions of 2001 nearly became the first team to rack up all "L"s, as they fell in each of their first 12.
Then, they won 27-24 over a Vikings team that eventually finished a slightly more respectable 5-11. The meaningless season finale with the subpar Cowboys saw the Lions triumph again. Not many teams have made 2-14 look so good.
This season was only a taste of things to come in Detroit.
21. 1971 Buffalo Bills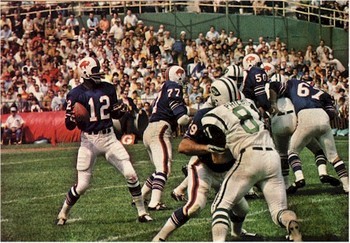 Courtesy of Lauriekendrick.wordpress.com
Despite having the likes of Heisman Trophy winner O.J. Simpson, the Bills were woeful.
In a 1-13 season, Buffalo's total margin of victory was minus-210, and its only win came against a New England Patriots club that eventually finished with a record of 6-8.
Statistically, the Bills were dead last in total offense and total defense. In addition, their takeaway/giveaway differential was minus-26.
20. 1984 Buffalo Bills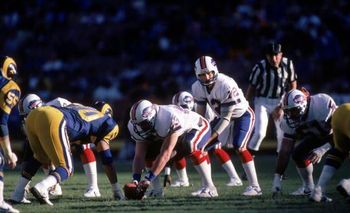 Courtesy of Buffalorumblings.com
Just 13 years later, the Bills were back on the bottom.
Quarterback Joe Ferguson threw 17 interceptions in 12 games played as Buffalo was ranked 25th in all of football in terms of total offense.
Defensively, they were offensive. Here's a sampling of some of the point totals allowed: 37 (twice), 38 (twice), 41 and 52.
The Bills lived in the cellar of the AFC East with a 2-14 mark.
19. 1950 Baltimore Colts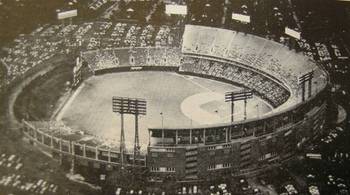 Courtesy of kilduffs.com
A terrible 1-11 regular season in 1950, the Colts' first year at Memorial Stadium and first in the NFL after spending three in the All-American Football Conference (AAFC), paled in comparison to the troubles off the field.
Financial strains forced the team to disband after the '50 campaign.
All would be better for Baltimore in the coming years, as it would get a new franchise with the same name starting in 1953.
18. 1999 Cleveland Browns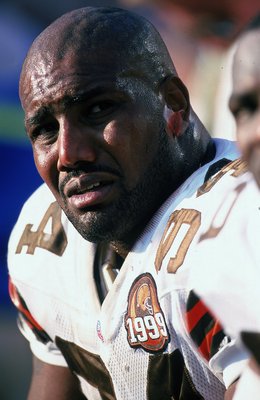 Tom Hauck/Getty Images
The passionate fans of Cleveland were overjoyed to see the NFL return to their city.
But after watching the new Browns go through their 1999 season, they had to wonder if they were actually watching professional football.
Luck was on Cleveland's side for win No. 1 when quarterback Tim Couch's Hail Mary in the final seconds was caught in the end zone by Kevin Johnson, giving the Browns a 21-16 triumph.
The only other "W" was a 16-15 decision over the Pittsburgh Steelers.
17. 1943 Chicago Cardinals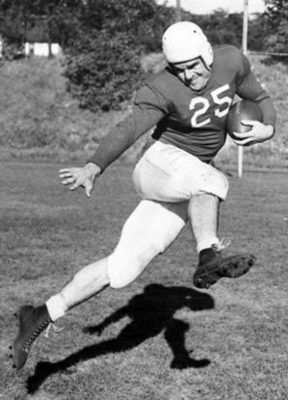 Courtesty of The Seattle Times
Granted, offenses were far more limited in 1943. Still, scoring just 9.5 points a game and being shut out three times out of nine can't be defended.
The Cardinals averaged nearly five turnovers per match throughout their 0-10 season. The final stumbling block came 35-24 loss to the cross-town foe Chicago Bears.
16. 1989 Dallas Cowboys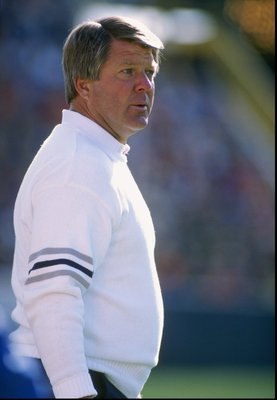 Jonathan Daniel/Getty Images
The 1989 Cowboys was far different from that of 1988. First off, there was a new owner in Jerry Jones. Next, Tom Landry—the only coach the franchise had ever known—was out.
Landry was replaced by Jimmy Johnson. And while this turned out to be a multi-ring move down the line, it was a bumpy road.
In Johnson and Jones' first year at their respective helms, Dallas went 1-15. It's rookie quarterback, Troy Aikman, lost all 11 games in which he started.
15. 2007 Miami Dolphins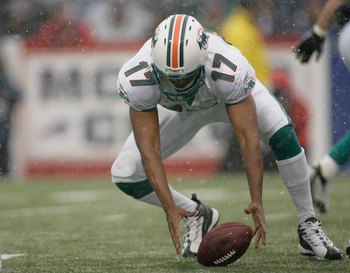 Rick Stewart/Getty Images
It may be the only season in which Cam Cameron is an NFL head coach. And boy, what a way to go out.
The Dolphins lost their first 13 games. The countdown to 0-16 was on.
Then came an overtime victory at home against the Baltimore Ravens that, for one day in a season of sorrow, put a smile on the faces of Miami fans.
The grim facts remain that the Dolphins ranked 30th in points allowed and 31st in point differential.
14. 1981 Baltimore Colts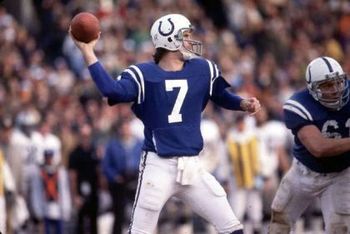 Courtesy of IFQB.com
The Colts hold the distinction of being the worst 2-14 of all time. There are a few reasons why they belong ahead of other one-win and no-win clubs.
The first is the fact that their victories—which came in the first and final games of the season—don't hold much water. Both narrow wins came against the New England Patriots, who shared the basement of the AFC East by holding an identical record as the Colts.
Secondly, take a look at the numbers. Baltimore lost by an average of 17 points. It was ranked last in points allowed (533) and third-to-last in points scored (259).
13. 2009 St. Louis Rams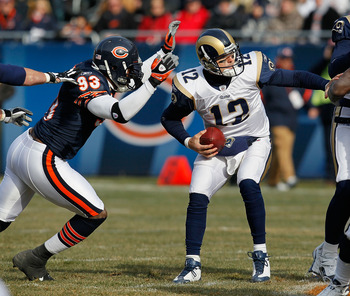 Jonathan Daniel/Getty Images
Head coach Steve Spagnuolo had a rough go of it in his first season, going 1-15.
The lone victory came against a Lions club that outdid St. Louis by just one in the win department in '09.
One good thing did come from this. The rights to the No. 1 pick. That turned out to be Oklahoma QB Sam Bradford. And the early returns indicate that St. Louis won't be returning to the drudges of 1-15 any time soon.
12. 1942 Detroit Lions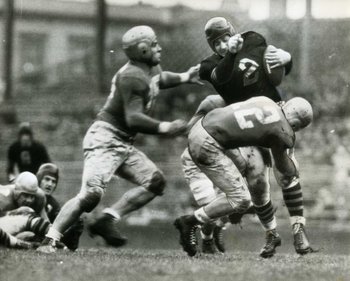 Courtesy of Fanbase.com
Just when you thought you'd seen enough of the Lions, they've arrived again on this list.
While the Chicago Bears ranked up at the top of the NFL West with an 11-0 mark, the Lions had the inverse.
They were last in most major statistical categories. They were shut out five times and never reached scored more than seven points in a game. When you total it all up, it comes out to a 3.5 point average.
On the other side of the ball, they yielded 20 or more points in six of the 11 contests.
11. 1944 Chicago-Pittsburgh Carpets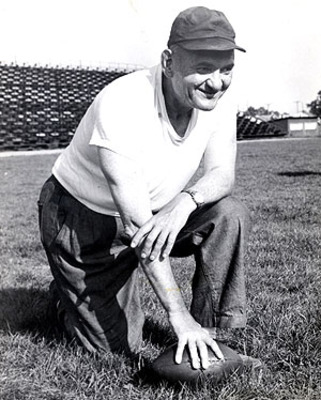 Courtesy of NFL.com
With many players off serving in World War II, several teams merged. One duo that fused was the Chicago Cardinals and Pittsburgh Steelers (nicknamed the "Carpets"), coached by Walt Kiesling (pictured above)
The experiment didn't go so well on the field, as they lost all 10 games in which they played.
Their point differential was minus-220 and the average turnover margin was minus-2.5 per game.
By next year, the merger was dissolved.
10. 1960 Dallas Cowboys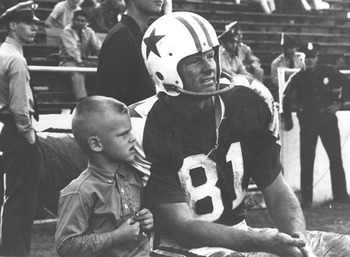 Courtesy of CowboyCards.com
For the franchise that would later be known as "America's Team," the Cowboys didn't showcase any winning ways out of the gate.
In its first season, Dallas went 0-11-1 under Tom Landry. They salvaged a slight part of the lost season by tying the New York Giants in the next-to-last week of the year.
9. 1996 New York Jets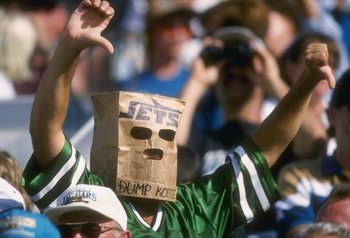 Andy Lyons/Getty Images
The 1996 version of the New York Jets may be the most disappointing of all the teams in the top 10. That's because this team actually had some reasonable expectations prior to the season.
They had top draft pick Keyshawn Johnson at wide receiver to go along with Neil O'Donnell at quarterback.
All of those positive thoughts went away very soon. The Jets lost 31-6 in the opener against the Denver Broncos. In fact, New York lost its first eight.
A 1-15 season led to the much-welcome firing of head coach Rich Kotite and the eventual hiring of Bill Parcells.
8. 2001 Carolina Panthers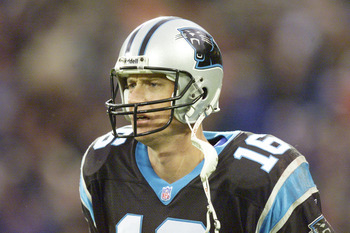 Craig Jones/Getty Images
George Seifert and his Carolina Panthers had a rosy outlook following a opening game triumph over the Minnesota Vikings.
But 1-0 would turn into a disastrous 1-15, and the Panthers were the first team in NFL history to put together a 15-game losing streak in a single season.
Carolina saw itself in many close contests, including two overtime affairs but was unable to pull out any additional victories.
The offense was limited to just 15.8 points a game and quarterback Chris Weinke sputtered in his rookie year.
7. 1952 Dallas Texans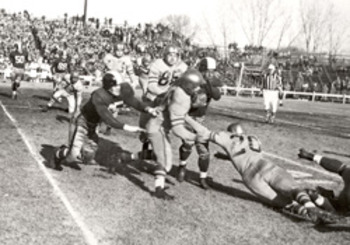 Courtesty of the Pro Football Hall of Fame
In history's judgement of the original Dallas Texans, there's just a single season to look at. That's because this incarnation was one and done in the NFL.
The team lost its first nine before a Thanksgiving Day meeting with the Chicago Bears. This game's site was moved to Akron, Ohio, where it was said that there were more players than fans.
Those that did attend saw the Bears fall on the short end of a humiliating 27-23 score–the only win in franchise history.
6. 1991 Indianapolis Colts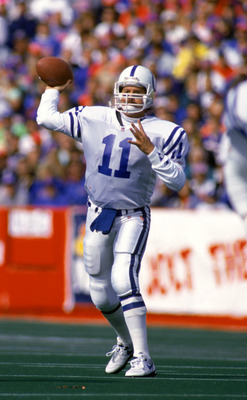 Rick Stewart/Getty Images
The Colts made Jeff George the top pick in the 1990 NFL draft. After a decent rookie campaign, George suffered through a sophomore slump in '91. And that disease must have spread throughout his entire offense.
Indy was paltry in its point totals. In the first nine games, the Colts were able to score more than seven points on just one occasion. In more than half of their games, they failed to post a touchdown.
A horrific offense was the catalyst in a 1-15 mark.
5. 1980 New Orleans Saints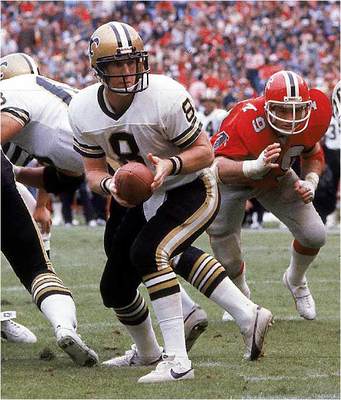 Courtesy of SI.com
New Orleans suffered through 21 consecutive losing seasons. The low water mark came in '80.
Archie Manning's talents couldn't help this group. The 'Aints—as they were less-than-affectionately called—saw its loss column escalate up to 14 without seeing a "1" in the win column.
This prompted fans to wear paper bags over their heads, starting a new fashion trend when watching dreadful football.
The 15th try proved to be the charm for New Orleans, as it escaped with a 21-20 win at the New York Jets. That winning streak lasted one game, as the Saints, as usual, fell in the season finale, putting the finishing touches on a 1-15 disaster.
4. 1973 Houston Oilers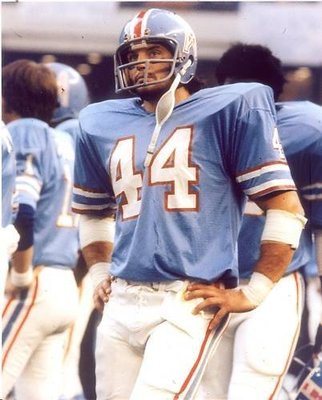 Courtesy of fanbase.com
The Houston Oilers went 1-13 in both the 1972 and the 1973 seasons. However, the latter was a worse effort statistically.
After five games, the team fired incompetent head coach Bill Peterson. His replacement, Sid Gillman, managed to lead them to the Oilers' only win over Baltimore in Week 8.
When all was said in done in '73, the Oilers gave up a whopping 31.9 points a contest and had a point differential of minus-248. Not surprisingly, both statistics were a league-worst.
3. 1990 New England Patriots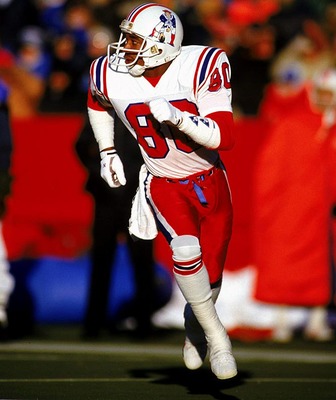 Courtesy of SI.com
A 16-14 win in Week 2 was the lone bright spot in a dark and dismal 1-15 season for the New England Patriots in 1990.
New England ranked near the bottom in both total offense and total defense.
The Patriots' off-the-field performance was equally despicable.
Lisa Olsen, a reporter for the Boston Herald, was sexually harassed by a number of players while conducting interviews after practice on Sept. 17.
To add insult to injury, general manager Pat Sullivan tried to cover the incident up. They would later be fined $50,000 by the league.
2. 1976 Tampa Bay Buccaneers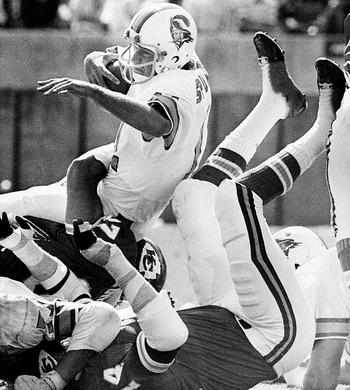 Courtesy of SI.com
In their first season, the expansion Buccaneers set the standard for inept football. Tampa Bay went 0-14 in 1976 as they scored just nine points a game, were shut out five times and their average margin of defeat way 20 points.
The Bucs were an abominable joke. And head coach John McKay always provided the punch line.
When asked about his team's execution, McKay replied, "I'm in favor of it."
The Bucs didn't win their first game in franchise history until late in the 1977 campaign—a stretch of 26 straight losses.
1. 2008 Detroit Lions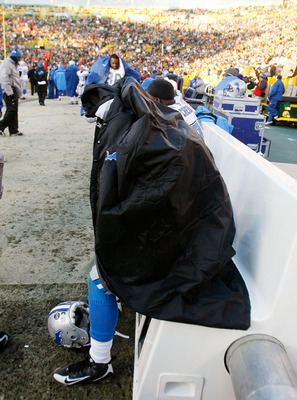 Jonathan Daniel/Getty Images
Presenting the king of stink. The '08 Lions.
This Detroit team, dubiously led by head coach Rod Marinelli, is the only NFL club to go 0-16. And that makes them the clear-cut No. 1 when discussing the worst team of all time.
Considering that the NFL is one of great parity, for one franchise—especially one that is not in its expansion—to lose every game in a season is a showing of ultimate futility.
Keep Reading