NFL/NFLPA: Could the NFL Lockout Actually Help the NFL This Season?
July 23, 2011
Chip Somodevilla/Getty Images
As we approach the conclusion of the NFL lockout, and fans can start to breathe easier about not losing a season, I began to wonder if the legal battle between the NFL and the NFLPA would harm the game we all know and love?
After thinking about it, I have come to the conclusion that it will actually probably help it.
Hear me out on this.
Normally, at least for me, the end of the NFL season, the Super Bowl is the biggest television event of the year. Though the excitement of seeing the two best NFL franchises battle in the ultimate championship in sports, it is sad to know that the NFL season is officially over.
It will be another six months before I am able to watch anymore football. I deal with it because the NFL keeps me preoccupied with distractions during the offseason.
First, we have free agency. Teams get better, teams get worse. Needs are filled, needs are created. As a fan of the Pittsburgh Steelers, I watch to see if any of their players are going to be leaving for other teams. I see who's been re-signed. What future free agents are they going to sign.
Then we have the lead up to the NFL draft. Mock drafts on every Web site you can find. Who is going where. Some people act like they have some idea of who is going where, only to be wrong on 19 out of 20 picks.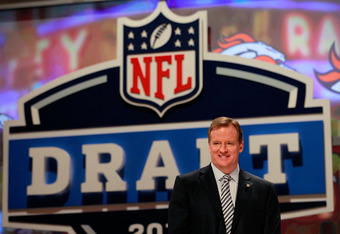 Chris Trotman/Getty Images
Compare that person with the "experts" and they don't do any better.
Next comes the NFL draft. Teams build for the future. Some trades are made, but for the most part, fans can begin to imagine what their team is actually going to look like come September.
We then get the privilege of watching those rookies meet with the rest of the team in the OTA events. Any injuries? Who is left as available free agents?
Then comes July. We start to hear about the rookie contract signings. Training camp draws near. Hall of Fame ceremony. 
Then it all starts. PRESEASON. It all begins again. Each team starts out at 0-0. Super Bowl aspirations all around.
This year, most of that has been taken from us. Sure, there was a draft, but that is about it.
No free agency.
No OTAs.
No contract signings.
Nothing.
To me, there seems to be a hunger for even more. I feel like I left the restaurant, without eating my dinner. To me, the offseason hasn't even really started yet. And July isn't even over.
What us NFL fans are about to experience, is something that no sports franchise has ever even come close to.
Due to the rules of the 2010 season, there are going to be near twice as many free agents in 2011 than there was in 2010. Players with more than four years experience will be unrestricted to move to what ever teams they want to.
Teams will be required to spend at least 90 percent of the available salary cap, so all of the teams that are $20-$30 million under the cap, are going to be required to spend that money.
As soon as players are signed, they are going to have around a week prior to the start of training camps.
Some people might not think that is a very big deal. But those people don't understand life outside of the NFL.
See, if a player signs with a new team, not only does he have to change teams, he has to get a new life. Find a new house to live in. If you have family, well, they certainly aren't going to be staying in the city you just moved from. New city that you have never lived in, means you don't know where the restaurants are, movie theater or malls.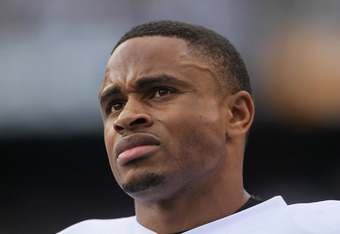 Jeff Gross/Getty Images
Your entire life changes. And all of this while you have to learn a new team, new playbook, new system and new coaches. And you won't have months to do it. More like days.
Not only will the teams have to sign the new free agents, they are going to have to sign their rookie draft picks as well. What about rookie free agents? Teams are going to be permitted to have up to 90 men on their training camp rosters.
With 90 players on each team, and most teams currently sitting at right around 50 players signed, that leaves 40 people per team (32 teams) for a grand total of 1,280 contracts that are going to be signed, not counting free agents.
And, once the NFLPA signs the new CBA, and re-certifies, this will happen within two weeks.
I look back at past years, and I think of the excitement of opening day. Can you imagine that being even more exciting?
From the first day of the league year, until the beginning of the NFL regular season, we are looking at about a month.
With the infusion of the NFL we are going to get, it will make the beginning of the regular season even more exciting.
Preseason games are actually going to mean something, because the better players that sign with new teams are going to need that practice time learning the scheme.
To me, there is a level of excitement that I have not known ever before in the NFL. I think I am actually more anxious now than I have ever been for the beginning of a regular season.
I think the NFL lockout may have actually helped the league in it's popularity. And I honestly didn't think that that would be possible.