NFL Free Agency 2011: Cleveland Browns Must Sign a Defensive End
July 23, 2011
Jim McIsaac/Getty Images
The Cleveland Browns MUST acquire an explosive defensive end in free agency in order to contend in the AFC North.
Dick Jauron's 4-3 defensive scheme is described as simplified compared to Rob Ryan's complex 3-4 scheme from 2010.  This means it's easier for the players to learn and execute, but at the same time, with simplicity comes predictability.  
Ryan's defense was anything but simple and it showed in the improvements that were made (29 sacks in 2009 increased to 40 in 2010 and 126 rush YPG decrease to 102 rush YPG in 2010). Given another year or two under Ryan's tutelage and personnel moves, who knows what could have been.
But that was then, this is now…  Water under the bridge.
Cleveland has subtracted the strength of its defense, its complexity (it confused Drew Brees and Tom Brady leading to upset Cleveland victories) and substituted simplicity.  As a result, there are glaring gaps needing addressing.
Situational players, more effective in the 3-4, become less important in a simple 4-3 system dependent on physical talent and tenacity, not football I.Q. or good character.

Wait, didn't Eric Mangini just almost finish building a system consisting of intelligent and high-character players?
The physical talents of this Browns defense, specifically the linemen, are lacking in both experience and in proven explosiveness.  The lack of a true pass-rush is apparent, especially in third-down situations.  
Opposing teams converted 43 percent of third-down attempts against the Browns in 2010, good for a league ranking of 27th (ESPN stats)!
Rookie draft picks Phil Taylor and Jabaal Sheard look to step in nicely and have all the makings of potential every down players in the NFL.  Robaire Smith claims to be ready to return at full strength, but even then, how explosive can he be as he turns 34 in November and was riddled by injuries the past two seasons?  
Currently, if unaddressed, the hope for a pass-rush in Cleveland lies in the hands of two rookies, a converted OLB in Marcus Benard and an aging Robaire Smith.

A pass-rush needs to come from SOMEWHERE or the Browns will again find themselves in the cellar of the AFC North.
The return of D'Qwell Jackson at MLB could spark some interesting pass-rush schemes with Ahtyba Rubin and Taylor clogging up the middle, consequently opening blitzing lanes for the LB corps to exploit.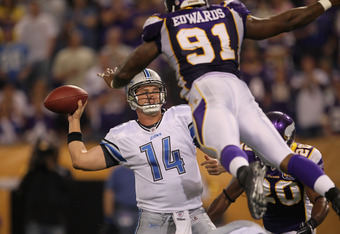 Jeff Gross/Getty Images
Jackson's size (undersized MLB), speed and tackling tenacity are key in his role in the 4-3.  Allowing him to play to his strengths, by staying away from the large pulling guards (occupied by Taylor and Rubin), could lead to the return of Jackson from 2008-09.
Everyone remembers 2008-09 right?  D'Qwell led the NFL with 154 total tackles!
It is essential the Browns, and their $33 million cap deficit (ESPN AFC North blogger James Walker), address the defensive end position first and foremost once the season begins (hopefully next Wednesday, July 27).  This cap room gives the Browns the means to reach out and procure a big-name impact player to fill this critical need.
With constant pressure from the edge, the shortcomings of the secondary can be masked allowing impact players like Joe Haden and T.J. Ward to play to their strengths and develop into cornerstones on defense.
***UPDATE 7-27-2011***
Charles Johnson (DE, Carolina Panthers) signed a six year-72 million dollar deal with the Carolina Panthers.  These contract numbers, 12 million per year, set the bar very high for the other potential
***UPDATE 7-28-2011***
Jason Babin (DE, Philadelphia Eagles) signed a 5 year contract with the Philadelphia Eagles.  The details of the deal are currently unknown.
My top choice remains Mathias Kiwanuka (DE, New York Giants), who exhibits proven explosiveness off the ball, closes down the edges, contains the running back and QB effectively and is relatively young in age at 28.  Kiwanuka is flying under the radar, largely due to a season-ending neck injury last season.  
Yes, there IS risk with Kiwanuka.  But, in my opinion his ceiling and natural ability is higher than any other potential target, including Ray Edwards (DE, Minnesota Vikings).  Edwards has benefit from playing on a freakish defensive line.  This has skewed his numbers from last season (eight sacks, 37 tackles) and 2009 (8.5 sacks, 51 tackles).  
With Edwards what you see is what you get.  He is a solid defender, but is he worth a big-time pay day for a good performance on a great defensive line?  It is wise, if splurging, to splurge on a talent with a higher ceiling. 
On a game-changer.

The sky is the limit for Kiwanuka, who will likely come cheaper due to injury concerns.


**Current reporting indicates the Cleveland Browns have made a "large" contract offer to defensive end Ray Edwards, Minnesota Vikings.***
More here:
http://bleacherreport.com/articles/782408-nfl-free-agency-johnathon-joseph-ray-edwards-signing-with-cleveland-browns
Follow me on Twitter @TheBigHoagowski