Is Cubs Manager Mike Quade Getting a Pass Dusty Baker Never Did Because of Race?
March 23, 2017
David Banks/Getty Images
Finally, after a dismal first season as the Chicago Cubs manager, Mike Quade is getting some criticism in the media, but it's always prefaced by saying what a nice guy he is. The former Cub and current Cincinnati Reds manager was a nice guy too, but the Chicago media ran him out of town.
Why?
Was it because of race?
The media never failed to jump on him and make fun of comments he made such as him saying he thought Latin or African-American athletes performed better in the heat of summer than Caucasian players.
Hearing a manager say that may be surprising, but is it possible it's true? If you grew up in a hot climate, wouldn't you be more likely to be able to perform during the dog days of summer?
Of course there are exceptions, and African-American athletes didn't necessarily grow up in those conditions, but he was relating it to cultural differences that could affect performance.
Mike Quade has come up with many questionable comments throughout the year, and has finally been taken to task for again ripping Starlin Castro and adding Darwin Barney to the mix this time.
Before that, despite some of the dumbest comments to ever come out of a Chicago Cubs manager's mouth, he got a free pass.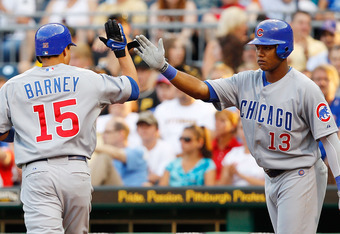 Jared Wickerham/Getty Images
Nobody in town has called him out for constantly talking in the third person. It was funny on Seinfeld when a character named Jimmy said, "Jimmy would like to get to know you," to Elaine, but it's not funny coming from the manager of a major league baseball team in a major market.
No one in the newspapers or sports radio has mentioned that it's a little strange for someone in his position to be talking that way.
They do reference the nicknames he gives his players, and how everyone seems to have one, but it's not in a critical way.
Cub fans have tired of his act though, and want the only "Q" in town to be Chicago Blackhawks coach Joel Quenneville.
But why does Quade get a pass in the media?
It's obvious he can't manage and that his players have no respect for him. How come the media seemingly does?
And why was Dusty Baker ridden out of town on a rail? Isn't he the manager that almost took the Cubs to their first World Series since 1945? Isn't he the guy who changed expectations at Wrigley Field, with fans finally demanding a winner?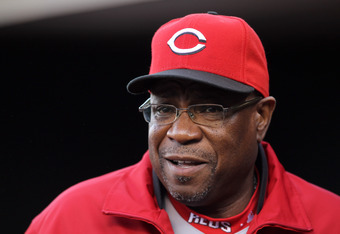 Ezra Shaw/Getty Images
Could it have something to do with the color of his skin? While he was managing the Cubs, he mentioned letters he received calling him racial slurs.
As Baker mentioned in an interview published on Bleacher Report two years ago, the media laughed it off and accused him of being melodramatic. One writer even accused him of making it up to get sympathy.
He was the butt of jokes on a local sports radio station, making him out to be a buffoon because of the comments he made, yet Quade receives a pass.
It's similar to what Barack Obama went through questioning whether he was an American citizen. After finally producing the document to silence his critics, they demanded to see his college transcripts.
Why wasn't George W. Bush asked for his sheepskin? It's questionable if he could pass Kiddie Kollege, yet alone Yale, where he's alleged to have went to school.
Many Americans are outraged that a black man is the president of this country and will do anything to discredit him, no matter how unwarranted it is.
Is that why Dusty Baker had to endure the fate he did in Chicago, while Quade generally gets a pass?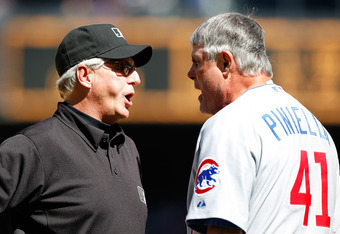 Otto Greule Jr/Getty Images
I can't think of another reason, and I don't want to hear that he was a bad manager because the Cubs have had far worse throughout the years
Lou Piniella also got a pass, even though he was short with the media and reacted to any semi-tough question like you were calling out his mama.
Yet he was treated like a hero, and they bent over backwards to sanctify him, despite him quitting on the team two years before his contract was up.
Nary a discouraging word was written about him.
It could be coincidental that the media has been easier on Quade and Piniella than they were on Baker, but some things don't pass the smell test.  
As for Quade, it's time to call a spade a spade and send Fire Marshall Bill packing. I can't take credit for that name. Someone called him that in a Cubs blog, and it's really a good fit if you search Google for the pictures.
Jim Carrey played the part on a show called In Living Color, and his tag line was, "Lemme show you somethin'."
So far, Quade has shown me nothin', and it's time to show him the door.