2011 MLB Trade Deadline: What the Pittsburgh Pirates Should Do
July 22, 2011
Jared Wickerham/Getty Images
Buyers at the trade deadline—that's something Pirates fans haven't been accustomed to over the last 18 years.
For all the flack GM Neal Huntington has gotten for cleaning house in 2008, 2009 and 2010, he's looking like a genius right now.
Remember the pandemonium when he got rid of Jason Bay, Xavier Nady and Nate McClouth?
Pitching has been the key in Pittsburgh, and 80 percent of the staff was acquired via trade. Kevin Correia is the lone exception, a free agent signing last winter.
Pittsburgh's team ERA (3.34) is currently sixth in baseball.
The Pirates are in contention and it's a wonderful story so far this season, but would it be worth trading some of their top talent in the minors?
Not in my opinion—this squad is built for the long haul. 
I realize patience is wearing thin in Pittsburgh, but if they give up a Jameson Taillon, Stetson Allie or some of their other top prospects for a rental player like Carlos Beltran or Carlos Pena and don't make the playoffs, it'll set the franchise back once again.
Hunter Pence is an interesting name because he wouldn't be a rental, but he'd cost too much as well.
In a podcast I did with a gentleman named Michael Waterloo we discussed some trade possibilities. He brought up a very interesting name...Chris Davis.
The Texas Rangers are currently stocked at the first base position, and it may not take much to take a flier on him.
Davis is currently hitting .359 with 22 Home Runs and 60 RBI in the Triple-A Round Rock.
Lyle Overbay has been a disappointment at first base so far this season, offensively and defensively.
Then you have to think of the injuries the Pirates have endured, Pedro Alvarez in particular.
He got off to a slow start to begin the year before getting hurt, batting .208 with just two home runs and 10 RBI in 36 games.
Alvarez is currently tearing the cover off the ball during his rehab in Triple-A. In 15 games, he's hitting .327 with two home runs and 10 RBI.
Hopefully this transitions when he returns after the All-Star break.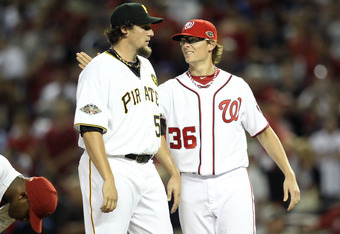 Christian Petersen/Getty Images
Speedster Jose Tabata will be back as well. Alex Presley has done a great job of filling in.
If the Pirates can make an under-the-radar move coupled with the returns of Alvarez and Tabata, that might be the offensive firepower they need.
I do believe the Pirates could use an arm in the bullpen.
This is where they should target a Grant Balfour, Mike Adams, Koji Uehara, Luke Gregerson, Michael Wuertz, Leo Nunez or Tyler Clippard.
Any of these names would be an upgrade over Jose Veras in the set-up role.
Joel Hanrahan has arguably been the best closer in baseball this season.
Huntington is in a precarious situation, and it'll be interesting to see what he'll do in the next ten days.
More from Adrian Fedkiw - Can the Pirates win the NL Central? (Podcast)