Fantasy Football QB Rankings 2011: Aaron Rodgers Tops List
July 21, 2011
Doug Pensinger/Getty Images
1. GB Aaron Rodgers
2010 Stats – 312/475, 3922 YDS, 28 TD, 11 INT, 64 RUSH, 356 YDS, 4 TD

Aaron Rodgers is the top QB on my list for a multitude of reasons. Not only is he very efficient in throwing the ball (completed 65.7% of passes and had an 8.3 avg), but he can run it as well. The only other QBs that can make serious impacts with their feet are Josh Freeman and Michael Vick. Rodgers is proficient throwing the ball, but his running ability simply puts him over the top.
2. NE Tom Brady
2010 Stats – 324/492, 3900 YDS, 36 TD, 4 INT, 31 RUSH, 30 YDS, 1 TD
Tom Brady has been knocking the door on conventional wisdom only to slam it shut. I think it's time that we start to listen. They have a nice running back committee and have Wes Welker, Brandon Tate and Deion Branch to form a nice little receiving staff. Evidently that was plenty for Brady to put up a spectacular season last year, so why not again?
3. NO Drew Brees
2010 Stats – 448/658, 4620 YDS, 33 TD, 22 INT, 18 RUSH, -3 YDS 0 TD
Granted, 22 picks is just simply too much. 658 pass attempts is also too much. They threw the ball on 63.5% of plays, a stat that is sure to change with a healthy running back committee in 2011. With some pressure taken off Brees, he can do what he does best…rack up the yards in an effective manner.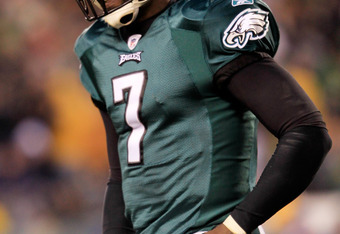 Chris Trotman/Getty Images
4. PHI Michael Vick
2010 Stats – 233/372, 3018 YDS, 21 TD, 6 INT, 100 RUSH, 679 YDS, 9 TD
I will be the first to admit, I am not a Michael Vick believer. However, when you put up more points than any other QB in the league, all while missing four games and most of a fifth, it simply is too much to ignore. Vick won't be able to replicate his 2010 numbers and will be hurt at some point during the season, but if you're a gambling man, Vick is your guy.
5. IND Peyton Manning
2010 Stats – 450/679, 4700 YDS, 33 TD, 17 INT, 18 RUSH, 18 YDS, 0 TD
Peyton Manning is a beast. With Dallas Clark and Austin Collie out for most of the year, he managed to turn Jacob Tamme into a fantasy star. Still, the running game is porous, he has a questionable offensive line and he is aging. It is hard to see him finishing much better than he did last year, as great as it was.
6. SD Phillip Rivers
2010 Stats – 357/541, 4710 YDS, 30 TD, 13 INT, 29 RUSH, 52 YDS, 0 TD
Phillip Rivers comes in at number six in the Fantasy Guideline QB rankings, which just goes to show you how great the QB position really is this year. Most of his tools are back from last year and the running game will improve slightly, so expect more of the same from this year out of Rivers.
Dilip Vishwanat/Getty Images
7. HOU Matt Schaub
2010 Stats – 365/574, 4370 YDS, 24 TD, 12 INT, 22 RUSH, 28 YDS, 0 TD
Schaub's value took a hit last year due to the emergence of fantasy stud Arian Foster. However, he still finished well enough to be a starting fantasy quarterback. With Foster having an outstanding year behind him, it leads me to believe he will slightly regress, and Schaub will start throwing more to his stud, Andre Johnson.
8. DAL Tony Romo
2010 Stats – 148/213, 1605 YDS, 11 TD, 7 INT, 6 RUSH, 38 YDS, 0 TD (6 Games)
As much as people would like to believe Tony Romo's performance was down last year, partly due to how poorly the 'Boys played and his TD to INT ratio, he really wasn't that bad. A 69.5 completion percentage and 94.9 passer rating show it as a positive six games. If Romo can stay healthy behind a struggling offensive line, I see no way I could put him lower than 8th.
9. TB Josh Freeman
2010 Stats – 291/474, 3451 YDS, 25 TD, 6 INT, 68 RUSH, 364 YDS, 0 TD
Josh Freeman had more fantasy points last year than every QB left to rank. Another solid starter on your fantasy team, he should improve more this year. He's only 23 folks, and he improved as the season wore on. Not to mention he ran for 364 yards last year and didn't get into the endzone, something that will change this year. Draft him as a QB1 with ease.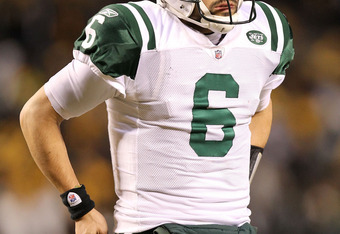 Ronald Martinez/Getty Images
10. ATL Matt Ryan
2010 Stats – 357/571, 3705 YDS, 28 TD, 9 INT, 46 RUSH, 122 YDS, 0 TD
Matt Ryan now has Julio Jones, a guy to line up opposite of Roddy White to open up the field. I can only see this ending well for the Falcons considering White was Ryan's only legitimate receiving threat last year.
11. PIT Ben Roethlisberger
2010 Stats – 240/389, 3200 YDS, 17 TD, 5 INT, 34 RUSH, 176 YDS, 2 TD
It still is beyond me how Big Ben managed to only throw five interceptions in 12 games, since he is a guy that runs around and forces throws, but nonetheless, it happened and likely won't be repeated. Still, Big Ben is a very useful fantasy option and can be counted on most of the time as a QB1.
12. NYG Eli Manning
2010 Stats – 339/539, 4002 YDS, 31 TD, 25 INT, 32 RUSH, 72 YDS, 0 TD
The interceptions are a red flag, yes, but Eli threw for 4000+ yards and 31 TD last year. Just take a gander at those numbers and tell me you wouldn't want him as a time share at the starting position on your team.
13. KC Matt Cassel
2010 Stats – 262/450, 3116 YDS, 27 TD, 7 INT, 33 RUSH, 125 YDS, 0 TD
Sure, we've seen Cassel struggle against the more solid defenses, but he was solid against the porous ones which is still eye-opening. Now we can take a look at the receivers and be somewhat impressed as well. Not only does he have a great running game behind him, but he can throw to safety outlet Tony Moeaki, slot man Chris Chambers and athletic freaks Dwayne Bowe and rookie Jonathan Baldwin. It's time to break out.
14. BAL Joe Flacco
2010 Stats – 306/489, 3622 YDS, 25 TD, 10 INT, 43 RUSH, 84 YDS, 1 TD
Joe Flacco is a solid QB. His numbers aren't going to jump off the table at you, but he is certainly useable. Through these first 13 QBs ranked, I wouldn't even blink if I had any of them as my starter and the same goes for Flacco. Torrey Smith, arguably the best receiver in the rookie class, speediest by far, should bring some electricity to a dull receiving game.
15. CHI Jay Cutler
2010 Stats – 261/432, 3274 YDS, 23 TD, 16 INT, 50 RUSH, 232 YDS, 1 TD
This is where it gets dicey. People have beaten the Cutler horse senseless lately, but when you look at how well he performed while having a terrible offensive line and no clear cut stud receiver, he's a great QB2 on your squad.
16. DET Matt Stafford
2010 Stats – 57/96, 536 YDS, 6 TD, 1 INT, 4 RUSH, 11 YDS, 1 TD
Again, if you're a gambling man and you have your QB1 already, go ahead and nab Stafford. In the two games that he was healthy, he performed quite admirably. He has Calvin Johnson and Jahvid Best behind him and Stafford is ready to roll. Draft him to be your second QB, but his upside is through the ceiling as long as he doesn't get injured.
17. STL Sam Bradford
2010 Stats – 354/590, 3512 YDS, 18 TD, 15 INT, 27 RUSH, 63 YDS, 1 TD
With seemingly no real receivers to throw to last year, Bradford impressed and led his team to controversial playoff contention. I expect a min-sophomore slump to surface at the beginning of the year, but he should snap out of it rather quickly and be a solid back-up for you. In 2012, check with Bradford again and I'd be willing to bet he buds into a star.
18. DEN Tim Tebow
2010 Stats – 41/82, 654 YDS, 5 TD, 3 INT, 43 RUSH, 227 YDS, 6 TD
While I'm not sure if he can be effective throwing the ball, he should keep the starting job in Denver. Also, any QB who can run the ball has value, which Tebow can do.
19. JAC David Garrard
2010 Stats – 236/366, 2734 YDS, 23 TD, 15 INT, 66 RUSH, 279 YDS, 5 TD
Again, job security might be a question, but Garrard is good enough that the Jaguars can afford to let Gabbert hold a clipboard for a year and develop that way. Garrard has some scrambling ability too, so that's always a plus.
20. OAK Jason Campbell
2010 Stats – 194/329, 2387 YDS, 13 TD, 8 INT, 47 RUSH, 222 YDS, 1 TD
New Head Coach Hue Jackson has stated that he has complete faith in Jason Campbell as the starting QB, which makes Campbell worth a look. A guy with decent job security, Campbell has weapons around him and is a weapon himself to be counted on as a back up.
21. PHI Kevin Kolb
2010 Stats – 115/189, 1197 YDS, 7 TD, 7 INT, 14 RUSH, 68 YDS, 0 TD
Kolb is going to land somewhere other than Philly by the time the season rolls around. When he does, it's time to give him a look. He didn't impress too much when playing for the injured Vick, but the tools are there to be a successful NFL QB.
22. NYJ Mark Sanchez
2010 Stats – 278/507, 3291 YDS, 17 TD, 13 INT, 30 RUSH, 105 YDS, 3 TD
I can't ignore Mark Sanchez any longer. He has more job security than anyone left on the list. While his ball security is improving, he still only completed 54.8% of his passes last year. It's put up or shut up time for Sanchez and I'll take the latter.
23. BUF Ryan Fitzpatrick
2010 Stats – 255/441, 3000, 23 TD, 15 INT, 40 RUSH, 269 YDS, 0 TD
Fitzpatrick didn't play as great as his season stats would suggest. He had a great first half, then faded as the season wore on. You can expect nothing more than an average performance from Fitzpatrick.
24. CIN Carson Palmer
2010 Stats – 362/586, 3920 YDS, 26 TD, 20 INT, 32 RUSH, 50 YDS, 0 TD
Carson Palmer is entering the washed-up status. He isn't going to play in Cincy anymore, but can certainly help out a QB needy team. Heck, maybe he just needs a change of scenery. Stay tuned on Palmer.
25. WAS Donovan McNabb
2010 Stats – 275/472, 3377 YDS, 14 TD, 15 INT, 29 RUSH, 151 YDS, 0 TD
After a season filled with turmoil in Washington, McNabb is headed out the door. Where will he go? I don't know. Will he have any value in a new home? I don't know. One thing I do know, though, is that wherever he does land, he is going to get a more than favorable opportunity to be a starter.
26. DEN Kyle Orton
2010 Stats – 293/498, 3652 YDS, 20 TD, 9 INT, 22 RUSH, 98 YDS, 0 TD
Orton actually played pretty well in the Broncos system last year, but McDaniels is gone (good riddance) and John Fox is in. I'm fairly certain that Tebow will start all year and Orton will sit, otherwise he would be ranked considerably higher.
27. TEN Vince Young
2010 Stats – 93/156, 1255 YDS, 10 TD, 3 INT, 25 RUSH, 125 YDS, 0 TD
Vince Young's tumultuous path has led him to this. He is done in Tennessee, but could have value elsewhere. The talent is there and a place like Washington may give him a shot, so taking a late round pick on him could end up being worth it.
28. MIA Chad Henne
2010 Stats – 301/490, 3301 YDS, 15 TD, 19 INT, 35 RUSH, 52 YDS, 0 TD
Henne has shown us nothing to say that he should be starting on an NFL squad. Still, it looks like the Dolphins are going to give him another chance. If he surprises to start the season, pick him up. Otherwise, don't bother drafting him.
29. CAR Cam Newton
Rookie
I'm not big on rookie quarterbacks, but Cam Newton IS going to start right away and can run the ball, so he could be worth a look, but I would advise you wait to see if he can be effective in a horrid offense in Carolina.
30. CLE Colt McCoy
2010 Stats – 135/222, 1576 YDS, 6 TD, 9 INT, 28 RUSH, 136 YDS, 1 TD
McCoy did nothing to impress me last year, but he is safely the starting QB for the Browns, so who's to say he can't develop into a QB2 this season, although a QB3 seems more likely.