LA Dodgers: Six Ways They Can Improve in the Second Half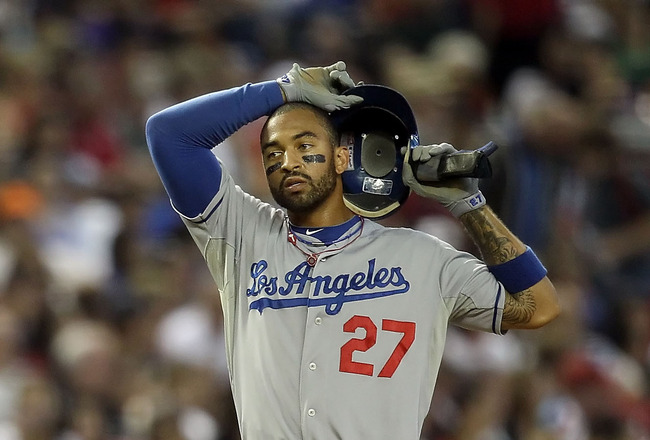 Matt Kemp is no doubt tired from carrying the Dodgers all season but the MVP candidate has to continue his stellar all-around play if the team has any chance of improving.
Christian Petersen/Getty Images
Right now, the Dodgers are staring at a minimum of 90 losses on the season. Anemic offense, shaky pitching and a disappointing first half have expectations far lower for the second half.
There's a good chance the Dodgers won't make any major moves at the trade deadline although teams are showing interest in Hiroki Kuroda while ESPN's Buster Olney reported this week that Milwaukee is looking at Jamey Carroll.
But as always, there's hope that the second half will be worth watching and the team will regroup to make changes and get better. Here's six ways they can do that.
1. Kemp/Kershaw Keep on Doing Work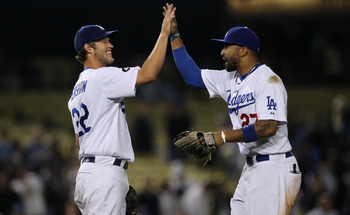 Stephen Dunn/Getty Images
This is obvious. Matt Kemp and Clayton Kershaw were well-deserved All-Stars for their first half-performance. With playoff pressure way down due to the team's record, all they need to do is just repeat their success and watch it translate on the field.
Kemp can keep gunning for that 40 homers/40 stolen bases/.300 batting average in hopes of winning the National League MVP. His play as well as his growing leadership can elevate the team to keep pushing the rest of the season
As for Kershaw? When the team watches a performance like this week's 8-inning, 2-hit, 12-strikeout masterpiece against the Giants, you can't help but step it up like Dionner Navarro did with a homer for that game's only run.
If the Dodgers improve in the second half, leading the way will be the guys who led the way in the first half. Because the team won't want to let them down, Kemp and Kershaw can provide boosts in the team's morale and on-field performance.
2. Damaged Parts Start Producing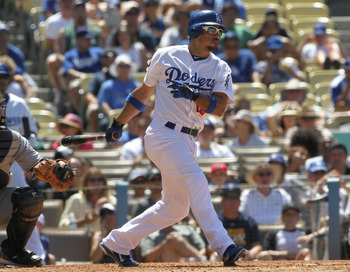 Stephen Dunn/Getty Images
Injuries have bitten the Dodgers hard this year. Jon Garland is done for the year while Casey Blake and Rafael Furcal spent parts of the first half on the disabled list.
Of course, there's Jonathan Broxton who's been on the DL since May and looked anything but reliable when closing games before then.
If Blake/Furcal can stay healthy and start producing like they need to prove they deserve a contract next year, they could deliver some critical offense to the lineup. It's also a big if for Broxton, whose days as a Dodger are numbered unless he fully recovers and starts pitching like he used to.
3. An End to Bankruptcy Court
Jeff Gross/Getty Images
If there's a bigger story than Matt Kemp's 40/40 chase or Clayton Kershaw's chase for the major league lead in strikeouts; it is owner Frank McCourt vs. Major League Baseball in Bankruptcy Court for control of the team's finances.
The ruling, which is supposed to be handed down this week, will decide if McCourt's latest arranged loan or MLB's loan will finance the team. It's only the latest domino to fall in this nearly two-year drama with no end in sight.
One can only hope that the court's ruling can put this drama on the backburner. We know the chances McCourt sells the team are minimal at this point so the less major news on him will lift a cloud over the second half and help the team focus better on the field.
4. Call Up the Youngsters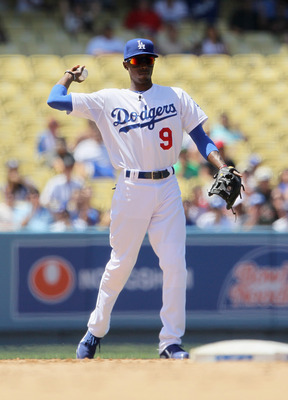 Jeff Gross/Getty Images
When September call-ups come around, it could lead to the return of Jerry Sands and the electrifying Dee Gordon. Both players should prove stronger after refining some tools in Triple-A Albuquerque.
The big call-up to watch for could be Trayvon Robinson, who's been tearing up the Pacific Coast League with his average (.304) and power (25 homers, 65 RBIs). He may be undisciplined with his high strikeout total, but he could provide a spark in the final month.
If anything, they'll improve the team's morale with their excitement on being back in the bigs but I guarantee they'll contribute to a few wins. That counts for something right?
5. Generate Offense for Hiroki Kuroda/Rubby De La Rosa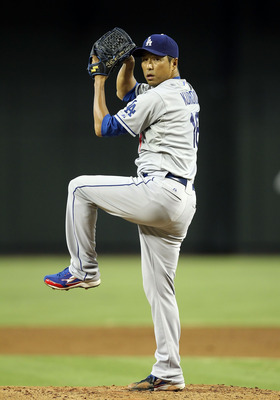 Christian Petersen/Getty Images
Kuroda has been nothing short of consistent while De La Rosa has become a solid rookie pitcher since his call-up. But both have struggled due to lack of run support.
If any pitcher on the staff needed a boost from his squad, it's Kuroda who's second on the staff in ERA (3.13) but has seen his team score less than two runs in most of his starts. As for De La Rosa, he's grown more comfortable in his last few starts and his play could be a boost with the injury to Garland.
This could be more dependent on Blake and Furcal getting back to form yet the ones who should and need to benefit most from more runs are Kuroda and De La Rosa. If Kuroda is truly on the trading block, then giving him more run support can only help his value and get the Dodgers something better to improve with.
6. Andre Ethier/James Loney Catch Fire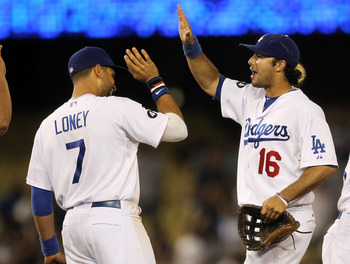 Stephen Dunn/Getty Images
Both Ethier and Loney have had solid, if not typical seasons but they are hitting below .200 in July. As the No. 3 and 5 hitters, more is expected especially if the team hopes to avoid the cellar of the NL West.
If Matt Kemp is supposed to carry the Dodgers, he needs Ethier to remain consistent getting on base while he keeps looking for his power stroke. Loney also has to worry about keeping his job as he's eligible for arbitration after this season.
Both players regaining their form could make the Dodgers' second half a lot more watchable than relying on Kemp's at bats and waiting every fifth day for Kershaw.
Keep Reading

Los Angeles Dodgers: Like this team?