Detroit Lions Starting LT Jeff Backus Tears Pectoral Muscle
July 21, 2011
A. Messerschmidt/Getty Images
It has been reported by the Detroit News that Lions offensive tackle Jeff Backus has suffered a pectoral injury.
The injury is believed to be a partially torn muscle, and his status for the start of training camp is unknown at this time.
It was not revealed as to how the injury occurred, but according to the article, a team source has reported that the injury was "not serious."
If Backus' injury is in fact substantial enough for him to miss a significant amount of time, it would be a huge blow to an already suspect Detroit Lions offensive line.
The loss of Backus could send the Lions reeling, almost certainly altering any preconceived notions that general manager Martin Mayhew and the Detroit Lions had heading into free agency.
Backus has started every game for the Lions since being drafted 18th overall in the 1st round of the 2001 NFL draft. One a whole that is 160 consecutive games started at left tackle.
Not a simple accomplishment for an offensive lineman that faces the likes of defensive juggernauts Jared Allen, Julius Peppers and Clay Matthews each, twice yearly.
Though some will question his ability and believe that his skills would be better suited for an interior lineman position, no one will question his strength and determination.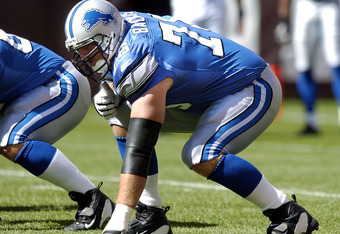 David Maxwell/Getty Images
In 2010, his 10th year in the league, Backus anchored a Detroit Lions offensive line that allowed the sixth fewest sacks and the eighth fewest quarterback hits in the National Football League.
If you've been following the player led team workouts at Detroit Country Day High School, you'll know that Backus was not only a full participant, but also a vocal and emotional leader.
The extended loss of Backus coupled with the lack of available impact free agent offensive tackles could be detrimental to a Detroit Lions season that has yet to even begin.
At this point, the severity of the injury that Backus has sustained is unclear.
Here's to a speedy recovery and a healthy return for Detroit's 6'5, 305 pound anchor.