Terrell Owens: Five Potential Post-NFL Careers for T.O.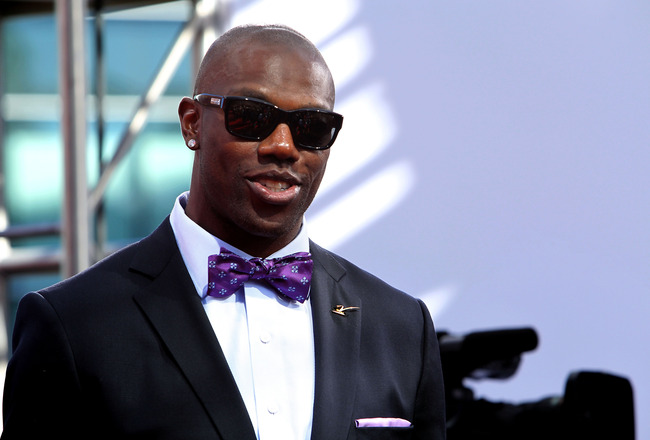 Alexandra Wyman/Getty Images
Terrell Owens is one of the most well-known and talented receivers in the NFL, but his career is on the decline.
When the day comes for T.O. to retire, you can bet that he won't be out of the spotlight for long. However, with football out of the picture, Owens will need another profession that keeps him in the limelight,
Luckily, T.O. has plenty of skills.
Here are five occupations Terrell Owens should consider as part of his post-NFL career.
IndyCar Racing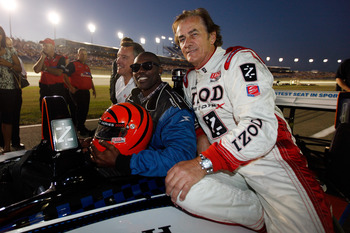 Chris Graythen/Getty Images
Terrell Owens is by no means the fastest wide receiver in the NFL.
In fact, throughout most of his career he has been known for his size and strength above his speed — which has been rumored to actually be pretty slow for a wideout (4.6 seconds in the 40-yard dash).
However, at the 2010 Kentucky Indy 300, Owens experienced some serious speed when he rode in the "fastest seat in sports" along with two-time Indy 500 winner Arie Luyendyk during the pace laps.
For some reason, Owens seems like he would be good in the sport and good for the sport. He would instantly become the biggest name in IndyCar racing and be by far the most entertaining driver in the sport.
Harlem Globetrotter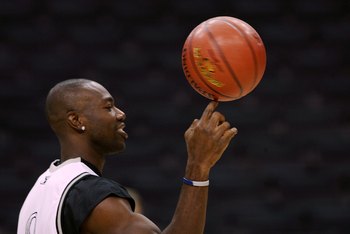 Michael Buckner/Getty Images
If Terrell Owens weren't playing professional football, he might be playing in the NBA.
Owens, who played competitive basketball in his younger days, was a standout in the Celebrity All-Star game in 2008 and 2009, winning the game's Most Valuable Player award both years.
While Owens possesses the necessary basketball background and skills to be a Globetrotter, his personality is what makes him a great candidate.
For years, T.O. has entertained us. Weather it be on the field or off, Owens always seemed to know what people wanted to see and what would grab the sports world's attention.
His combination of athleticism and showmanship makes him a great fit for the Globetrotters.
Fitness Trainer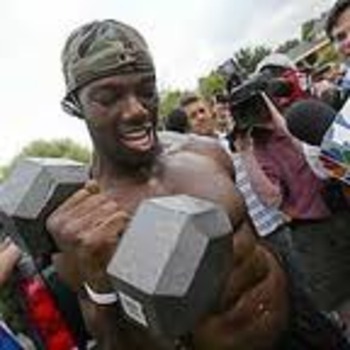 Say what you want about Terrell Owens as a chemistry killer, but the guy is one of the most in-shape players in the league.
Who can forget the driveway workout, turned press-conference that occurred during a suspension in 2005. While the interview was bizarre and T.O. hardly humored the media—answering most questions with "no comment"—no one could seem to ignore the type of shape Owens was in.
T.O., who has since created his own workout program and put out a workout supplement, could continue his success in the fitness world by becoming the new Tony Horton (Founder of P90X).
Dancer
If there's one thing Terrell Owens has been particularly good at on the field, it's been his touchdown celebrations.
From popcorn to Sharpies, Owens' use of props in his end-zone celebrations has been his trademark. However, its gems like this touchdown dance against the Pittsburgh Steelers that may be the future for Owens.
While football might not be the most appropriate outlet for Owens to display his dancing ability, it's hard to deny the fact that the guy's got moves.
Why not use those moves to make some post-NFL money?
Author
Photo taken from amazon.com
We all know about Terrell Owens as an athlete, actor, reality star and maybe even as a rapper, but few people know about Terrell Owens the author.
In November 2008, Owens released the first of several children's books, "Little T Learns to Share". The book somewhat ironically tells the story of a little boy named "Little T" who learns to share his football.
T.O. has plenty of life experiences to draw from to create his books and has learned enough lessons throughout his time in the NFL to write a hundred children's stories.
Keep Reading

Cincinnati Bengals: Like this team?