2012 MLB Draft: 5 Pitchers the Chicago Cubs Could Take in the First Round
July 20, 2011
Chris Chambers/Getty Images
You know that you're having a miserable season when you start thinking about next year's draft just after the All-Star break.  
Such is the case for the Cubs. 
Chicago sits at a miserable 39-59 with questions marks all over the field and in the front office.  With no quick fix for the team's troubles in sight, taking a look at what help might be on the way in a few years might be healthy for beleaguered Cubs fans. 
The Cubs are currently in line to get the draft's second-overall pick, and they don't look to be drastically improving their record anytime soon.
With the current state of their rotation and few top pitching prospects in the minor leagues, the Cubs will mostly likely target a starting pitcher in the first round.  
Several shortstops will probably go in the top five of the draft, but with All-Star Starlin Castro in place at the big league level, and after drafting Javier Baez in this year's first round, the Cubs will most likely go with pitching. 
A lot can change in a year, but there are a few pitchers that have already established themselves as top of the first round talent. 
1. Lance McCullers, RHP, Tampa Jesuit HS (FL)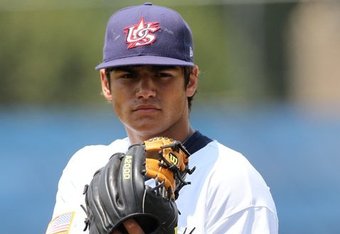 This is a name you're going to start hearing a lot about. 
McCullers just finished his sophomore year of high school, but he's already throwing 97-mph bullets. A tight slider, curveball, and good changeup make the 16-year-old even more attractive, and both McCullers' slider and curveball are as quick as they are sharp, sitting in the mid-80s. 
If McCullers goes No. 1 overall in the 2012 draft, he would be the first high school pitcher ever to do so, and at just 6'1", one of the smaller ones, too. If the Astros (who will likely have the first pick) decide to go with the experience of Stanford shortstop Kenny Diekroeger or starting pitcher Mark Appel, McCullens could fall to the Cubs.  
2. Mark Appel, RHP, Stanford
Appel hasn't dominated in his first two years at Stanford, but he has excellent raw stuff. Drafted by the Tigers out of high school, Appel did throw very well in the New England Collegiate Baseball League last summer. 
His fastball sits in the mid-90s, but he can crank it up to the upper-90s when necessary. Appel has a good slider, which should continue to tighten up, and also throws a changeup and a cutter. At 6'5" and 190 pounds, Appel is a power pitcher who projects to be a very durable high-strikeout guy.  
3. Jake Barrett, RHP, Arizona State
Barrett was a third-round pick of the Toronto Blue Jays out of high school, but chose to honor his commitment to Arizona State.  
At 6'3" and 219 pounds, Barrett throws a low-to-mid-90s fastball and has an above average curveball and splitter. The sophomore won seven games during his first season in the Sun Devils rotation. 
4. Kevin Gausman, RHP, LSU
The Dodgers selected Gausman in the sixth round of the 2009 draft, but the 6'4" right-hander instead choose to play in Baton Rouge. 
Gausman has always had a good mid-90s fastball, but he has begun to develop and nice curveball as well. Gausman threw almost 90 innings and won five games for the Tigers in 2011.  
5. Branden Kline, RHP, Virginia
Kline has excelled as the Cavaliers closer during his first two years at Virginia, but will move to the starting rotation in 2012. 
Kline's final appearance of 2011 featured five scoreless extra-inning frames, showing that he could develop into a top starting-pitching prospect. The 6'3" sophomore throws a mid-90s fastball and has a slider and curveball to go along with it. Kline's junior season will do a lot in determining his draft stock.