Kansas City Royals: The Mike Moustakas Dilemma
July 20, 2011
Jamie Squire/Getty Images
After Eric Hosmer was called up to the MLB in May, the focus shifted to another projected phenom in the Royal's plentiful minor league system: Mike "Moose" Moustakas.
On June 9th the fans' prayers were answered when he was called up.
He made his debut against the Los Angeles Angels of Anaheim, where he went 1-3 with a run scored.
Since then, he has been less than impressive at the big-league level.
His batting average is a horrendous .198. He has only four RBI and 10 runs scored in 111 at-bats.
Recently he has only two hits in his last 37 at bats. A slump for the ages.
To put it simply, he looks lost.
The same fans clamoring for his call-up have been demanding he be sent down to regain his confidence.
So opens the debate of whether he should or should not be sent down to Triple-A Omaha.
Why Moustakas Should Be Sent Down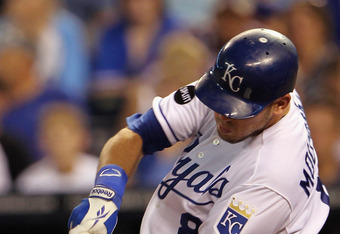 Jamie Squire/Getty Images
1) Wilson Betemit Needs Playing Time
 Wilson Betemit is obviously not part of the Royals' future.
He plays third base and first base. Those positions are taken and backed up already.
There's just no place for Betemit in the current roster, nor in the future.
A trade is in order for Betemit. For that, the Royals' need to show him off.
The only problem is that Moustakas is currently clogging third base ahead of Betemit.
If Moustakas is sent down, it opens up a spot for Betemit at third base.
The Royals can then trade Betemit for some cash or prospects (preferably a decent young starter).
2) Moose Needs To Regain His Confidence
As I've said, Moustakas looks lost at the plate.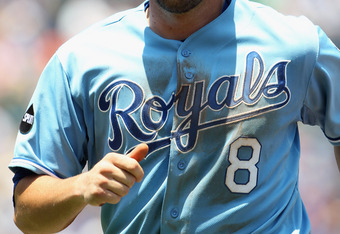 Jamie Squire/Getty Images
He doesn't look confident, like he's unsure of his abilities.
A trip back to Omaha might help him regain the swagger he had when he was tearing up Triple-A pitching.
If confidence is his only problem, it would be wise for the Royals to take care of it sooner rather than later.
A confidence problem cannot happen in 2013, when the Royals are supposed to be good. All players will need to be firing on all cylinders when that time comes.
3) Aviles Deserves One More Shot
With the call-up of Moustakas, someone had to be sent down.
That person was Mike Aviles.
Aviles has been doing well in Omaha, hitting .307 with nine home runs and 25 RBI in 35 games.
He's ready to come back up to the majors, but Moustakas would have to go back down.
Aviles is another man that may or may not be part of the Royals' future. If he's not, then he should be brought up to be shown off.
There are teams in need of a decent-hitting shortstop or third baseman.
Why Moustakas Should Not Be Sent Down
1) The "Alcides Escobar Experiment"
  Earlier this season, Alcides Escobar was pretty bad at the plate.
He made outstanding defensive plays but would most likely get out when he got to the plate.
Royals' manager Ned Yost was stubborn, saying he just needed more experience at the plate. That prediction would come true, as Escobar is now hitting very well.
Trusting that Yost has the same foresight for Moustakas, it's apparent that he just needs some more experience against major league pitching.
Being sent down would just hamper the process.
2) He Starts Slow at Every Level
  Every time Moustakas has moved up a level, he has struggled at first. It took time for him to get adjusted.
If that's the case, then sending him down would not be beneficial to his improvement.
He should stay in the majors, ride the bad tide for a while until he gets adjusted. Though if he fails to get adjusted by, say, August 15th, then he probably should be sent down.
3) This May Be Just a Slump
His recent slump (he is two for his last 37) may be just that, a slump.
Two weeks ago he was hitting .290. Not great, but certainly better than what he is currently hitting.
All players go through slumps. Even the machine Albert Pujols went through a pretty bad slump this season.
The best cure for a slump is to ride it out.
Moustakas should just stay at the major-league level while he rides out his slump.
Final Thoughts
After laying out the arguments, my opinion is that he should stay up at the major-league level and ride it out.
You may disagree. If you do, leave a comment. I would love to discuss it with you.
Thanks for reading.
Don't forget to be awesome.
Go Royals!