Why Brandon Belt's Delayed Return to the Giants Proves to Be Brilliant
July 20, 2011
Jed Jacobsohn/Getty Images
Everyone but Bruce Bochy and Brian Sabean were wondering why Brandon Belt wasn't back with the Giants yet.
Belt was tearing up minor league pitching and proving that the mechanical flaw in his swing back in April had been remedied, making him more than ready to face big league arms.
Although we can only guess as to what the official rationale was for leaving the 23-year-old phenom in Fresno for so long, we can now begin to see the results of that decision.
In his return to the Show, Belt put on a show. He homered in his first at-bat to put the Giants ahead 1-0 over the Dodgers at AT&T Park on Tuesday night.
Then, with the bases loaded and two outs in a tie game in the bottom of the seventh, Belt delivered a clutch two-run double to put the defending champs ahead for good, as the Giants went on to win, 5-3.
If it weren't enough that Belt was 2-4 with three RBI in his return, the way he did it was extraordinary.
In his first at-bat, Belt was behind in the count and facing a strikeout pitcher in Rubby De La Rosa when he hit a nasty breaking pitch that was headed for his back ankle into the arcade over the right-field wall.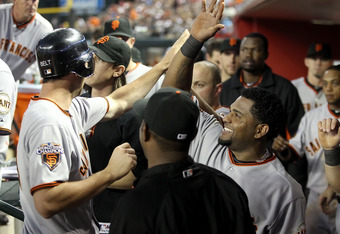 Christian Petersen/Getty Images
When he hit the double to put the Giants ahead, he went with a fastball toward the outside corner and drove it the other way down the left-field line.
For all of the talk that Belt's confidence could be shattered after having to go through two stints in the minors (one after being demoted and one after being injured), it certainly looks like he's got all the confidence he needs, and then some.
Perhaps the extra time in Fresno took Belt into a place where he knew he belonged in the big leagues. After carving up Triple-A pitching for nearly 50 games, Belt now probably felt like he was more than ready to return, perhaps relieving him of some of the pressure of performing at the big league level once he was recalled.
If that was, indeed, the idea all along, Bruce Bochy and Brian Sabean look like geniuses right now.
If it wasn't, they still look like geniuses for the way their boy wonder made a huge splash in his first game back with the Giants.
If Tuesday night is any indication, Belt could join Pablo Sandoval and Nate Schierholtz to create a formidable middle of the order in this Giants lineup, something that only weeks ago appeared to be a far-fetched notion.