MLB Rumors: Chicago Cubs' Tom Ricketts and Pat Gillick in Talks
July 20, 2011
Jeff Zelevansky/Getty Images
Wednesday morning in Chicago started in just as many others have this summer. Hot and fresh off another Cubs loss.
Last night's loss to the Phillies was as painful as any. The Cubs were coming off an impressive win over Roy Halladay, with Matt Garza pitching like an ace. All was well until the Phillies started to figure Garza out, and in typical Mike Quade style, he left his starting pitcher in the game one inning too long. Somewhere Dusty Baker feels sympathy.
Enough has been made about the Cubs not having a three-game win streak yet this season, but the Cubs haven't even won two consecutive games since June 30. But don't bother looking at your calendars—that was three weeks ago.
It would have been nice to see the Cubs beat the first place Phillies twice in a row and have a chance for the sweep this afternoon, but as usual Quade's bunch had other ideas.
But while Chicago prepared for another hot, winless streak Wednesday, they got a glimmer of hope.
CBS Chicago's David Schuster is reporting that Cubs owner Tom Ricketts has spoken with Pat Gillick. The story broke last night, but has yet to be confirmed and has not received much publicity to this point.
Schuster has established himself as a solid reporter, and while no one really knows that this report is true or what the talks were about, Cubs fans can still hope.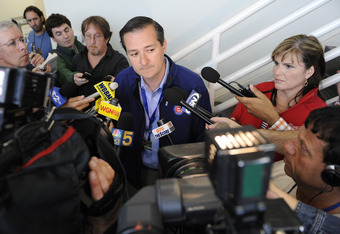 David Banks/Getty Images
Whether or not the former World Series-winning GM would take a job as Cubs president remains to be seen, but the mere fact that Tom Ricketts spoke to him is encouraging, if it's true. 
Ricketts previously said that he didn't need another baseball guy to watch his baseball guys. But he may finally be wising up to the fact that his baseball guys aren't getting the job done and that Cubs fans aren't going to keep filling the seats if that remains the case.
The choice to approach Gillick is probably due to local media tossing his name around for a possible front office position, as Ricketts has shown to have little baseball knowledge himself. If hired, Gillick would at least bring one solid baseball mind into the Cubs front office who has been successful in the past, and could bring in other like him to change what appears to be a clueless baseball operation in Chicago.
Gillick most recently work in MLB as general manager of the Phillies, retiring after the team won the 2008 World Series. Gillick is 74, and will be inducted in the Hall of Fame on Sunday. The Cubs will look to take two out of three from the Phillies today at 1:20 p.m. at Wrigley Field.