Philadelphia Phillies: Ranking Their 10 Greatest Players Never to Win a Title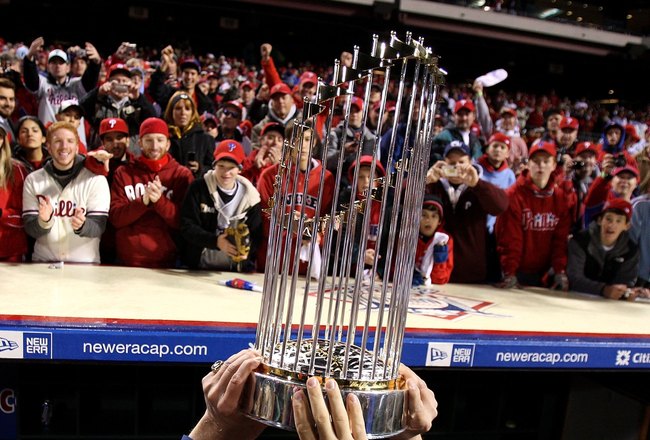 Jed Jacobsohn/Getty Images
Winning a World Series title. To be the best in the world at what you do. Ask any athlete about their ultimate goal and they all say the same thing: to win a championship.
For professional baseball players no matter how many individual achievements they may have earned from Cy Young Awards to MVPs, they all want to be forever known as World Champions and have the ring to prove it.
But only one team can win it all each year which leaves many superstar athletes without that crowning achievement. In the case of the Philadelphia Phillies, the championships have been few and far between.
Although they are the oldest continuous, one-name, one-city franchise in all of American pro sports dating all the way back to 1883, they have only won two (count 'em TWO) World Series titles, one in 1980 and the other, in 2008.
That leaves lots of choices for this top ten list. And this is one list these Phillies would rather not be on: The 10 Greatest Phillies Players to Never Win a Title.
10. Jim Thome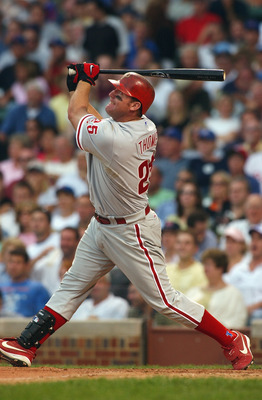 Jonathan Daniel/Getty Images
OK, I know what you're thinking. Yes, Jim Thome belongs on this list. No one is more deserving of a championship than Jim Thome. But he shouldn't be on the list as a Phillie. But just hear me out.
Jim Thome was the first major free agent signing for the Philadelphia Phillies, a signing that in many ways changed the face of this franchise. Bringing Jim Thome to Philadelphia in 2003 was really the first step toward bringing the city their long-awaited championship. Unfortunately for Thome, however, he was no longer with the team when they finally won it all in 2008.
But Thome was a larger than life presence during his time with the Phillies, popular both with the fans and his teammates. He hit 47 home runs in his first year and 42 the second. He also hit his milestone 400th career home run while in a Phillies uniform.
Thome is a five-time All-Star, one of baseball's most prolific home run hitters soon to reach the 600 home run mark, and widely considered to be one of the nicest men in the game. As he nears the end of his incredible career, there are many fans and former teammates in Philadelphia who would celebrate a World Series win for Thome. (As long as it wasn't at their expense.)
9. Ed Delahanty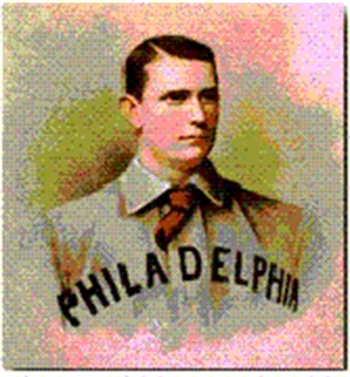 delahantys.com
Unfamiliar to most current baseball fans, Hall of Famer Ed Delahanty played for the Phillies from 1888-1903. Nicknamed "Big Ed" he is considered one of the great early power hitters in the game. In fact, he remains the only player to win batting titles in both the American and National Leagues.
Delahanty hit over .400 for a season three times and finished his career with a whopping .346 batting average. (Today's Phillies could certainly use his bat, don't you think?) Over his career he had 2,597 hits, 1,464 RBI and 455 stolen bases. He led the league in slugging six times, home runs twice and RBI three times.
Although there was no World Series when he played (the first was in 1903) Delahanty's biggest disappointment was that he never had a chance to play in the postseason.
8. Johnny Callison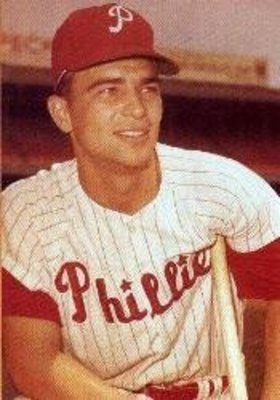 fanbase.com
Johnny Callison is probably the best player to not win a championship between the time the Phillies appeared in, but lost, the 1950 World Series until they finally won it in 1980. Callison played right field for the Phillies from 1960-1969 and very quickly became a fan favorite.
He was an All-Star three times including wining the All-Star MVP in 1964 when he hit a game-winning walk-off home run with two outs in the ninth. He led the National League in triples twice and once in doubles. He also led the NL in outfield assists four years in a row.
The closest Callison came to appearing in a World Series was as a part of the 1964 Phillies team known for its historic late-season collapse.
7. Jim Bunning
Doug Pensinger/Getty Images
Perhaps now best known as former Senator Bunning, prior to his long political career Jim Bunning was an ace major league pitcher from 1955-1971. He played for the Philadelphia Phillies two separate times during his career, first from 1964-67, then returning in 1970 to retire as a Phillie in 1971.
Bunning is one of only five pitchers to throw a no-hitter in both leagues, including the perfect game he threw on Fathers Day, June 21, 1964. Unfortunately Bunning, like Callison, will always be remembered for his role in that infamous 1964 Phillies collapse.
He, and fellow pitcher Chris Short, were controversially used by manager Gene Mauch heavily down the stretch sometimes with as little as 2 days rest between starts. Although he never pitched in a World Series, the Phillies gave him a World Series ring when the 2008 team won it all. (A Senator from Kentucky at the time, Bunning had to get a waiver from the Senate ethics committee to accept the gift.)
Bunning, a seven-time All-Star, was elected to the Hall of Fame in 1996.
6. Dick Allen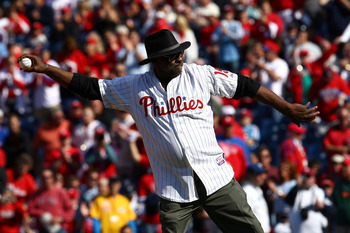 Chris McGrath/Getty Images
Dick Allen (formerly known as Richie) was one of the most talented and controversial athletes of his time. He played for the Philadelphia Phillies from 1963-69, then returned to the team from 1975-76.
He was the Rookie of the Year in 1964 with one of the greatest rookie seasons ever leading the league in runs, triples, extra base hits and total bases. He earned American League MVP honors in 1972 while with the Chicago White Sox. Dick Allen had remarkable power prompting none other than Willie Mays to say that Allen could hit a ball harder than any player he had ever seen.
He had several great years for the Phillies making All-Star teams from 1965-1967. Despite his many on-the-field accomplishments, however, Allen's career was hampered by off-the-field controversies including a clubhouse fistfight with Phillies teammate Frank Thomas, resulting in Thomas's release from the team.
Dick Allen was also a professional singer performing in many Philadelphia area night clubs but despite his many talents Allen never had the chance to play in a World Series.
5. Del Ennis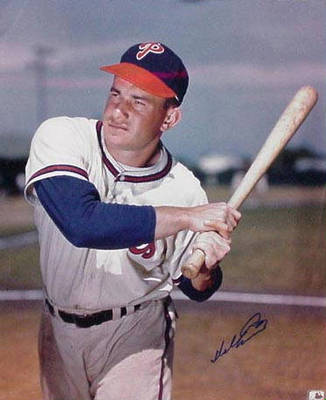 philliesnation.com
Before there was Ryan Howard there was Mike Schmidt and before there was Mike Schmidt there was Del Ennis.
Ennis was one of baseball's top home run hitters when he played for the Phillies from 1946-56. He was the Rookie of the Year in 1946; he was named to three All-Star teams and he finished in the top 10 for the National League's Most Valuable Player voting six times.
Ennis's best season was in 1950 when his .311 batting average, 31 home runs and 126 RBI helped the Phillies win their first pennant since 1915, though they were swept by the Yankees in the World Series. Unfortunately fans in Philadelphia did not appreciate Ennis's many accomplishments and they booed him unmercifully during his years with the team. He now, however, has been honored with a well-deserved plaque on the Philadelphia Baseball Wall of Fame.
4. Roy Halladay/Cliff Lee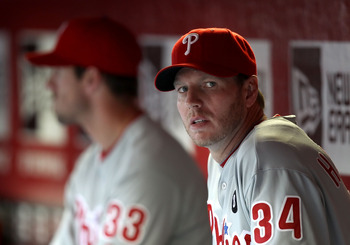 Christian Petersen/Getty Images
Neither Roy Halladay nor Cliff Lee have been with the Phillies that long which is why they are splitting the number four spot but their many accomplishments make it impossible to leave them off this list.
Roy "Doc" Halladay won two CY Young Awards, the most recent after his 2010 season with the Phillies becoming only the fifth pitcher to win the award in both the National and American League. In 2010 Halladay pitched both a perfect game and a no-hitter. The no-hitter came in Halladay's first Postseason appearance making him only the second player in MLB Postseason history to accomplish this feat.
Cliff Lee is also a Cy Young winner and a three time All-Star. He has been honored with the AL's Comeback Player of the Year, the Sporting News Pitcher of the Year and the Warren Spahn Award. After a brief stint with the Phillies in 2009 when he helped the team make it to the World Series and had the only wins in the Phillies 4-2 series loss to the Yankees, Lee was traded to the Seattle Mariners. But just one year later Lee returned to the Phillies in a free agent signing that delighted Phillies fans and shocked the baseball world.
While you could fill many pages with the individual accomplishments of these two men, their final chapter has yet to be written. They both joined the Phillies with just one goal in mind, to win their first World Series Championship. So the big question: Will they be on this list next year???
3. Richie Ashburn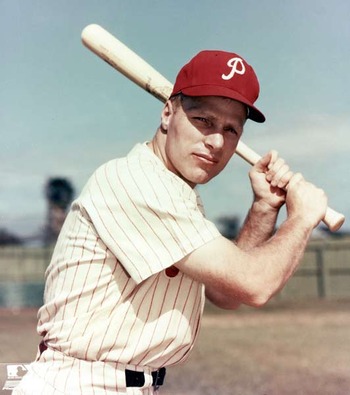 teamtobeat.wordpress.com
Richie "Whitey" Ashburn is probably most known to younger fans as half of one of the most beloved broadcast teams in all of sports. Known simply as "Harry and Whitey," Harry Kalas and Richie Ashburn broadcast the Phillies games together for 27 years. But before he took his seat in the broadcast booth Ashburn made his mark on the baseball field and is considered by many to be the best center fielder in Philadelphia Phillies history.
Defensively, Ashburn had six seasons with at least 500 outfield put-outs, more than Mickey Mantle and Willie Mays. And on the offensive side of the ball, he was the perfect leadoff hitter. Ashburn led the league in on-base percentage four times, batting average twice, stolen bases once, hits three times and triples twice. He batted .300 or better in nine of his 15 seasons. In 1995, Ashburn was inducted into the National Baseball Hall of Fame.
In short, Richie Ashburn accomplished just about everything he could on the baseball field (and off) except of course for one thing, the reason he's on this list--he never won a World Series Championship.
2. Chuck Klein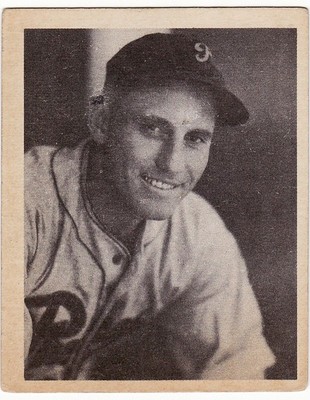 number5typecollection.blogspot.com
Right fielder Chuck Klein is arguably the best position player to never play on a World Series winner. He played from 1928-44 including three separate stints with the Philadelphia Phillies, 1928-33, 1936-39 and 1940-44.
Klein won the National League Most Valuable Player Award in 1932 and the Triple Crown in 1933 both as a Phillie. He led the league in homers and doubles twice, RBI and extra-base hits four times and won one batting title. His career batting average is .320. In 1936, he became the first player in the twentieth century to ever hit four home runs in a game. Defensively, he holds the single season record for assists by a right fielder. Klein was also a good baserunner, quite unusual for a slugger, and led the league in stolen bases in 1932.
Quite simply, Chuck Klein could do it all. He ended his remarkable career with 2076 hits (870 for extra bases,) 1168 runs scored, 300 home runs and 1201 RBI. In 1980, Klein was elected posthumously to the Baseball Hall of Fame.
1. Robin Roberts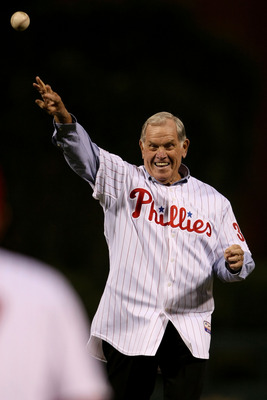 Elsa/Getty Images
Pitcher Robin Roberts tops the list of Great Phillies to Never Win a Championship. Many consider Roberts to be the best pitcher in Phillies history. Although perhaps not as lauded as Steve Carlton or Grover Cleveland Alexander or today's aces, like Roy Halladay and Cliff Lee, Roberts' accomplishments speak for themselves.
For starters, he is the only pitcher in baseball history to start five All-Star games. He led the league in wins from 1952-55 and he won 20 games each season from 1950-55. Six times he led the league in games started and five times he was first in complete games and innings pitched. In one memorable stretch Roberts pitched 28 complete games in a row.
In an age ruled by pitch counts and regimented days off Roberts' accomplishments are nothing short of astonishing. In 1950 when the Phillies were fighting to win the pennant, Roberts started 3 of the team's last 5 games, including the last game of the season when Roberts pitched a 10-inning complete game beating the Brooklyn Dodgers in Ebbets field to lead the Phillies to their first NL pennant in 35 years.
Possibly exhausted by the stretch run, however, the Phillies were swept by the Yankees in the 1950 World Series. Robin Roberts was inducted into the Baseball Hall of Fame in 1976.
Ten great players with zero World Series Championships.
But in baseball you know what they always say, "Just wait till next year."
Keep Reading

Philadelphia Phillies: Like this team?