St. Louis Rams Free Agency: Underrated Running Back Options
July 20, 2011
Chris Graythen/Getty Images
The St. Louis Rams are clearly heading in the right direction as far as team development goes, but there are still some major needs that must be addressed. 
They need an outside linebacker, a offensive guard and a defensive tackle, but probably the most talked about team need in recent months has been a backup running back. 
Steven Jackson has 907 carries in the last three seasons combined, and 1,878 career carries.
Jackson is still a highly effective runner at the age of 27, but his game film, as well as his 3.8 yards per carry average in 2010, suggests that he's lost some of his pop.
Sam Bradford and the newly drafted receiving targets (Lance Kendricks, Austin Pettis, Greg Salas) will help to reduce Jackson's workload, but a secondary runner would greatly increase the overall production of Jackson throughout a 16-game season.
The Rams failed to address their running back need during the draft last April, which forces them to confront the issue through free agency.
A few names have been repeatedly tossed around, such as Darren Sproles, Reggie Bush and Cadillac Williams, but there are two other running backs that have been flying under the radar.


Jason Snelling

Snelling is in a contract year with the Atlanta Falcons, and there's a good chance that he'll be allowed to test the open market.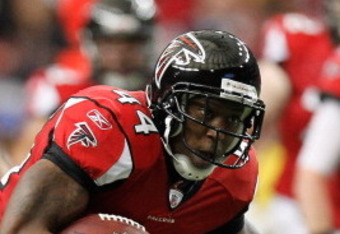 Kevin C. Cox/Getty Images
The 27-year-old will be entering his fifth NFL season in 2011. He has very few carries throughout his career (257), so he will have a lot to offer the Rams for the next several years.
Many fans are expecting a speedy, change-of-pace back to complement Jackson, but Snelling would be the polar opposite.
At 5'11" and 223 pounds, Snelling is a bruising runner, just like Jackson. So while the backfield would be lacking elite speed, the two of them would certainly be capable of wearing down an opposing defense.


Steve Slaton

The Houston Texans hit the jackpot with Arian Foster, who led the NFL in rushing in 2010 with 1,616 yards.
Foster's rushing title was enough for the Texans to completely forget about Steve Slaton, who is now an unwanted child in Houston.
Slaton entered the NFL with a bang in 2008, as he rushed for 1,282 yards as a rookie. But he was a disappointment in 2009 with only 437 yards and a 3.3 yards per carry average.
Unfortunately for Slaton, Foster's success was so sudden and overwhelming that the Texans didn't even have the chance to see if Slaton's 2009 season was nothing but a fluke.
But fortunately for the Rams, they could have the chance to find out themselves.
If the 25-year-old Slaton can regain his form, then he'll be a very capable No. 2 running back behind Jackson.
Also, given his success in 2008, it's possible he could even fill in for Jackson as an effective full-time starter in the event of an injury. He would certainly be a nice bit of insurance for a young team with aspirations of winning the NFC West.


Conclusion

Whether it's the front-runners (Sproles, Bush, Williams), or the hidden gems (Snelling, Slaton), it's clear that the Rams need a running back.
Jackson has put up with enough abuse between 2007 and 2009, when he was the only weapon on the team. So the Rams have to be aggressive in finding a free-agent running back if they want any longevity out of Jackson whatsoever.
If not for Jackson's sake, then for the sake of the offense.
The Rams are not capable of displaying a dominate aerial attack, which means they will still have to significantly rely on the run in 2011. To do so will require another back.