Cleveland Indians Trade Rumors: Confirming Who the Tribe Will and Won't Acquire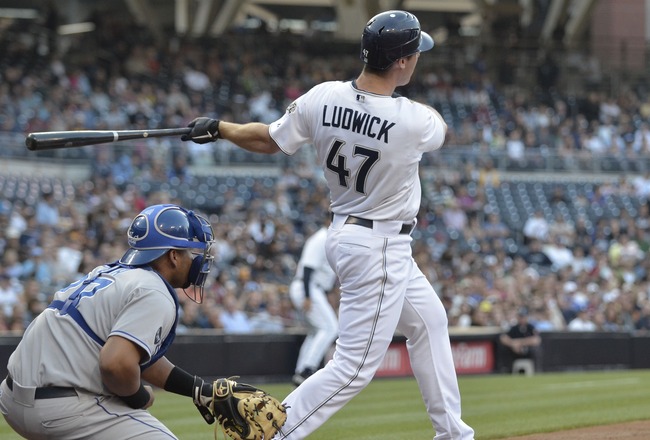 Denis Poroy/Getty Images
With the July 31 Trade Deadline fast approaching, most teams still believe that they have a legitimate shot at playing in October. One such team, is the first place Cleveland Indians.
The issue is, staying in first place could be a challenge. The Detroit Tigers continue to stick around in the tight AL Central race and the Chicago White Sox are starting to make a run for the playoffs in the second half.
Even at full health the AL Central race would be a tough one for the young Indians, but right fielder Shin-Soo Choo is out until late August with a broken thumb, and Grady Sizemore has once again injured his knee.
Outfield help is suddenly a top priority for the Tribe, or is it?
Fausto Carmona has been one of the worst starters in the Major Leagues in 2011 and Mitch Talbot has lost his rotation spot. Justin Masterson, Carlos Carrasco and Josh Tomlin have been great, but it takes more than three pitchers to make a complete rotation.
David Huff had an excellent start against the Twins on July 18, but his track record in the Major Leagues suggest he may not be able to have sustained success. Perhaps General Manager Chris Antonetti could decide that rounding out the rotation could be the most important thing for a playoff run.
This slideshow will list each player the Indians have been linked to thus far in trade rumors and decide what players are most likely to land in Cleveland by the end of the month.
Ryan Ludwick, LF/RF San Diego Padres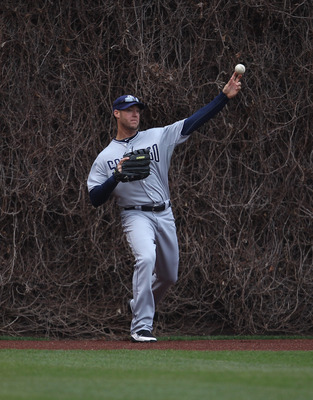 Jonathan Daniel/Getty Images
Likelihood: Very Likely, about 80/20 chance.
What it would take: A solid pitching prospect
Ryan Ludwick, a former Indian, has been almost the only powerful bat in a weak Padres lineup. Ludwick's .683 OPS leaves a lot to be desired, but Petco Park has not exactly helped his cause.
Despite playing in the ultimate pitchers park, Ludwick still has solid offensive output with 11 HR and 56 RBI. His OPS+ is 95, which suggests he is just about an average hitter this year, but could still some solid right-handed power in a predominantly left-handed Indians lineup.
He also plays solid defense with a dWAR of 0.3 and .985 fielding percentage in 2011. Ludwick has experience at both corner outfield positions so Manager Manny Acta could move him around as needed.
Ludwick currently is a Type-B free agent, making him eligible for compensation picks if he is not re-signed. This could drive up his asking price, but the Padres being starved for young talent may not be too inclined to hold onto the 33-year-old outfielder.
A deal for Ludwick could be very similar to the Austin Kearns deal with the New York Yankees. The Indians received Zach McAllister in that deal; a solid pitching prospect who was having a terrible year and his prospect status had faded within the organization. The Indians could offer a player like Hector Rondon for Ludwick; once a great pitching prospect who had injuries derail his once bright career. The Padres could be convinced he can be a good starter in healthy and could pull the trigger. Two other possibilities are Kevin De La Cruz and Scott Barnes since Rondon is still rehabbing.
Josh Willingham, LF Oakland Athletics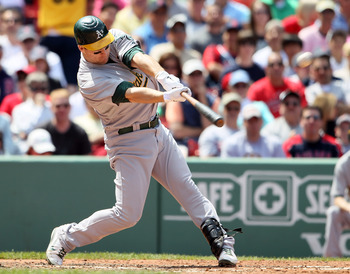 Elsa/Getty Images
Likelihood: Somewhat likely, about 50/50.
What it would take: Quality offensive prospect, preferably in the high minors.
Josh WIllingham could be a great outfielder in the Major Leagues, if only he could stay healthy. He has averaged 116 games the past three years, which would probably make him best suited for a fourth outfielder role.
Still, when Willingham has been penciled into the lineup he has produced. Willingham had 26 HR and 74 RBI in 142 games with the Florida Marlins back in 2006 and 21 HR with 89 RBI in two more games the following year. Thus far in 2011 Willingham has 12 HR and 46 RBI with a .755 OPS.
Defensively, Willingham has played the vast majority of his career at left field with 35 career games in right. his dWAR in 2011 is an ugly -0.5. But his oWAR is a solid 0.8, which could make his bat worth the defensive limitations.
A bonus about Willingham is that he is currently a Type-A free agent, which could bring in two compensation picks for the Indians if they decide not to re-sign him. Oakland could use that to drive up his asking price, or even decide to keep him for themselves if they do not like what the market values Willingham at.
Oakland has one of the best rotations in baseball, which is unfortunate since the Indians have more than enough pitching to spare. Offense has always been the Athletic's weakness making a powerful bat that is close to Major League ready their greatest need. Beau Mills, the Tribe's 2007 first round pick is currently on a tear at Double-A Akron and is about the only prospect that fits that need that the Indians would be willing to give up.
Mills has disappointed thus far in his minor league career, but is starting to show signs of turning it around this year. Matt LaPorta will continue to man first base in Cleveland for the foreseeable future, making Mills a blocked prospect. Getting shipped out to a run-starved Oakland club is about the best-case scenario for the young first baseman.
Aaron Harang, RHP San Diego Padres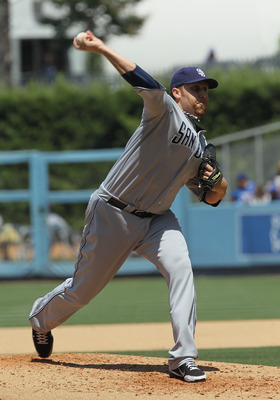 Stephen Dunn/Getty Images
Likelihood: Somewhat likely, about 40/60 chance
What it would take: A developmental pitcher.
Aaron Harang was your prototypical innings eater for years in Cincinnati and signed a one-year deal to play in the spacious Petco Park in 2011.
The new venue has done wonders for Harang's ERA as it now stands at 3.19 when his career average is 4.26 and previous high being 3.73. That low ERA might inflate quickly if he pitches every fifth game at Progressive Field, making him not the most attractive option in a weak pitching market.
Still, with the Indians now starving for a pitcher to round out their rotation they may decide to pull the trigger on Harang.
Fangraphs developed a statistic called SIERA which is basically what a pitchers ERA would be if you take away ballpark differences and project BABIP and HR/FB rates. Harang's SIERA ends up at 4.05 which puts him 17th among pitchers with one-year left on their contracts. This makes Harang one of the least attractive options for Cleveland to pursue.
If other teams jump on the better pitchers on the market, Cleveland could fall back on Harang whom San Diego may part with easily. Harang does not qualify for draft pick compensation at the end of the season, and Cleveland could just offer a pitcher in the low levels of the minors to get the veteran right-hander for the rest of the year.
Jeff Francouer, RF Kansas City Royals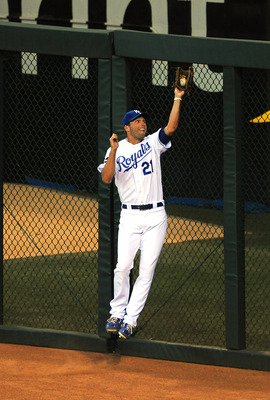 G. Newman Lowrance/Getty Images
Likelihood: Low, about 30/70 odds.
What it would take: A mid-level prospect.
The Indians pursued Francouer in the offseason, but he instead chose to play in Kansas City as their everyday right fielder.
The choice worked out for the former top prospect as he is having a resurgent year for the Royals. Francouer holds a .264/.310/.447 slash line with 13 HR and 58 RBI. He is also showing off his speed that the league has not seen before with 15 SB when his previous career high was eight in 2010.
But Francouer's great first half might be a mirage as he has not been able to produce thus far in the second half. With his track record over the past few seasons in the Major Leagues, counting on Francouer to be the offensive spark in the Indians lineup could be a mistake.
Defensively Francouer is also an issue as he has almost exclusively played in right field. He has only played two games and a total of 12 innings at left field and three innings at center field. Since he can almost only play in right, this could create an issue once Choo returns from his injury and takes back his outfield spot. With the DH spot filled by Hafner, this would leave Francouer with nowhere to play. This makes him an unlikely option for the Tribe.
The Royals would take whatever they could get for Francouer, and the Indians would likely offer up one of their plethora of pitchers. Someone in Kevin De La Cruz's tier is a likely option, but someone might think Francouer's first half is legitimate and offer more than that, making it unlikely he ends up in an Indians uniform.
Jeff Baker, 2B/3B/1B/RF Chicago Cubs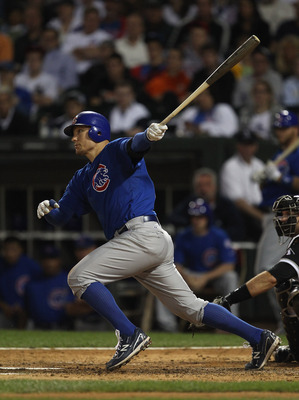 Jonathan Daniel/Getty Images
Likelihood: Highly unlikely, 90/10 odds.
What it would take: Next to nothing, a fringe prospect in the mid-levels of the minors.
When I heard some slight mums and rumblings about Cleveland's interest in Jeff Baker, it made no sense to me. The Indians have plenty of options in the minor leagues for a utility infielder role, currently manned by Luis Valbuena. The Tribe has much greater needs than an infielder who has the offensive upside of a little leaguer.
Baker has 32 career HR and eight career SB in seven seasons. In 2011, he has two round trippers and has not even attempted to swipe a bag. In 51 games, Baker holds a .301 BA, but the Indians needs a powerful bat rather than a single machine as Baker only has eight doubles.
The 30-year-old utility man offers only flexibility defensively, with experience at almost every spot on the field except center field, shortstop and the pitchers mound. The issue is that Baker isn't exceptional at any position defensively, making him a fringe Major League player.
If any team decides to deal for Baker I would be surprised let alone the Indians. The Cubs would be enthralled to get a semi-serious offer for Baker and would likely deal him cheap.
Bruce Chen, LHP Kansas City Royals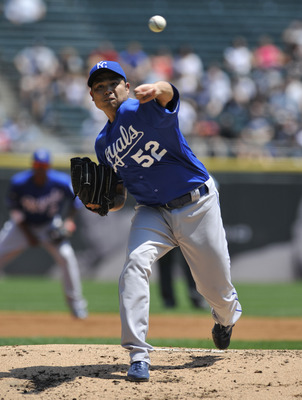 David Banks/Getty Images
Likelihood: Somewhat unlikely, about 40/60 chance.
What it would take: An average prospect.
The career journeyman, Bruce Chen has played for nine different Major League teams and could be joining his 10th by the end of the month.
Chen has jumped back and forth between starting and relief pitcher roles throughout his career, and is currently settling in quite nicely in Kansas City's rotation. Chen has a solid 3.56 ERA, but his peripherals suggest that may be a mirage.
Chen has only a 5.5 K/9 and 3.2 BB/9. He also has a 1.1 HR/9 rate which could afford to drop in order to keep being affective. Chen's SIERA is 4.58 that makes him seem like much less of an attractive option for a team in need of a starter.
The one nice thing about Chen is that he is left-handed, something that Cleveland lacks unless they decide to keep Huff in the Major Leagues for the rest of the year.
In return for the veteran, Kansas City would ask for an average prospect, most likely a pitcher. If Cleveland does not like what other teams are asking for in return for their pitchers, they could fall back to Chen and not have to spend much.
Hiroki Kuroda, RHP Los Angeles Dodgers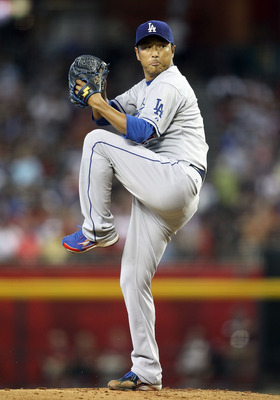 Christian Petersen/Getty Images
Likelihood: Somewhat likely, about 60/40 odds.
What it would take: A mid-tier pitching prospect.
Kuroda has developed a track record as a quality starting pitcher in his four years playing in the Majors. Kuroda holds a career 3.51 ERA and is having his best season thus far with a 3.13 ERA. His peripherals are also solid, with 6.7 K/9 and 2.2 BB/9 rates. Kuroda's SIERA is right around his career mark at 3.68.
With the Dodgers in bankruptcy and struggling to make payroll, they may easily part with the veteran right-hander. Kuroda is one of the better pitchers on the block, yet still seems to be undervalued since not as many teams as expected are showing interest in him.
Kuroda also just qualifies as a Type-B free agent so a compensation pick could also be coming Cleveland's way if they choose not to re-sign him in the offseason.
With the Dodgers situation and the market undervaluing Kuroda, it might not take much to get him on the hill at Progressive Field. Someone like a Corey Kluber or Scott Barnes should be more than enough to ship him out of Los Angeles.
Carlos Beltran, RF New York Mets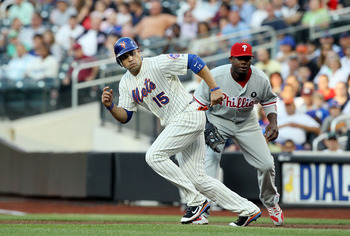 Jim McIsaac/Getty Images
Likelihood: As likely as the Dolan family giving Antonetti the money to sign Pujols.
What it would take: A top prospect/two quality prospects and cash/a quality prospect and eating the rest of his salary.
The man whom many consider the crown jewel the the trade market, Carlos Beltran has rebounded in a big way from his injury that cost him most of the 2009 and 2010 seasons.
That is why Cleveland has no chance of acquiring him. The Mets are demanding a top prospect for Beltran, and Antonetti has been adamant about not sacrificing their future for this season. Rumors are that they could also be convinced to deal Beltran if the team eats the rest of his salary when he is earning $18.5 million in 2011.
But perhaps Beltran could be worth the money. He has a great .287/.381/.512 slash line and also had 14 HR while leading the NL in doubles with 28. His OPS+ is 147, which is the second best mark in his career. His oWAR is great at 3.1.
The one downside is that he has lost all of his speed as he only has three SB on the year.
Beltran has also slipped defensively and can only play right field now. This brings up the same problem as Francouer that when Choo returns there will be nowhere for Beltran to play.
With the asking price through the roof, the only way the Indians could get him is if they eat the rest of his salary, which they cannot afford to do. Giving up someone like a Jason Kipnis is out of the question, so the Mets will look elsewhere to deal Beltran.
Keep Reading

Cleveland Indians: Like this team?