St. Louis Rams: 7 Players That Need to Step Up for a Playoff Run in 2011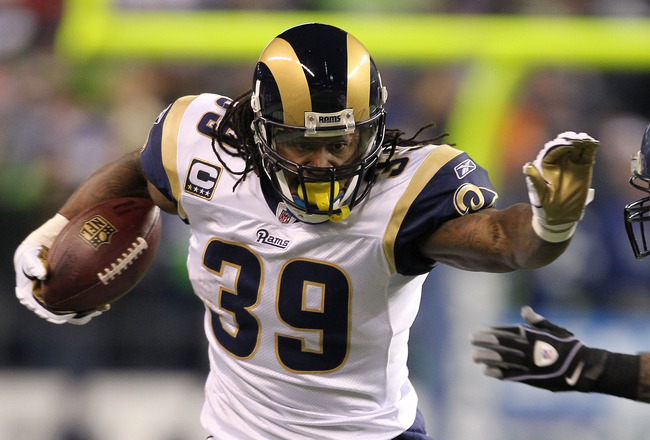 Otto Greule Jr/Getty Images
The St. Louis Rams of 2010 gave us a great example of how quickly a team's fortunes can change. In 2009, they were among the most hapless teams in the NFL. They went 1-15 and lost nine games by double digits.
In 2010, that horrible record gave them the first overall draft pick and the chance to draft Oklahoma quarterback Sam Bradford. All Bradford did with the help of Steven Jackson and others was get the Rams one win away from making the playoffs.
Last year's goal was to simply improve and be competitive. Now, the goal is to make the playoffs and nothing less.
It can certainly be done. The offense is solid behind Bradford and Jackson. The defense is somewhat anonymous, but gets the job done behind James Laurinaitis, O.J. Atogwe, Chris Long and James Hall.
For the playoffs to be a reality, though, everyone needs to step their game up. In particular, there are seven guys that the Rams need to have as leaders to get this team to the postseason.
QB Sam Bradford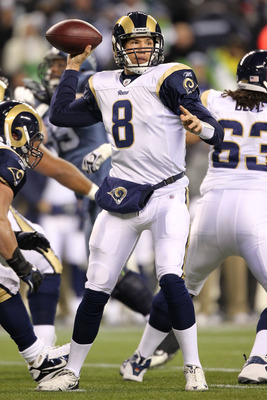 Otto Greule Jr/Getty Images
Given how much Sam Bradford gave the Rams last year, it's hard to imagine him being able to top that this season. There's just no reason to believe he won't, though.
For starters, you generally see the biggest leap for young quarterbacks between year one and year two. Last season, the Rams were forced to run a stripped-down version of their offense to allow Bradford to better deal with the increased game speed of the NFL. Now, they can open it up more.
Speaking of their offense, Bradford will now have one of the brightest offensive minds in the game calling plays for him. Coming off a tumultuous tenure as the Denver Broncos head coach, Josh McDaniels, is the new Rams offensive coordinator.
Having healthy players around him will also help. Last season, it seemed that the available receivers changed every game. While health is no guarantee year to year, it's hard to imagine the injury bug biting nearly as often as it did last season.
Quite frankly, it's tough to imagine a scenario where Bradford doesn't improve. He just has so much going for him going into Year 2 in St. Louis.
RB Steven Jackson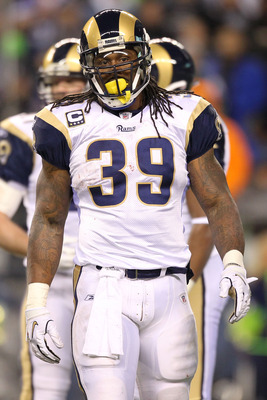 Otto Greule Jr/Getty Images
On the field, the Rams simply need Steven Jackson to be himself. Over the last few seasons, Jackson has been the model of consistency. Last season, he rushed for over 1,200 yards.
More impressive was his performance in 2009 when he was really the only offense the Rams had. With quarterback Marc Bulger looking like a shell-shocked version of himself, Jackson rushed for over 1,400 yards and caught 51 passes.
Where the Rams really need Jackson to be solid is in the locker room. The Rams have their share of young players, particularly on offense. The veterans they do have are less than familiar with being in a playoff race late in the season.
Jackson is one of the few players that was around back when the Rams were playoff contenders. His veteran presence will pay huge dividends if the Rams do indeed find themselves needing a big win late in the season to get into the postseason.
DE Chris Long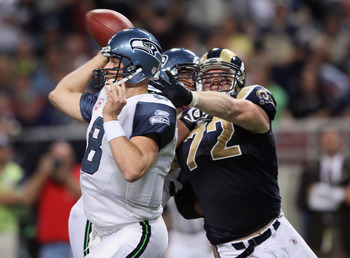 Elsa/Getty Images
After a couple of seasons of serious debate about whether or not Chris Long was a draft bust, Long broke out last season and answered some of those questions with an 8.5 sack season.
He made a living in opposing backfields and his constant pressure made life easier for other guys on defense, including fellow defensive end James Hall.
After proving that he can be a game-changer, it will be on Long to prove that he can be an elite pass rusher. He has shown that he can beat his man one on one every time, but now he needs to show that he can fight through double teams and also adjust to the running play on the fly.
DE James Hall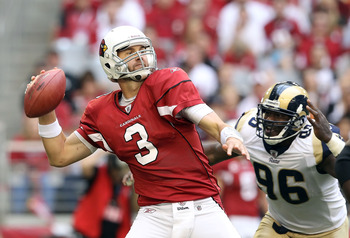 Christian Petersen/Getty Images
Other than Chris Long himself, James Hall was the biggest benefactor of Long's emergence as a consistent pass rusher.
After a long career of being a solid, yet unspectacular defensive end, Hall really came up big for the Rams last season with 11 sacks. Other than an 11.5 sack season in '04-'05 with the Lions, Hall had never had more than 6.5 sacks in a season.
Now, Hall needs to show that he isn't just a flash in the pan. At 34 years old, it's not fair to expect Hall to improve a whole lot. The Rams simply need him to come close to duplicating his play from last season.
Hall repeating his success coupled with Long improving his play yet again will make life much easier for the Rams other defensive players.
WR Donnie Avery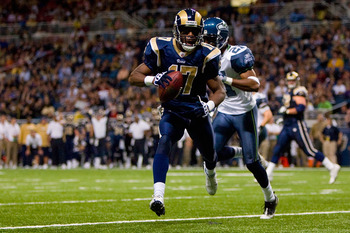 Dilip Vishwanat/Getty Images
It's no secret what Donnie Avery needs to do to have more success in the NFL. He just needs to stay healthy.
When Avery has been healthy enough to play, he has shown the ability to be a big-play receiver and that's no small feat when you consider he had Marc Bulger, who was past his prime, throwing to him for much of that time.
Over his two healthy seasons, Avery has averaged 12.6 yards per catch and has eight total touchdowns.
Having Avery healthy and ready to go will turn the receiving corps from a glaring weakness to a possible strength for the Rams.
Danny Amendola caught 85 passes last season and shows signs of becoming a Wes Welker-type player in the NFL. Brandon Gibson averaged 11.7 yards per catch, Danario Alexander averaged an absurd 15.3 yards per catch and if re-signed, Mark Clayton will bring a veteran presence to the offense.
The Rams also drafted Austin Pettis out of Boise State and Greg Salas out of Hawaii, making the receiver position a crowded one for St. Louis.
RB Kenneth Darby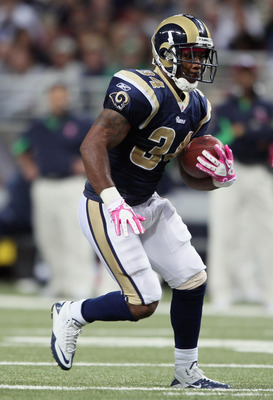 Elsa/Getty Images
In an era where most teams are using multiple running back with regularity, the Rams heavy reliance on Steven Jackson feels incredibly out of place and short-sighted. You can't argue with the results as Jackson is one of the more consistent backs in the league, but with Jackson nearing 30 years old, you have to wonder how long it will be before he breaks down.
That's where Kenneth Darby comes in. He has been in St. Louis for three seasons and because of that, has some familiarity with the personnel and much of the coaching staff.
Part of his struggles can be chalked up to a lack of consistent carries, but regardless of the reason for it, he needs to improve. Last season, Darby averaged 3.1 yards per carry and gave the coaches little reason to spell Jackson and bring Darby in.
If Darby could just play well enough to warrant getting 75-80 carries, it would go a long way towards keeping Jackson fresh and ready for the grind of a 16-game season and the possibility of postseason play.
CB Bradley Fletcher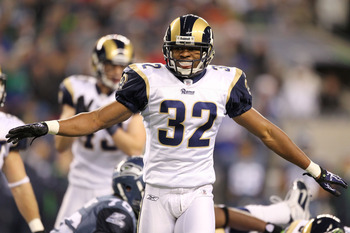 Otto Greule Jr/Getty Images
Bradley Fletcher was one of the pleasant surprises of the Rams 2010 season. After playing sparingly in 2009, Fletcher made the most of his increased playing time last year with four interceptions and 75 tackles.
His ability to stay with his man bought time for pass rushers like Chris Long and James Hall and allowed the Rams coaches to give help defenders to the cornerbacks playing on the opposite side of Fletcher.
Now, the challenge for Fletcher is to become an elite, lock down corner. That's the missing piece in the Rams defense. The Rams have pass rushers in Chris Long, James Hall and the newly-drafted Robert Quinn. They have a team leader and tackle machine at linebacker in James Laurinaitis.
Now, they just need someone who they can leave on an island with his receiver. The Rams are certainly hoping that Bradley Fletcher can be that guy.
Keep Reading

St. Louis Rams: Like this team?