2011 NFL Free Agency: Quintin Mikell and 7 Free Agents for Money-Conscious Teams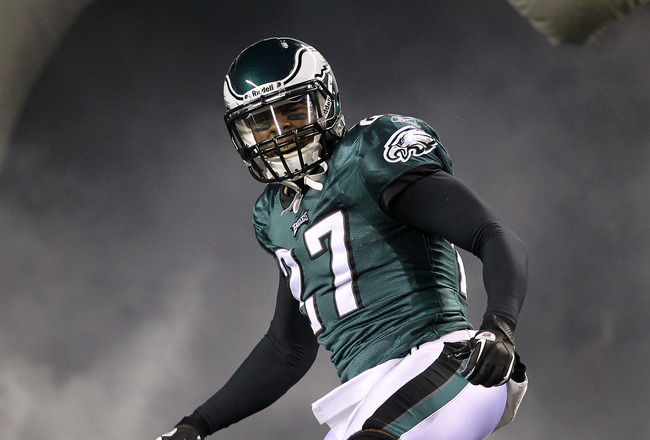 Al Bello/Getty Images
There is no timetable for when the NFL free agency period will begin. We only know that it will begin some time after the lockout has been lifted.
What we do know is that when the period finally begins, it will set off a relative feeding frenzy for teams trying to get players signed and into their training camp before it begins.
The biggest domino that will fall will be the signing of Nnamdi Asomugha. There will surely be a ton of interest there.
But fret not fans of teams that don't have as much money to spend. With so much early action in the free agent signing period, good players will fall through the cracks. Talent will be available to shrewd teams late in the process.
It's on those signings that a general manager really makes his money. Any GM can throw a ton of money at Asomugha and get him to sign, but the really good GMs will be the ones that can decide which overlooked veteran defensive back is worth signing to upgrade the secondary.
For those teams and general managers, let's take a look at some of the players that might be available at a bargain price.
SS Quintin Mikell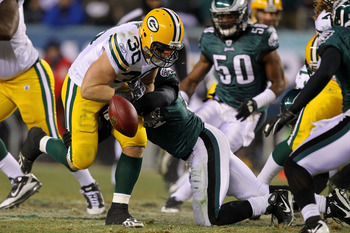 Al Bello/Getty Images
Quintin Mikell would be an ideal fit for a team looking for a solid, productive veteran to bring some leadership to their defensive secondary.
The nine-year veteran has improved as his playing time has increased, with eight of his ten career interceptions coming in the last three seasons.
At a stout 5'10" and 203 pounds, Mikell is more than capable of laying the wood on a receiver coming across the middle, but as his 10 career interceptions attest to, he is much more than just a headhunter at safety.
Mikell gets it done on the field, but his influence might be better felt in the locker room. Mikell has spent his entire career in Philadelphia playing on some very good Eagles teams. In particular, their defenses have a professional and workman-like approach.
With all he brings to the table, it's likely that the Eagles will make an effort to resign him. But if they let him walk, he would be a real nice pickup for a team looking to bolster their defense.
CB Ike Taylor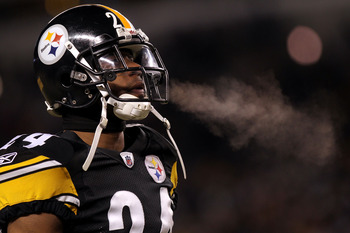 Nick Laham/Getty Images
I imagine that Ike Taylor will be a popular target for teams that get priced out of the Nnamdi Asomugha sweepstakes.
Taylor will be attractive to teams in many of the same ways that Mikell will be attractive. Taylor has spent his entire career with the Steelers, a team known for their great defenses. If nothing else, you know you will be getting a battle-tested, hard-nosed player.
His stats have been limited because he has spent his time battling players just to get on the field, but that could change soon. Taylor seems to have the tools to be a starting cornerback and is just waiting for the chance to show those tools off for a team that takes a chance on him.
RB Patrick Cobbs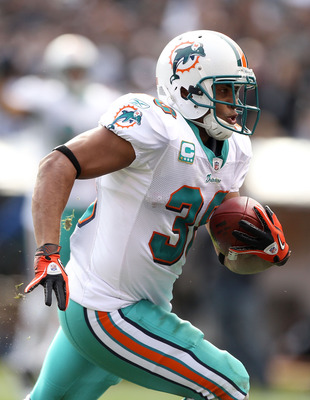 Ezra Shaw/Getty Images
In an era when more and more teams are going to running back by committee, having multiple backs you trust is more important than ever.
No team has taken that as seriously as the Miami Dolphins. Led by Ronnie Brown, they have had one of the most successful running back platoons in the league with Brown, Ricky Williams and Patrick Cobbs toting the mail.
Cobbs could be a guy that can take on more of a featured role. In an admittedly small sample size, he has averaged 4.6 yards per carry in his career.
It would have been easy for Cobbs to complain about a lack of playing time or demand to be moved, but he didn't. He has carried himself as a professional and now he has an opportunity to sign with a team that can give him a bigger role.
I'm not suggesting that Patrick Cobbs is ready to be the next Adrian Peterson, but I think he can be a featured back on a team with a veteran quarterback and solid offensive line around him.
WR Mark Clayton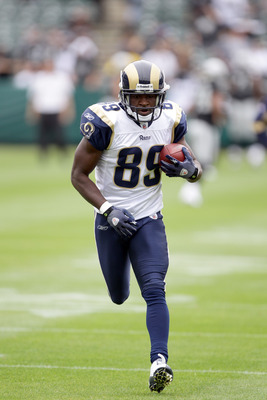 Ezra Shaw/Getty Images
After a good start to his career as a featured receiver for the Baltimore Ravens, Mark Clayton began to see his role with the team diminish as they continued to stockpile offensive talent around quarterback Joe Flacco.
After being picked up by the St. Louis Rams, Clayton went from being an afterthought to being a featured receiver yet again. Before missing time due to an injury, Clayton was a reliable target for Sam Bradford.
In just five games with the Rams, Clayton caught 23 passes for 306 yards and two touchdowns. He proved that he has plenty left in the tank.
The Rams themselves have a need at receiver so he very well may end up back in St. Louis, but for other teams needing a veteran receiver, they would do well for themselves to take their eyes off of guys like Plaxico Burress, Terrell Owens and Randy Moss and turn their eyes to Mark Clayton.
DE Jason Babin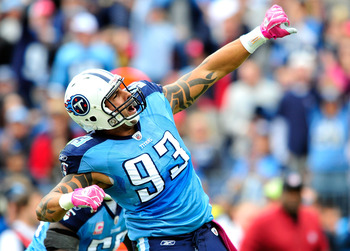 Grant Halverson/Getty Images
After a rough start to his career as a Houston Texan, Jason Babin has begun to figure things out as a member of the Tennessee Titans.
Last season, he totaled 12.5 sacks. If I'm a general manager, though, I'm more impressed by his work ethic and determination. After unsuccessful stops in Houston, Seattle, Kansas City and Philadelphia, Babin stayed at it and it paid off big time in Tennessee.
Thanks to a certain level of disbelief at his success last season, the market for Babin will be inconsistent I'm sure. If most teams are still reticent, some team looking for a situational pass rusher will be pleased with the cost-efficient signing of Jason Babin.
DE/LB Chris Kelsay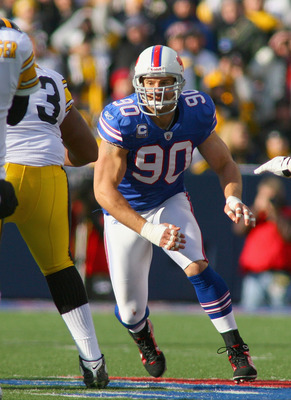 Rick Stewart/Getty Images
The feeling of being under-the-radar will be nothing new to Chris Kelsay. He has made a career out of being overlooked and under-appreciated.
In his nine years in the league, all with the Buffalo Bills, Kelsay has piled up 25.5 sacks and 20 passes defended. He can rush the quarterback with his hand on the ground on the defensive line and he can defend the pass standing up as a linebacker.
Since he has spent his entire career there, you'd have to think there is a good chance the Bills re-sign him. If they choose not to, some NFL team will get a steal with a tough veteran player in Chris Kelsay.
OT Willie Colon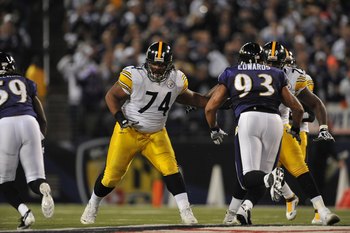 Larry French/Getty Images
At times, Willie Colon was scapegoated for a Steelers offensive line that could be described as inconsistent at times. To pigeonhole him as the reason that they underperformed would be missing the mark, though.
Offensive line is a group endeavor and while Willie Colon isn't the second coming of Anthony Munoz, he is a better player than many would lead you to believe.
With so much negativity surrounding their line, it wouldn't be a surprise to see the Steelers let Colon walk. If that does play out, a team will get a veteran lineman who has played on some great teams.
He is playoff-tested and has lined up opposite some of the best pass rushers the NFL has to offer. If the money and the expectation is appropriate, some team will be very happy with the signing of Colon.
Keep Reading