MLB Trade Rumors: Should the Yankees Swap A.J. Burnett for Carlos Zambrano?
July 19, 2011
Hunter Martin/Getty Images
Carlos "Big Z" Zambrano has long since worn out his welcome with the Chicago Cubs organization, and is currently pitching to a 4.78 ERA and 1.41 WHIP in the National League Central.
Making things even more disconcerting is Zambrano's remaining contract—about $25 million through 2012 with a virtually impossible chance at $44.25 million through 2013 (a player option based on top-four Cy Young placement in 2012).
As a result of these glaring blemishes, the New York Yankees and their bulging pocketbook have forever been the loudest whisper among baseball circles for "Big Z" relocation.
The Yankees sent top advisers of Brian Cashman to watch Zambrano pitch in June—as opposed to simply advanced scouts—so their interest seemed slightly more than a typical "due diligence" scenario.
Is it a likely scenario? No, but there might just be a marriage crazy enough to work between the two ancient baseball franchises.
Why would the Yankees take on such a hefty contract obligation for a pitcher who appears to be struggling against weaker NL lineups? Enter A.J. Burnett, the Bombers' own ulcer-causing mound enigma.
As likely to be blown out of the ballpark after three innings as he is to throw a no-hitter, perhaps no one in the game is more frustrating than Burnett—the only 34-year-old who is still talked about with "if he can just become consistent and learn a third pitch" language.
Burnett, who just completed another dud against the offensively inept Tampa Bay Rays, was on his way to an 8-8 record before his offense earned him a no decision in later innings. His 6.50+ ERA against the AL East in seven starts does not help his cause much either.
Swapping a problem for a problem has been done before (see Milton Bradley for Carlos Silva), and the deal offers rather tangible advantages to both teams.
Let's say the Yankees hypothetically offer A.J. Burnett, half of his 2013 salary ($8-9 million) and a quality (but not electric) arm like Adam Warren, David Phelps or Hector Noesi for Zambrano.
The Cubs get a possible middle-of-the-rotation pitcher, addition by subtraction of a clubhouse cancer and the services of AJ Burnett in 2013 for about $4-5 million—based on savings in salary differences between the two starters and the cash included in the deal.
The Yankees, meanwhile, receive a pitcher with better postseason pedigree (4.34 ERA vs. 5.67 ERA in similar inning totals) and are more importantly able to clear one full year off of high-cost pitching obligations.
Zambrano may not pitch quite as solidly as Burnett down the stretch. That being said, eliminating 2013 from their payroll entirely at the cost of a No. 4 starter prospect projection is worth the gamble on a 30-year-old just one year removed from an 11-6 and 3.33 ERA season.
The beauty of this calculated risk on New York's end is that it does not prevent them from upgrading at another spot in the rotation as well, as they are trading big contract for big contract without losing any of their top minor league prospects.
The Erik Bedards, Hiroki Kurodas and Ricky Nolascos of the world could still be acquired to fill out the middle of the rotation, and the postseason chances for 2011 are not reduced much if at all in this scenario.
While it does seem strange that the Cubs, looking to sell at the deadline, would take on an additional year of contract length, it ironically makes sense for them on a few levels.
Chicago is looking to retool without sacrificing seasons in the process, and Burnett's return to the National League (where he had a 3.73 ERA over seven seasons) would help to achieve that goal.
Burnett may be a head case, but any team would be hard-pressed to find a pitcher of his quality at $4-5 million for 2013 on the open market—considering that would have snagged you Jon Garland or Jesse Crain in 2011.
By moving an albatross contract they would have never been able to rid themselves of otherwise, the Cubs could potentially receive two rather capable rotation arms—likewise a calculated risk on their end.
Unless finding a suitor for Zambrano willing to take on his contract without unloading one of their own—an unlikely outcome to say the least—Chicago would have to consider this a low-risk, medium-reward opportunity.
Brian Cashman would likely be reluctant to pull off such a controversial deal in the middle of a pennant race, but viewing the pros and cons in a vacuum show a move that benefit the organization in the intermediate term while not ailing them in the "immediate" term.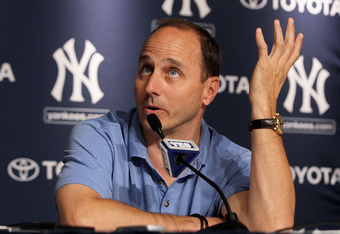 Jim McIsaac/Getty Images
Before Yankees fans jump down my throat, keep in mind that after a poor start to 2011 Zambrano had a 3.98 ERA over 13 starts before a recent poor outing off 15 days of rest—hardly a surprising or unforgivable result after such a long layoff.
In addition, Big Z's 6.40 innings per start—when removing a one-inning outing due to a back injury—is actually higher than Burnett's 6.23 average. Considering the tendency of pinch-hitting for NL starters in RBI situations, Zambrano may have even gone deeper into a few starts if given the chance.
Last but certainly not least, Yankees pitching coach Larry Rothschild has had a boatload of experience working with Zambrano in the past—which reduces a lot of the fears of not knowing what to expect and how to deal with any issues that may arise (both emotionally and mechanically).
There are of course justifiable counterarguments to a move that has as many uncertainties as this one would, but as a writer who got his start by attacking the Burnett signing back in 2009 this is something I have wondered about since the end of the 2010 season.
If the Yankees did move Burnett, it would more likely occur at the 2012 deadline or subsequent offseason, but this is the only plausible option to make a swap before then.
Should Cashman give the Cubs a call and try to work some unorthodox magic? Or will he and Jim Hendry decide that "caveat emptor" is a more overriding idiom than "one man's trash is another man's treasure"?