Barry Zito, Jonathan Sanchez: Who Will Win the Mind Game and 5th Rotation Spot?
July 18, 2011
Dilip Vishwanat/Getty Images
Ryan Vogelsong began the season in the minor leagues.
At the beginning of the second half, he has a starting-rotation spot locked up, while Barry Zito and Jonathan Sanchez, both of whom were in the five-man rotation on opening day, are competing for one remaining slot on the staff.
On an ordinary team, this would be about as dramatic as things could get over the course of a season, but we're talking about the Giants here.
Normally a competition between two athletes for one position is a good thing, the best example being the quarterback controversy in preseason football camp. It breeds high-level performance out of desperation for getting the starting nod.
But for the Giants, normal would be very uncharacteristic.
Instead, the two men, competing for the final rotation spot as the defending world champions make a push for the postseason, are pitching as though they've got nothing to lose besides a ballgame.
Barry Zito, who was stellar in his first three starts upon returning from the disabled list (3-0, 1.29 ERA), had a terrible outing on Saturday against the Padres in San Diego, giving up eight runs on seven hits while walking four in just three-and-two-thirds innings as the Giants lost 11-3.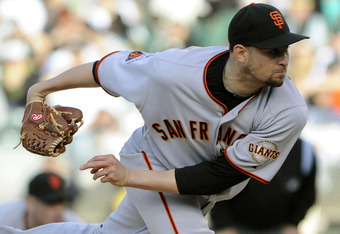 Thearon W. Henderson/Getty Images
Meanwhile, Jonathan Sanchez, who went on the disabled list with bicep tendinitis just before the All-Star break, made a rehab start with Class-A San Jose on Sunday, giving up six runs on six hits in only two-and-two-thirds innings.
While it's true that there are mitigating factors for both Zito and Sanchez, with Zito having three fantastic starts before Saturday's disaster and Sanchez making his first rehab start since going on the disabled list, these factors don't overcome the reality that both have something more than mechanics or physical health to blame for their inconsistency.
Barry Zito has shown time and time again that he still has what it takes to pitch effectively at the major-league level.
But he has also shown that he just cannot pitch well consistently.
In 2010, Zito started the season 5-0 with a 1.49 ERA. After looking every bit as good as he was in Oakland earlier in his career, Zito's season then collapsed, and he went 4-14 and saw his ERA balloon to 4.15.
Jonathan Sanchez is a very similar enigma.
Sanchez threw a no-hitter in 2009 and was a huge component of San Francisco's stretch-run and postseason success in 2010, winning the division-clinching game against San Diego on October 3, 2010, and pitching masterfully in the NLDS vs. Atlanta.
But while he was phenomenal at times, he was wildly erratic at others. One of the best examples was in two consecutive outings on September 10 and September 16 last season.
On September 10, against the Padres, Sanchez allowed no runs on just one hit in five innings but walked seven in a no-decision.
Then, in his next start on September 16 against the Dodgers, Sanchez went eight innings, allowing just one run on four hits while striking out 12 and walking none.
The Jekyll-and-Hyde nature of Jonathan Sanchez has been a source of great frustration, mostly because of the amazing potential he has if he can become consistent. A Cy-Young recipient? Easily for Sanchez if he can throw the ball consistently throughout the season.
So what happens now?
The problems that these two face are so vastly different, yet in many ways similar. The Giants lefties' issues do not appear to be physical, as they have both shown at times they can be lights-out.
There is something going on upstairs.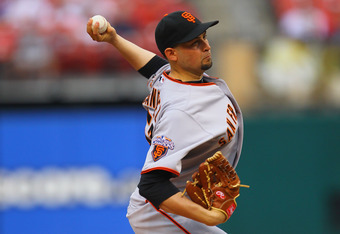 Dilip Vishwanat/Getty Images
We can all psych ourselves out at times, and it can become debilitating. Now imagine getting psyched out and being a professional athlete, competing for the defending world champions of baseball.
The pressures are great, there's no doubt.
It's certainly not an easy task to go out to the mound and pitch well each start, especially  following the likes of Tim Lincecum and Matt Cain.
But for the Giants to have the best possible chance at repeating as champions in 2011, one of these two needs to win the mind game.
The best bet for San Francisco's fifth starter down the stretch is Jonathan Sanchez.
While Sanchez is wild, he also led the National League in opponents' batting average at .204 last season. This year, despite all of his troubles, opponents are hitting just .212 against him, meaning even while getting on base via the walk, opponents are rarely scoring on the lefty.
While Zito's opponents are hitting just .234 against him this season, Sanchez's numbers are better.
Zito's ERA is 4.78, and Sanchez's is 3.81. Sanchez has better sheer stuff than Zito and has shown that he is better able to perform under pressure and in tight ballgames, which the Giants tend to play in frequently.
Sanchez has pitched well in one-run affairs, while Zito has a great record if given a three-run lead, but not so great a mark in close games.
So my money's on Sanchez.
At this point, though, the Giants would surely take consistency from either.