Prince Fielder Is the Answer to A's Offensive Problems in 2012 and Beyond
July 18, 2011
Christian Petersen/Getty Images
With no shortage of positions where the A's could use an upgrade in 2012, perhaps the most glaring hole in their system right now is the absence of a power threat at either corner infield position.
Yes, the A's have Chris Carter who is still arguably deserving of a longer look before he is deemed to be a Major League bust, but his skills are better suited for the designated hitter role than they are for any spot that puts a glove on his left hand.
The 2011 opening day starters, Kevin Kouzmanoff and Daric Barton, played themselves out of the Major Leagues and out of Oakland's long term plans.
Depending on what players the A's are able to acquire via trade over the course of the next few weeks in exchange for some of our soon-to-be free agents, the team will likely be left scouring the free agent and trade markets this offseason in hopes of finding a suitable upgrade.
The A's spent the last two seasons trying to woo Adrian Beltre to come play the hot corner while wearing the green and gold, only to be spurned first for Boston, and then for Texas.
With Beltre locked up to a multi-year deal with the Rangers, who will the Athletics set their sights on this offseason?
The top free agent available will likely be Aramis Ramirez, whose inconsistent play and sometimes lackadaisical effort would only further frustrate the A's faithful fan base.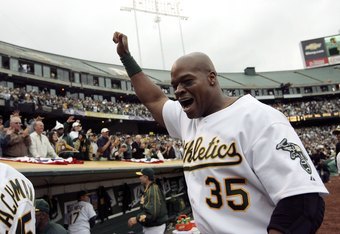 Justin Sullivan/Getty Images
The third base market appears to be limited to trade opportunities only if looking for a big-name acquisition.
Meanwhile a pair of monster names appears on the free agent market at first base.
Without wasting any time on the impossible, we can eliminate the A's from contention for Albert Pujols right now. It is not worth wasting the time to speculate on potential scenarios where it could happen.
Short of Tony LaRussa re-signing with the Athletics, bringing Mark McGwire along as hitting coach and convincing his slugger to come with them at a $10 million a year discount, there is just no possible chance for the A's to jump into that race.
Although the chances of the A's landing the other big name slugger at first base this offseason are probably about as remote as Lew Wolff winning a popularity contest amongst the dedicated Pro-Oakland fans that inhabit the right field bleachers each home game, Prince Fielder could be a realistic option for the A's if they choose to open their wallet and offer him above-market value.
I'll give you a minute to quit shaking your head and laughing at my suggestion…
Okay, now let me explain why, although incredibly improbable, the player once described in Michael Lewis' book MoneyBall as "too fat even for the Oakland A's" just may be the perfect fit for the A's.
A's Are Out of Excuses for Lack of Power
The last free agent signing that was able to produce offensively for the A's, and you could argue that Billy Beane got lucky, was Frank Thomas in 2006.
The signings of Mike Piazza, Jason Giambi, Mike Sweeney and Hideki Matsui have backfired.
The trades for Josh Willingham and David DeJesus have not lived up to the hype.
The A's front office tries to get by annually on pitching and light-hitting teams (again with the exception of Frank Thomas in 2006).
With the exception of some angry phone calls to the postgame show and a slew of bloggers and message board commenters, the A's have largely been given a free pass.
After several baseball analysts picked them to win the AL West this season, though, the A's will suffer a backlash if they fail to make a significant move yet again in the upcoming offseason.
Billy Beane and Lew Wolff will be essentially forced to increase the payroll and add an impact bat with a proven history, rather than second-tier players or aged superstars in hopes of catching lightning-in-a-bottle again.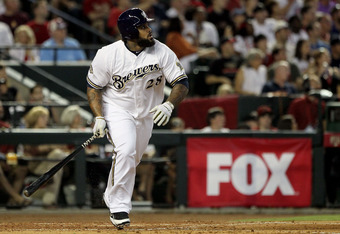 Jeff Gross/Getty Images
Stadium Backlash Damage Control
If Major League Baseball and Bud Selig ever issue a decision about the A's future home, there will be a backlash regardless of the outcome for the A's ownership.
If MLB approves a move to San Jose, the pro-Oakland group will protest and ticket sales at the Coliseum will shrink even further.
If MLB says the A's must stay in Oakland, Wolff will be forced to either accept the decision and focus attention on building a winner (and stadium) in the city that has housed them since 1968, or sell the team.
His adamant stance against the city of Oakland to this point does not afford him the benefit of trying to portray any positive stance if he is forced to stay. Oakland fans will know that he is being forced to make the best of what he views as a bad situation.
A refusal to improve the team by spending more at that point will just further alienate a group of fans that already feels abused by the owner of their team.
In either situation, a marquee name must be signed and added to the lineup to give the fans a reason to come out to the ballpark daily.
The pitching will keep them in games—they need a hitter to give the pitching the run support needed to win.
The A's need that marquee name to keep Oakland fans coming to the Coliseum if they are allowed to move to San Jose until their new South Bay palace is complete.
The A's need that marquee name to show a willingness try to compete in Oakland if they are told that San Jose is off limits to them. Call it a show of good faith that they never completely turned their backs, but understand that it is necessary.
Gate Draw to Usher the Team Into Their Eventual New Stadium
A player of Prince Fielder's caliber will likely not be signing a deal for any fewer than 6-7 years.
Put aside Fielder's weight concerns and you still have an elite ballplayer that is in his prime and who will be able to transition to a designated hitter if no longer capable of playing defense while still putting up monster numbers at the plate.
If San Jose is turned down as a relocation option for the A's, it will be because a suitable site has been identified and is ready to move forward on in Oakland. Either scenario should see construction start during the life of Fielder's next contract, and hopefully overlapping with the opening of the new era in the new park.
Let's face it, until the A's get a new park, they also need a major star such as Fielder to draw the casual fan to games and away from the San Francisco Giants' AT&T Park across the Bay.
The Bay Area is a large market, but the A's are competing for fans and revenue directly with the Giants, a battle they are largely losing due to lack of star-power and winning, something Fielder could help with on both counts.
The Price is Not as Prohibitive as You Might Think
When you consider slugging first basemen, the names that should come to mind in addition to Fielder are Mark Teixeira, Adrian Gonzalez, Ryan Howard, Miguel Cabrera and Albert Pujols.
With the exception of Pujols, who has no equal in this game, Fielder is as good as or better than the rest of his peers.
Check out their career statistics to see how Fielder stacks up against the league's best.
Player
Games
At-Bats
Hits
HR
RBI
R
AVG
OBP
SLG
OPS
Prince Fielder
930
3283
924
214
609
529
0.281
0.388
0.539
0.928
Albert Pujols
1637
6038
1986
427
1282
1242
0.329
0.422
0.619
1.041
Adrian Gonzalez
948
3533
1028
185
602
552
0.291
0.372
0.515
0.888
Mark Teixeira
1307
4957
1401
300
972
834
0.283
0.375
0.534
0.909
Miguel Cabrera
1283
4787
1500
266
940
805
0.313
0.391
0.552
0.943
Ryan Howard
966
3579
989
271
820
600
0.276
0.370
0.562
0.932
























With the fewest games played (also the youngest of the players) Fielder projects better than all of the sluggers except Albert Pujols and Miguel Cabrera.
This past offseason, the A's offered Beltre a contract worth roughly $15 million annually; they then proceeded to add Josh Willingham and David DeJesus at approximately $6 million each.
When they missed out on Beltre, they answered by signing Hideki Matsui for $4.25 million, as well as the signings of Grant Balfour and Brian Fuentes for around $9 million.
Had they been successful in their pursuit of Beltre, his contract combined with those of Willingham and DeJesus would have totaled around $27 million this year.
The highest payroll the A's have fielded was back in 2007 when their payroll reached $79.4 million. This year's team has a payroll of $67 million.
Before we examine if Fielder would fit the A's financial plans, let's project what he might make based on his peers.
| | | | | |
| --- | --- | --- | --- | --- |
| Player | Age | Seasons | Contract Length | 2012 Salary |
| Prince Fielder | 27 | 2005-2011 | ?? | ?? |
| Adrian Gonzalez | 29 | 2004-2011 | 7 Years | $21,000,000 |
| Mark Teixeira | 31 | 2003-2011 | 8 Years | $22,500,000 |
| Miguel Cabrera | 28 | 2003-2011 | 8 Years | $21,000,000 |
| Ryan Howard | 31 | 2004-2011 | 5 Years | $20,000,000 |
For the sake of argument, let's just say that Fielder bests all of these other sluggers and earns an annual salary of $23 million per year.
The A's have 13 players owed roughly $30 million in guaranteed contracts for 2012.
| | | |
| --- | --- | --- |
| Player | Contract | Salary |
| Fuentes, Brian | 2 yr/$10.5M (11-12)+13 cl opt | $5,000,000.00 |
| Balfour, Grant | 2 yr/$8.1M (11-12)+13 cl opt | $4,000,000.00 |
| Suzuki, Kurt | 4 yr/$16.25M (10-13)+14 cl opt | $5,038,000.00 |
| Wuertz, Michael | 2 yr/$5.25M (10-11)+12 cl opt | $3,000,000.00 |
| Cahill, Trevor | 4 yr /$30.1M (11-15)+16-17 cl opt | $3,500,000.00 |
| Anderson, Brett | 4 yr/$12.5M (10-13)+14-15 cl opt | $3,250,000.00 |
| Cahill, Trevor | 5 yr/$30.5M (11-15)+16-17 opts | $3,700,000.00 |
| Pennington, Cliff | 1 yr/$0.42M (11) | $430,000.00 |
| Weeks, Jemile | 1 yr/$0.42M (11) | $430,000.00 |
| Carter, Chris | 1 yr/$0.42M (11) | $430,000.00 |
| Ross, Tyson | 1 yr/$0.42M (11) | $430,000.00 |
| Outman, Josh | 1 yr/$0.42M (11) | $430,000.00 |
| Sizemore, Scott | 1 yr/$0.42M (11) | $430,000.00 |
They have 11 more players that are arbitration eligible.
Player
2011 Salary
2012 Salary


Braden, Dallas
$3,350,000
Arb 2
Breslow, Craig
$1,400,000
Arb 2
Sweeney, Ryan
$1,400,000
Arb 2
Ziegler, Brad
$1,250,000
Arb 1
Devine, Joey
$557,500
Arb 3
Bailey, Andrew
$465,000
Arb 1
Barton, Daric
$425,000
Arb 1
Rosales, Adam
$425,000
Arb 1
Blevins, Jerry
$420,000
Arb 1
Gonzalez, Gio
$420,000
Arb 1
Powell, Landon
$420,000
Arb 1






Their 2011 salaries total approximately $10.5 million.
Dallas Braden is a potential non-tender candidate to avoid paying a raise on his $3.35 million 2011 salary, although I expect he will re-sign to a more a team friendly deal.
Daric Barton is a potential non-tender candidate that I do not necessarily expect the A's to re-sign.
Gio Gonzalez and Andrew Bailey are both in line for extensions with a significant pay increase. I would expect both to make in excess of $3 million next season.
If the rest of the players are retained, it is safe to assume that the salary will increase by approximately $15-18 million, totaling about $48 million in salary for 2012.
This represents a rather large leap of faith that the ownership would boost the payroll back to around $80 million, but with a conservative estimate of $48 million committed to 2012 already, this would leave $32 million free to spend towards next season.
If the A's were to commit $23 million to Prince Fielder, they would still have roughly $9 million in excess money to spend on the rest of the roster.
The A's are likely to shop relievers Michael Wuertz, Brian Fuentes and Grant Balfour before this year's deadline, potentially freeing up an additional $12 million (potentially $21 million excess money if we stick to an $80 million salary estimate).
So while it remains highly improbable that they will make a large financial commitment to Fielder, the flexibility is there to do so if they were so inclined.
A Lineup That Finally Will Demand Some Respect
Assuming no other drastic moves, the A's would presumably be rolling out a lineup that looked something like this:
1.)    Jemile Weeks, 2B
2.)    Scott Sizemore, 3B
3.)    Chris Carter, DH/1B
4.)    Prince Fielder, 1B/DH
5.)    Michael Taylor, RF
6.)    Jai Miller, CF
7.)    Kurt Suzuki, C
8.)    Ryan Sweeney, LF
9.)    Cliff Pennington, SS
The exact-order is just a guess, and obviously there could be substitutions, but with Fielder protecting Carter and Taylor batting right behind, there is the potential for the trio of players to connect for 80 homers combined (40 for Fielder, 20 each for Carter and Taylor).
An additional 30-40 home runs contributed by the rest of the lineup would be a boost over the current projected homer total for 2011, although that may be an overly optimistic estimate.
If Michael Choice or Grant Green develops ahead of schedule before next season, the offense could be stronger.
The A's could also choose to use some of the additional financial flexibility to trade for a veteran third baseman or outfielder; or to sign a free agent shortstop, such as Oakland-Alameda native, Jimmy Rollins.
Would Fielder Consider Oakland?
The simple answer, probably not.
Fielder positioned himself for a potential signing with the New York Yankees when he expressed the willingness to play as a designated hitter.
Before, the Yankees and Boston Red Sox seemed to be excluded given Fielder's inability to play any other position on the field due to his size, and the presence of Mark Teixeira at first for the Yankees and Adrian Gonzalez at first for the Red Sox.
Now, both teams could bid for his services with the intention of sticking him at DH.
The Los Angeles Angels, Chicago Cubs, San Francisco Giants, Tampa Bay Rays, Baltimore Orioles and St. Louis Cardinals, if Pujols signs elsewhere, all could be in the running for a first baseman this offseason as well.
Each of these teams can afford to outspend the A's.
The Coliseum is not a hitter friendly park that would entice Fielder to sign, either.
And the A's, indirectly, insulted him in print when Moneyball was released. If it is in the movie, he could be forced to relive that assessment of himself by Billy Beane and the A's back in 2002.
If the A's offer the largest contract, and make a direct statement to the rest of league in doing so, they may entice him to join forces with the league's best pitching staff to help bring a World Series Championship back to Oakland for the first time since 1989.
So again for 2012, same as it has been in every season since the late 1980's and early 1990's teams owned by the Haas family dominated baseball from 1988-1990, the A's will be faced with a financial decision of whether or not to fix their current state of misery.
John Fischer, the San Francisco billionaire, and Lew Wolff represent the fourth richest ownership in baseball. They can afford to open their wallets and overspend on a player of Fielder's caliber, a game changer that will become an instant draw at the ticket window.
Given the dissatisfaction of the fans that support their team, the annual disappointment of underachieving teams on the field and a growing sense that the ownership does not genuinely try to win, it is starting to seem the A's can't afford not to make a serious run at Prince Fielder.
Make him an offer he can't refuse and give the A's a legitimate offensive force and chance for contention in 2012 and beyond.
This article is also featured on Bayseball.com
Brandon McClintock covers the Oakland Athletics and Major League Baseball for BleacherReport.com. You can follow him on Twitter: @BMcClintock_BR.