MLB Trade Rumors: Toronto Blue Jays and St. Louis Cardinals Talking Trade?
July 18, 2011
Bob Levey/Getty Images
As the Dog Days of August fast approach, the realization that yet another Blue Jays season will end without a trip to the playoffs is beginning to dawn.
However, it's not as if Toronto hasn't had a reason to cheer.
Jose Bautista currently leads all of baseball with 31 home runs and has established himself as a genuine superstar and arguably the best player in the game today.
With a .300/16/52 slash line, Adam Lind seems to have shown that his 2009 season was not a fluke and that last year was merely a hiccup.
Ricky Romero earned his first All-Star selection with seven wins, a 3.18 ERA and three complete games including a shutout.
Add to that the emergence of young players Eric Thames and JP Arencibia, the continued emergence of Brandon Morrow as a front end starter and the quietly outstanding play from Shortstop Yunel Escobar.  Indeed, Toronto does in fact have lots to cheer for.
Nonetheless, with a 47-49 record and 10 games out of a Wild Card spot the Blue Jays will be among the Sellers by the time July 31st comes around.
According to FOX Sports Baseball writer John Morosi, the St. Louis Cardinals are looking for bullpen help and have spoken to Toronto.  The Jays have several arms in their pen with expiring contracts and Morosi believes that Jason Frasor would be on the top of their wish list as he has never pitched in the National League.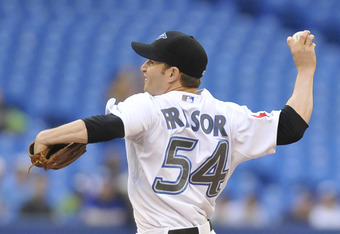 Brad White/Getty Images
From Toronto's perspective, Frasor will become a Type-B Free Agent so GM Alex Anthopoulos will look for a player or prospect that he deems comparable to a compensation pick in next years draft.
Anthopoulos values his draft picks and has made several roster moves with that in mind.  In the winter of 2009/2010 he signed Kevin Gregg and John Buck to one year deals who turned in to type-B's that yielded two picks in last moth's draft.  He also traded for the rights to Miguel Olivo only to let him sign with the Mariners which also resulted in a compensatory pick.  
When you include his decision to allow top reliever Scott Downs walk, Anthopoulos collected four addition picks in the 2011 draft to give him a total of five in the first 60 picks.
Needless to say, Toronto will be asking for a significant return for any of their available arms.
So, what does St. Louis have that the Blue Jays might be interested in?
If Toronto prefers a prospect package I'd think that they would submit a list of names broken up in to two groups, of which one player from each coming to Toronto.  The first group would be three to four prospects that are ranked among the Cardinals top 10 and the other group would be from their top twenty.
The first group could include third baseman Matt Carpenter.  With Zack Cox the heir apparent at the hot corner, Carpenter could be available.  He has decent power and outstanding plate discipline and is athletic enough to play the corners in both the infield and outfield.
Another name may be OF Oscar Tavares.  Signed as a teenage free agent out of the Dominican Republic, Tavares is an athletic, speedy kid with emerging power.  There is some concern about plate discipline but at 19 years of age there is plenty of time to correct.  In his first crack at high Single-A ball this season, Tavares is hitting .395/2/24
As for the second group, Casey Mulligan is a player I really like.  Drafted out of high school in 2006, Mulligan has been used exclusively as a reliever.  In 2010 he recorded 13 combined saves in Single-A and Double-A with a slash line of 2.45/1.28 and 13.2 strikeouts per nine innings.  In 161.2 minor league innings Mulligan has a career slash of 2.17/1.188 with 33 saves and 12.1 K/9.
If this potential deal were to expand to include current roster players, Colby Rasmus may be a name that generates interest.  According to Cardinals beat writer Joe Strauss, St. Louis and Tampa Bay have had discussions about a trade involving the struggling young center fielder.
However, what if Toronto decided to get involved?
According to Strauss, St. Louis would require a starter in exchange for Rasmus.  In the Tampa scenario, Jeremy Hellickson is the rumored asking price.  That's a tough pill to swallow for the Rays considering they're in a playoff race.  They also have Desmond Jennings near ready so its not a huge need for them.
Although, if Toronto were to offer Brett Cecil and Jason Frasor, would that be enough?  If so, this would clearly end the Rajai Davis/Corey Patterson experiments in CF.  It would also mean another outfielder would have to be moved at some point but that's more of an opportunity than a problem.
Rasmus is an emerging young talent who in spite of his struggles this season is still on pace for 66 runs batted in (decent total for player who hits first or second in the order) and a career high of 104 runs.
How about this lineup for your 2012 Toronto Blue Jays:
CF- Colby Rasmus
SS- Yunel Escobar
LF/RF- Travis Snider
3B/RF- Jose Bautista
1B- Adam Lind
LF/DH- Eric Thames
3B/DH- Brett Lawrie
C- JP Arencibia
2B- ?
This is wild speculation, obviously, but talk about a line up that's young, powerful and fast. 
What are your thoughts, do the Blue Jays keep it modest on July 31st or is a blockbuster like this a possibility?  Remember, Alex Anthopoulos magically turned Alex Gonzales in to Yunel Escobar just prior to last year's trade deadline.
As always, feel free to follow me on Twitter @tdotsportwriter