Bert Blyleven in the Hall of Fame: How the HOF Snubbed MLB's Other Stars
July 17, 2011
Jonathan Daniel/Getty Images
Bert Blyleven lost more than 15 games in a season seven times. His career win percentage: .534. He gave up 430 home runs in his career. And although he is fifth all-time in strikeouts, he led the league in the category just once. He went to two All-Star Games during his 22-year career, and never won any major pitching or league awards.
Congratulations, Bert. You're a Hall of Famer.
I'm not trying to be disrespectful. In his time, Blyleven was a great talent. And over the course of his career, he became a very good and valuable player. All those things are not in question.  
But we are talking about Major League Baseball's Hall of Fame. Cooperstown, the most hallowed, best regarded hall of fame of any of the major American sports. It is the Hall of Fame. 
With his induction, Blyleven will be rubbing shoulders with the likes of other immortal players like Babe Ruth, Willy Mays, and Ted Williams.
Granted, there are other, perhaps less-than-immortal names also in the Hall. How about Pud Galvin? Ever heard of the fellow? No? What about Rabbit Maranville? Probably not. So certainly, I understand that not everyone in the Hall of Fame is a legend, or even a household name for that matter.
However, the problem is that Blyleven's induction into the Hall of Fame this summer is a symptom of a much larger epidemic facing the Hall of Fame over the next 15 to 20 years—an epidemic about which I am unclear whether or not the voters are even aware.
The major issue is a subject that has been covered relentlessly. It is the question: What do you do with the players with Hall of Fame career statistics whose names have been connected with steroid use? And over the next few years, the problem is going to get even worse, as players with even higher historical significance will collect their HOF eligibility.
This is a problem in itself. Players like Mark McGwire, Sammy Sosa, Roger Clemens, Rafael Palmeiro, and Barry Bonds absolutely have Hall of Fame credentials if you look at their numbers alone. But if you consider their overall contributions to the history of the sport itself, they are irreplaceable. In my opinion, these five players are first-ballot Hall of Famers without question.
But perhaps we should shelve that issue for another article altogether.
I think more importantly than whether or not guys like Barry Bonds should be in the Hall of Fame is whether or not guys like Jim Rice, Andre Dawson, Gary Carter, Tony Perez, Bruce Sutter, Carlton Fisk, and Bert Blyleven should be.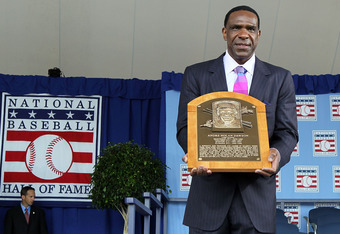 Jim McIsaac/Getty Images
If you're Bob Costas, or any other baseball purist, you can blame the problem on steroids—and probably do. But the problem is clear, and I blame it on the Hall of Fame and MLB themselves.
The problem is the players who should be getting voted into the Hall of Fame are not. Consequently, the downstream effect is the voting in of less qualified players whose "bubble" status has suddenly been made an advantage. These players are being voted in at the only point in history in which they could make it.  
And it's all because of steroids.
If writers were voting strictly on numbers alone (or dominance over a particular era), Mark McGwire would replace Bert Blyleven. Sammy Sosa would have replaced Andre Dawson last year. And another "bubble," 1970's All-Star who will be voted in in 2012, should have been Barry Bonds.
Part of what makes the baseball Hall of Fame the best hall of fame is the exclusivity of the club. And its greatness is exactly what is coming under fire when its own voters turn away players like Sammy Sosa for players like Andre Dawson.
Even if you disagree and believe that the steroid users should not be in the Hall of Fame, do you think it is any more correct that they should be replaced by marginally great players?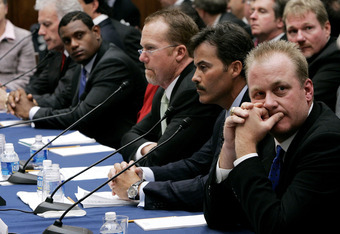 Win McNamee/Getty Images
Averaging significant statistics, I combined two sets of players. On the one hand, I took all recently inducted Hall of Famers Gary Carter, Tony Perez, Jim Rice, and Andre Dawson. And on the other, averaged the same statistics for those "black-balled" players I mentioned earlier: McGwire, Sosa, Palmeiro, and Bonds.
What I found was that the results are not even really very close. For the Hall of Famers, they averaged 381 home runs and 1,480 RBI over their careers. For Bonds and company, they averaged 631 career home runs and 1,728 RBI in a combined 145 less at-bats.  
Also, very helpful in this examination is baseball-reference.com's very helpful "Black Ink" stat, which attempts to calculate each players dominance among his contemporaries. In this stat, the black-ballers scored significantly higher than their Hall of Fame counterparts, leading 35 to just 12. 
(And just as a general side note, baseball-reference.com suggests that the average Hall of Famer's black ink statistic is 27.)
My worry is that the writers only vote in those whom they like best. Politically acceptable players like Cal Ripken Jr. and Tony Gwynn get in on their first ballot (as they should) because they were media darlings. It was easy to love them.  
But the media and fans, in general, despised Barry Bonds. And the stigma of watching our 1998 diamond heroes sitting in front of Congress in hard-pressed, dark suits, saying "I never used so and so" has been so thoroughly etched in our collective mind that it has blinded us from the immensity of their feats on the field.
And if they are "bad guys" in our conscience, if we have allowed their images to become irretrievably associated with with some horrific form of infamy, why do we allow players like Ty Cobb, a known racist and bigot, into our Hall of Fame?
The answer makes sense: because he was great. And so was Barry Bonds. And McGwire, and Sosa, and Palmeiro, and Clemens.  
They belong together in the place that commemorates the memory of their greatness inside the lines.