Carolina Panthers: What If Michael Vick Was Wearing Black and Blue?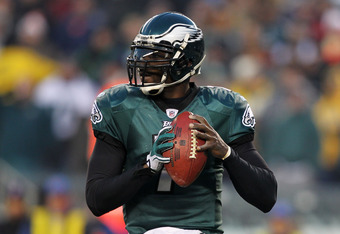 Al Bello/Getty Images
In 2010, when Michael Vick was getting released from prison, he made a brief comment on the teams he would like to play for. On his short list, the Carolina Panthers happened to be named.
Why? Why would Michael Vick want to play in Carolina? Well, it's close to his home and he would get to play against the Atlanta Falcons twice a year.
So what might have happened had the Panthers chosen to pursue Vick? We may never know but let's speculate.
Vick made these comments after his "tutorial" season in Philadelphia, where he got reintroduced to the league in a not-so-spectacular fashion. Vick began to think about where he may land in the offseason drama that was the Eagles quarterback position in 2010.
Suppose the Eagles pick up Vick's contract and decide they want to give it another go with Kolb and McNabb and by some chance the Panthers give the right combination of picks and players to make the Eagles happy. Does last season turn out better?
With John Fox being in his last year of a contract and having no real sense to put a new offense together, the Panthers probably would have stuck with the same run-first mentality but Vick would have added an extra dimension to that.
With mostly young wide receivers, the Panthers still would not have had the passing attack that the Eagles had but it had to have been better than what Jimmy Clausen and Matt Moore produced.
Long Term, which would be a better option for the Panthers?
Speaking of Jimmy Clausen, if the Panthers had Vick locked up before the draft, how would that have played any differently in the draft. For starters, no Jimmy Clausen and probably no Tony Pike.
With both Vick and Moore capable of running an offense, the Panthers have no need for Clausen and his attitude and the Panthers easily could have picked up another developmental quarterback in free agency.
Where the changes become greatest is the Panthers would have gotten a jump start on solidifying their defensive line. They had huge holes at defensive tackle and they tried getting cute in free agency, but when you only add Greg Hardy to your line, it's not a recipe for success.
The Panthers probably could have picked up Terrence "Mount" Cody in the second round and added more defensive help in the later part of the sixth round, like Syd'Quan Thompson or Cody Grimm.
As for how last season would have turned out, well, the offense might not have been as explosive as Philadelphia's but it's unlikely the franchise's premier player, Steve Smith, would be doing quite as much complaining.
Vick might have won several of the closer games and he definitely would have made the last game of the season more meaningful playing in Atlanta.
What might have been the most lasting thing is, even if the Panthers weren't Super Bowl contenders with Vick on the team, it would have helped shore up the defense and given stability to the quarterback position.
This year, instead of going through yet another year where the Panthers hope a rookie quarterback takes to the NFL, the Panthers could have added complementary pieces to the offense and defense.
Instead of wondering whether Cam Newton can be the next Michael Vick, the Panthers might have been a contender in the tough NFC South.
Instead it likely looks to be another year in the basement.
This article is
What is the duplicate article?
Why is this article offensive?
Where is this article plagiarized from?
Why is this article poorly edited?

Carolina Panthers: Like this team?