MLB Trade Deadline: 5 Stud Prospects Who May Be the Key to Blockbuster Deals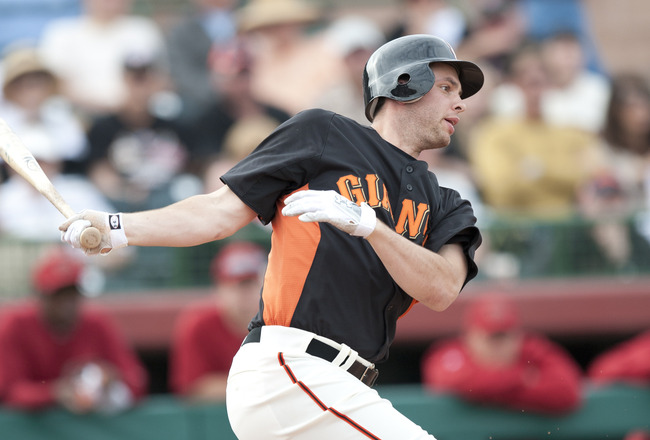 Rob Tringali/Getty Images
With the trade deadline less than two weeks away, the teams that consider themselves buyers will attempt to add the final piece or two for a playoff push.
Unlike years past, a greater number of teams are on the fringe of contention and will not count themselves out until the very end.
As a result, a team that is willing to deal one of it's top prospects in a blockbuster deal for an impact player may be the team that gets to play baseball in October.
Here are five stud prospects that might be on the move if the right deal comes along.
5. Jonathan Singleton, 1B/OF, Philadelphia Phillies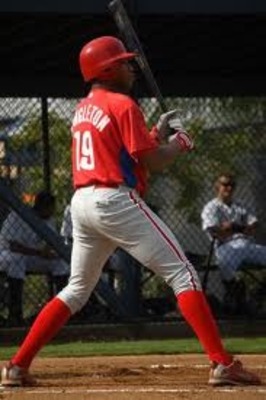 http://www.google.com/imgres?imgurl=http://3.bp.blogspot.com/_ukZOzgHTHb4/Sqz9LgWcokI/AAAAAAABUuI/GEi2WIfchxg/2009%2BAug%2B29%2B%252367%2BJonathan%2BSingleton.jpg&imgrefurl=http://allphilliesallthetime.blogspot.com/2010/07/roy-oswalt-updates.html&usg=__F7FFxXjM8pFyrGG-LQrzHUgmn00=&h=1600&w=1067&sz=237&hl=en&start=0&sig2=nxySAuoQLWWH9Jle8WBH3Q&zoom=1&tbnid=B1d5M6-ocVyhkM:&tbnh=127&tbnw=94&ei=nqcgTpiGBIHPgAfJ8OHjBQ&prev=/search%3Fq%3Djonathan%2Bsingleton%26um%3D1%26hl%3Den%26client%3Dsafari%26sa%3DN%26rls%3Den%26biw%3D1157%26bih%3D592%26tbm%3Disch&um=1&itbs=1&iact=hc&vpx=925&vpy=212&dur=532&hovh=275&hovw=183&tx=91&ty=223&page=1&ndsp=19&ved=1t:429,r:18,s:0
Jonathan Singleton is a stud prospect in the making.
He was drafted as first baseman in the 2009 Draft as just a 17 year-old high school senior.
Of course, the Philadelphia Phillies have a guy at first base in Ryan Howard who will be there for a while. Therefore, Singleton moved to the outfield this season to increase his versatility.
The Phillies meanwhile will do whatever they can to fend off the Atlanta Braves for an NL East title. Philadelphia's starting rotation is hands down the best in baseball, but the bullpen is in search of some help.
The San Diego Padres have made Mike Adams and lovable All-Star closer Heath Bell available. Either would provide stability for the Phillies in the late innings.
The Padres farm system received a jolt after the Adrian Gonzalez trade, and a trade with the Phillies could add Singleton to the mix.
He's still just 19, so this would be a good investment for the future, since Bell likely won't be back with the team anyway (he's a free agent).
4. Brandon Belt, 1B/OF, San Francisco Giants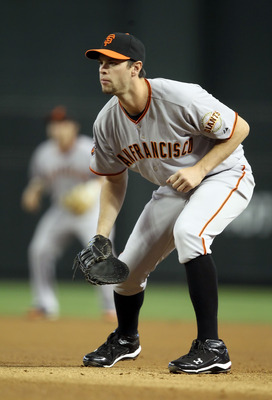 Christian Petersen/Getty Images
Young slugging prospect Brandon Belt's name may be whispered in trade rumors over the next few weeks.
Belt cracked the Giants roster out of spring training, but couldn't handle Major League pitching early on. The Giants sent him back to the minors, where he's hit at a .336 clip in 39 games.
Though the team seems to have a surplus of outfielders, the defending World Series champs appear to be in the market for a left fielder.
Carlos Beltran of the New York Mets is likely the best available outfielder on the current market. Mets general manager Sandy Alderson said the team would hold out for the best possible deal for Beltran and may even keep the switch-hitting All-Star if the team is competing.
However, if the Giants dangle Belt in the Mets faces, what would the Mets do?
Current Mets first baseman Ike Davis will likely undergo season ending surgery in a few weeks, so the Mets may want to think long-term as first base. Belt can also play some outfield too, which would be a factor in a deal for Beltran.
In all likelihood, the Giants will be patient in Belt's development and hang onto him, at least for now.
3. Jesus Montero, C, New York Yankees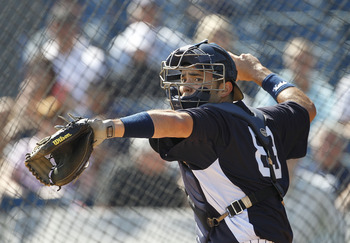 Leon Halip/Getty Images
Jesus Montero of the New York Yankees was given every chance to win a job in spring training, and it just didn't work out.
Since then, the catching prospect has hit a solid .289 with seven HR and 33 RBI through 70 games at Triple-A.
However, Yankees Double-A catching prospect Austin Romine is said to be a quality offensive player in his own right, but a much more refined defensive catcher than Montero.
The Yankees will duke it out with the Boston Red Sox atop the AL East, which may mean that the Bronx Bombers will want to acquire a frontline starting pitcher.
It appears to be a matter of time before the Bartolo Colon/Freddy Garcia experiment flops.
The Chicago Cubs might make Matt Garza available, and other even more impactful arms could potentially be had in the right deal.
If that deal was with the Yankees, it would likely include Montero, especially since the team appears steadfast in keeping its young pitching prospects—Manny Banuelos, Dellin Betances and Andrew Brackman—in house.
2. Rudy Owens, LHP, Pittsburgh Pirates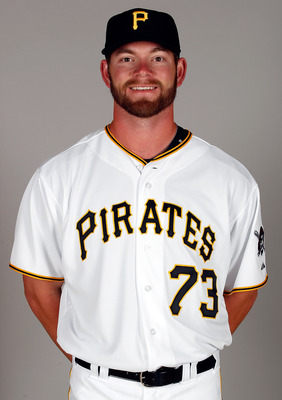 J. Meric/Getty Images
Somebody break up the Pittsburgh Pirates.
It's hard to recall the last time the Pirates were over .500 this late in the season, but it looks like the team is all in.
In addition to the young talented players, the Pirates may look to add a few veterans to the mold.
The team is intrigued by Houston Astros All-Star outfielder Hunter Pence and Cubs catcher Geovany Soto.
One good thing about finishing near the bottom of the pack for so many years is that it has allowed the Pirates to amass some good talented prospects.
Jameson Taillon appears off limits, but another talented pitching prospect could be on the move.
Lefty Rudy Owens has seen his velocity increase to 93 mph since being drafted in 2006.
Though his 5.16 ERA has been high this year in Triple-A, he's coming off a year in which he finished 12-6 with a 2.46 ERA.
If the Pirates want to get a good caliber player like Pence or Soto, Owens might be on the block.
1. Zach Wheeler, RHP, San Francisco Giants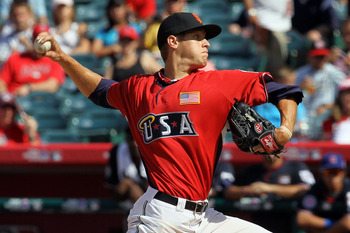 Stephen Dunn/Getty Images
While Brandon Belt may be staying put in the Bay Area, Zach Wheeler on the other hand could be moved.
If the Mets were to pull the trigger on any Carlos Beltran deal with the Giants, Wheeler would almost 100 percent have to be included in that deal.
The Mets desperately need pitching depth, and the 21-year-old Wheeler could be just what the team needs.
If the Giants are desperate enough in their search for an outfielder and are dedicated to add the best one possible in Beltran, Wheeler may find himself in a "New York State of Mind."
The one drawback is that Beltran is a free agent—not to mention a Scott Boras client—and might only be a two-month rental player.
Would the Giants be willing to part ways with their top pitching prospect for a rental player?
Let's wait and find out.
Keep Reading