NFL Buyers Beware: Free Agents That Teams Should Be Skeptical of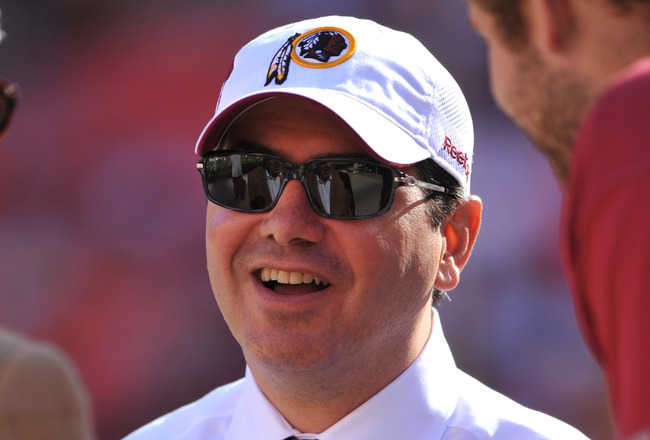 Larry French/Getty Images
When the lockout comes to a close, there will be a shorter than usual free-agency period. This will shift leverage power away from teams and over to players.
Teams may want to see what these veterans have during training camp before giving money to players that may be on the down slide—or who may have outperformed what their skill level actually permits in the last season or seasons. Just because a team has a certain need doesn't mean they should overpay for one of these players.
Randy Moss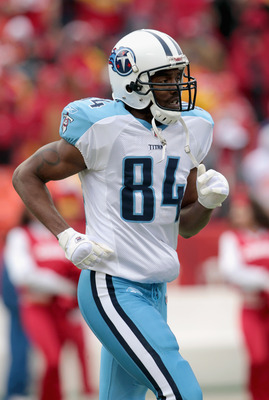 Jamie Squire/Getty Images
Three teams in one season? That's even a first for Randy.
He wouldn't have had the opportunity for this to occur if his talent wasn't as great as it is. The question is if his skill is now worth the headaches he may cause.
Moss may cause self-inflicted grenade wounds to himself, but he won't to the team. The next receiver listed could wreck a good locker room.
Terrell Owens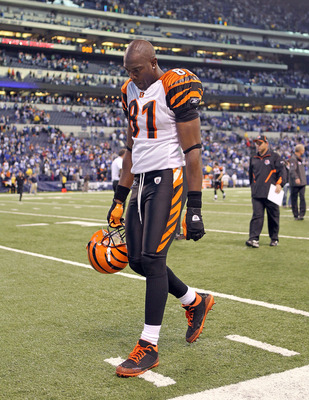 Andy Lyons/Getty Images
His athleticism is diminished, but his mouth may not be.
Owens' mouth seemed alright last season with the Bengals, but maybe there weren't enough words to go around with Ochocinco. Torn knee ligaments will force him to miss the beginning of the season, but his rehab will go well because the work ethic is all there with T.O.
Plaxico Burress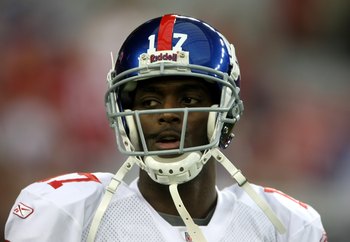 Stephen Dunn/Getty Images
It's not like Burress was a burner when he played with the Giants, but two years in prison will slow a man down even more.
However, he'll still be 6'5" with good hands from all the balls he caught in prison from inmates (footballs that is). While his criminal act only hurt himself, he has consistently been inconsistent in showing up on time for anything—and that will likely never change.
Ahmad Bradshaw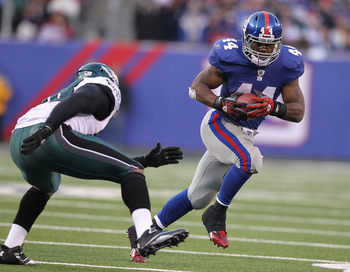 Al Bello/Getty Images
Could Bradshaw be another former Giant alongside Plaxico?
Brandon Jacob's wheels are falling off, or have fallen off, so New York will have to add a running back if Bradshaw leaves them.
If Rashard Mendenhall is the "fumble machine" that James Harrison believes him to be (as noted by Sports Illustrated), what is Ahmad Bradshaw? Seven fumbles in 11 games started is not an ideal ratio. For a running back to warrant a big deal, he must be something special—and Bradshaw isn't exactly Barry Sanders.
DeAngelo Williams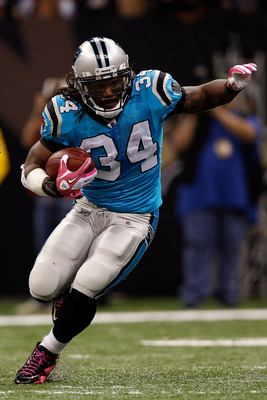 Chris Graythen/Getty Images
Williams has been injury prone over the last few seasons and he's past the mid-life of a running back.
Jonathan Stewart performed well for the Panthers and Goodson had a nice game for Carolina as well. A team that thinks they're on the verge of something special should be the only franchise that gives Williams decent money.
The highlights from Williams are the most entertaining of any running back, but he's not consistently on the field enough to have them.
Cullen Jenkins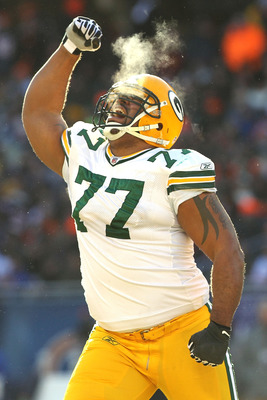 Doug Pensinger/Getty Images
Jenkins is a heavy set 3-4 defensive end that has been banged up—not to mention the fact that he's now 30. He has drawn interest this offseason from the Redskins. Who's the last good veteran they've signed?
Mathias Kiwanuka
Jim McIsaac/Getty Images
Kiwanuka had his best season in 2010.
He provides a good pass rush and length to the defensive line but, like other guys on the list, he's yet to take the field after a serious injury.
Neck injuries tend to be really serious, but hopefully Kiwanuka will be able to come back and play like he once did. After all, he's only 28.
Matt Hasselbeck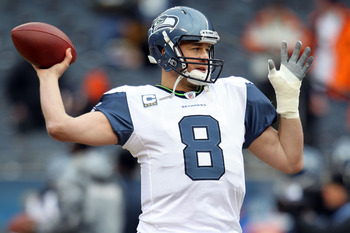 Andy Lyons/Getty Images
Hasselbeck is an often-injured quarterback in his mid-30s. He sounds good to the Cleveland Browns, but they already spent a lot of money for Jake Delhomme.
Hasselbeck will be picked up by a team that will want him to tutor their own young quarterback. But let's not forget that Pete Carroll had a serious decision to make in the playoffs as to whether he should start Hasselbeck or Charlie Whitehurst.
Keep Reading