Brett Anderson of Oakland Athletics Has Tommy John Surgery as Bad Luck Continues
July 15, 2011
Jim Rogash/Getty Images
The injury bug just continues to wreak havoc on the Oakland Athletics roster.
Brett Anderson, out the past six weeks with elbow inflammation, attempted platelet-rich plasma (PRP) therapy on his ailing elbow, but finally was forced to undergo Tommy John surgery earlier today.
According to multiple sources, there was no significant improvement from the PRP injection, necessitating the more invasive surgery that will cost him the remainder of 2011 and likely all of 2012 as well.
Recovery from Tommy John surgery typically spans 12-18 months.
The setback shouldn't have a major impact on the A's the rest of this season. At 14 games below .500 and 12 games out of first place, the A's seem firmly set as sellers before the July 31 MLB trade deadline.
Jane Lee of MLB.com wrote a pair of articles (here and here) that detailed thoughts that the A's players and management may have thought otherwise; however, the news they are without Anderson for a prolonged stretch of time should snap them back to reality.
Having lost two-fifths of their Opening Day starting rotation for the season eliminates a pair of arms from Billy Beane's bag of trade chips to acquire the big bat they would need to even have a remote chance of contending the rest of the season.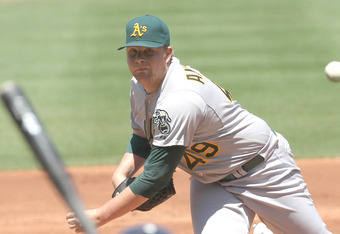 Jim Rogash/Getty Images
While it is not likely that Anderson would have ever found his name on the trading block, his injury makes it less likely that Beane would consider moving other pitchers such as Gio Gonzalez, Tyson Ross, Josh Outman or Guillermo Moscoso.
Brandon McCarthy and Rich Harden could be moved to a contender; however, given the injury histories of the A's rotation, it seems likely the A's will now choose to hold on to starting pitching depth unless the right deal emerges.
Instead, it seems apparent the A's will now make moves by trading their veteran position players to acquire younger, MLB-ready talent to set themselves up for contention next season when they have a better picture of how their rotation is shaping up long term.
If the A's can build a contender in 2012, and potentially have Anderson return around August or September for a stretch run, they could be looking pretty good despite all the setbacks they have experienced this season.
An offseason trade of a starting pitcher remains a possibility, however it is now less likely that any of the key starters (Trevor Cahill or Gio Gonzalez) would be included in such a deal.
The goal for the remainder of 2011 should become simply making it through the rest of the year without losing any more key contributors.
This article is also featured on Bayseball.com
Brandon McClintock covers the Oakland Athletics and Major League Baseball for BleacherReport.com. You can follow him on Twitter.