MLB: New York Mets Call It Quits Even If GM Won't Admit It
July 14, 2011
Stephen Dunn/Getty Images
Can't be a good time to be a New York Mets fan. With all the recent success of the Pittsburgh Pirates, one's got to wonder if the Cubs are next on the depth chart of historically futile teams in the National League to turn their ship around. Though at least the Chicago Cubs have had a few postseasons to screw up, the Mets seems to do that in September.
But they probably won't have a chance screw up this September, despite possessing a lineup that really isn't half bad. The recent trade of Francisco Rodriguez proves that contrary to all popular belief that the Mets organization wishes to give their fans, this is it. Not only will the Mets not be going to the postseason, but they also won't actually be trying to.
Whether or not Carlos Beltran or José Reyes remain with the team past the July 31 deadline is irrelevant at this point. It would quite frankly be stupid to keep them, as they're not going to be doing anything important. Unless the Mets can somehow convince José Reyes that this team is going to turn things around before Bernie Madoff finishes his prison sentence, though probably be better off dumping them at the trade deadline.
I'm not really sure why the Mets organization constantly sends mixed signals to its fans. The minute things start to go well, the higher-ups make sure that the optimism is quickly squashed. It's so clear that even a non-Mets fan like me can see it. Which is why I have developed sympathy for the Mets fans. I feel bad for you guys.
Now I'm not sure if anybody really thought the Mets would be going to October this year, but the recent success of Jose Reyes has brought hope for the organization. Hope that hasn't been felt in a long time. It seems as though the Mets did not really get a whole lot for Francisco Rodriguez, which begs the question: should the team have just kept him around and given the fans hope or maybe just a little longer?  I think so.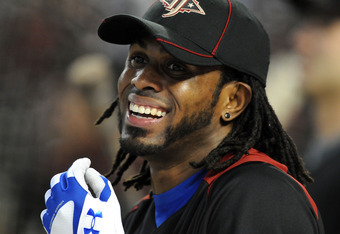 Norm Hall/Getty Images
Because when you trade your closer, you pretty much close the book on a postseason run. Everyone knows that giving your best reliever away from practically nothing shows that you aren't too concerned about getting to the World Series. Sending him and $5 million for two players to be named later isn't exactly the best message to sender the fans either.
Baseball is a sport of miracles. No one thought the Colorado Rockies would squeeze into the postseason in 2007 but they prove the world wrong by winning 20 out of 28 games in the month of September. I'm sure Mets fans know this more than anyone else outside of the state of Colorado.
That was obviously one for the ages, but it does show that all hope is never quite lost. But the Rockies didn't trade their closer away.
If the Mets had gotten anything good for K-Rod, this article would probably not exist. But seeing as he was trading away for next to nothing, I think the Mets owed their fans hope for just a little longer. But that's just me.
Although I didn't invest in the Bernie Madoff scheme...