Athlete's Biggest Foe Can Be the Mind
July 14, 2011
Doug Pensinger/Getty Images
When Taylor Buchholz's recent stint on the disabled list was over, the New York Mets relief pitcher still did not rejoin the team. His shoulder fatigue had subsided. That wasn't the reason. Buchholz was fighting depression and anxiety.

It is estimated that about 18.8 million American adults, or about 9.5 percent of the population age 18 and older in a given year, have a depressive disorder. That translates to about 12.4 million women and 6.4 million men in the U.S.

Any time a celebrity discloses he/she has some type of depression, it's newsworthy just in the fact that we least expect those who make their livings in the public eye to be coping with such potentially debilitating illnesses. Among those who have spoken openly about their conditions are newsman Mike Wallace, actor Jim Carrey, talk-show host Dick Cavett and Kansas City Royals play-by-play announcer Ryan Lefebvre.
It is relatively rare we hear of athletes with depressive disorders, but there have been those who have struggled with them both on the field and off.

Many were no doubt surprised when Fox NFL analyst and Super Bowl-winning quarterback Terry Bradshaw first went public about being diagnosed with clinical depression. The former Pittsburgh Steeler had always maintained a fun-loving public persona, but the strains of being a pro athlete and various personal crises, he says, subjected him to anxiety attacks after games, frequent crying and sleeplessness. Bradshaw has made it part of his life to encourage others to seek help.

Zack Greinke was one of baseball's rising young pitchers when he joined the Royals in 2004. Just two years removed from high school, he had the kind of stuff that rated the "phenom" label. He won eight games for a bad Royals team his first year and finished fourth in the Rookie of the Year voting. The next season he lost 17 games and by 2006, had been diagnosed with social anxiety disorder, missing that entire season to deal with his situation. In an inspiring turnaround, Greinke won the Cy Young Award three years later as the American League's best pitcher.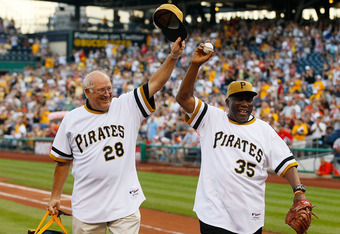 Jared Wickerham/Getty Images
Steve Blass' career was as memorable for its highs as its lows. Still beloved today by Pittsburgh Pirates fans, Blass was the ace of the team's pitching staff for several years and virtually untouchable in Pittsburgh's 1971 World Series victory over the Baltimore Orioles, hurling two complete game wins and allowing two runs and seven hits in 18 innings. Only a superhuman performance by the late Roberto Clemente stood in the way of Blass winning World Series MVP honors.
Then in 1973, Blass simply could no longer throw strikes. The pinpoint control he exhibited against the Orioles was gone. He walked 84 batters in 88 innings, and struck out only 27. His ERA shot up to 9.81. By the 1975 season, Blass was done, his career as a player over. (He is now a TV commentator for the Pirates.)
His stunning collapse became known in the game as Steve Blass Disease, and those who would later be plagued by the sudden inability to accurately throw a baseball—former second basemen Steve Sax and Chuck Knoblauch are notable examples—would be tagged with the "malady." Like Blass, Sax and Knoblauch were among the best at their position before suffering the seemingly inexplicable mental block.

More is known now about the treatment of depression and anxiety than back in Blass' day. For Buchholz and the Mets, it's about taking the cautious route and finding the right medications to get the veteran pitcher back to a level of comfort and productivity.

Buchholz says he first experienced depression after having undergone Tommy John surgery on his right elbow in June 2009, and then sitting out a year—an eternity for any athlete. The shoulder fatigue, he says, brought on a recurrence.

It's not hard to understand why an athlete who makes his or her livelihood in sports might be consumed by anxiety or fall victim to a depressive disorder. The pressure to perform. The pressure to stay healthy. How intense it all must be.

Professional athletes are paid what they are because they are the best at what they do. But for some, the ability to be the best can be gone in a flash. That's when the mind becomes the opponent.
This post originally appeared on SportsCouchPotato.com.