J.C. Romero Will Opt out with Nationals to Sign with Yankees
July 14, 2011
Elsa/Getty Images
The Yankees have been searching the trade market for pitching help, especially for the bullpen.
They lost Joba Chamberlain to Tommy John Surgery last month. Damaso Marte has yet to even throw a pitch for the Yankees in 2011 and Rafael Soriano has been out since May.
Even worse, the Yankees shut down Pedro Feliciano and it's likely that his 2011 season ended before it even began.
The Yankees have one lefty in the bullpen, Boone Logan.
He's been doing the best job he can, but he can't be the only lefty coming out of the Yankees bullpen in the second half of the season.
It looks like the Yankees will finally get some much needed help to their depleted pen.
ESPN's Buster Olney said that J.C Romero will opt out of his minor league deal with the Washington Nationals on Friday if he is not promoted.
Romero would then turn around and sign a minor league deal with the Yankees.
Romero, 35, was signed by Washington back on June 28 after he was designated for assignment by the Philadelphia Phillies earlier this season.
Romero is 0-0 with a 3.86 ERA, pitching in 16.1 innings and 24 appearances in 2011.
Left-handers are batting just .208 against Romero.
Romero was under the assumption that he would get promoted by the Nationals before July 15, but they have yet to do so, which is now causing Romero to use his opt-out clause.
This is a move the Yankees need to make, and it's also one I suggested last month.
In my story back on June 16, I said the Yankees should take a chance on signing or even trading for Romero, and now it looks like as though they will take my advice and sign the lefty reliever.
A lot of the people on this site agreed with my recommendation for Romero.
In the poll I posted in my story, of the 183 people that voted, 76.5 percent agreed with me that the Yankees should in fact go after Romero if made available.
Once called up, and I'm assuming it would be very quickly, Romero would join Logan as the second left-hander in the Yankees bullpen.
Logan is 2-2 with a 3.22 ERA in 33 appearances and lefty batters are hitting .259 against him, which has improved since June 16, where lefties were hitting .324.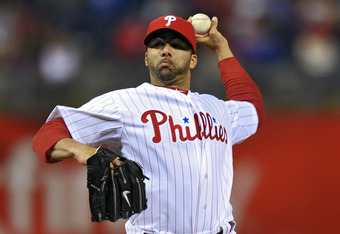 Drew Hallowell/Getty Images
But now Logan doesn't have to be the only one who is relied upon, he now has help.
And now the Yankees will have options when David Ortiz, Adrian Gonzalez, Josh Hamilton and any other tough left-handed batter is up.
For Mariano Rivera and David Robertson, the two most reliable and dependable relievers for the Yankees in 2011, they will be glad to get some much needed help.
Now, whether or not the Yankees will continue to add relievers to an already depleted bullpen before the July 31 trading deadline remains to be seen.
But in their first major move of July, the Yankees will make a move that is good for the bullpen.
The Yankees hot stove will continue to burn throughout the rest of the month.
Stay tuned, Yankees Universe.