Joe Nathan, Cuddyer and Capps off the 2012 Minnesota Twins Books; What's Next?
July 14, 2011
Jeff Gross/Getty Images
The 2011 Minnesota Twins opened up with about a $113 million payroll, ninth in the league, and easily the highest in franchise history.
After an abysmal season, so far, it's good to know many of these horrid contracts are coming off the books following the season including:
Joe Nathan: $11.25M
Matt Capps: $7.15M
Jim Thome: $3M
Jason Kubel: $5.25M
Michael Cuddyer: $10.5M
Total: $37.15
Every Twins player, with the exception of All-Star Michael Cuddyer, who has truly played as such, has been on the disabled list at least once this season and has otherwise missed significant time.
Nathan, slow to recover from Tommy John surgery will not be back unless he surprises everyone and takes a one-year deal in order to try and raise his stock next year when fully healthy. However, reality is, he really needs to go as he's been in decline and is a poster child for a bad, overrated contract. Call it what you will but this truly is a "What have you done for me lately" contract and in Nathan's case, the answer is "Not much," so he's got to go.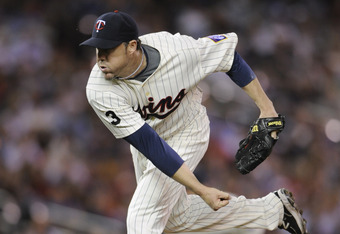 Hannah Foslien/Getty Images
Matt Capps
He will forever be linked to the failed Wilson Ramos trade that still angers many fans who saw this as a safety net for boy wonder (and that is sarcasm) Joe Mauer's annual prolonged injury, as Ramos too is a catcher. Sending away the inconsistent closer will not hurt many Twins fans' feelings who were never on board with the move or the idea in the first place. Some even dubbed him "Fat Matt."
Given this year and his hefty price, there is no way he'll be back. Not with cheaper options in Carlos Gutierrez, a former first-round pick of out Miami in the Twins system, or local product Glen Perkins, who is having a fabulous bounce-back year finding his niche as a reliever.
Jim Thome
He will hit No. 600 with the Twins, but then definitely won't be back next year unless the team surprises and rallies to win the Central. Still, if any team can, it's the Twins, given their torrid penchant for going on long, second-half runs and playing .700 ball. They are 24-11 going into the All-Star break—so they seem to be right on pace, albeit still in fourth place.
With the Indians relevant again—for now—look for Thome to go back where it all started, in Cleveland. You heard it here first, as it makes too much sense. At this stage all he wants is a ring.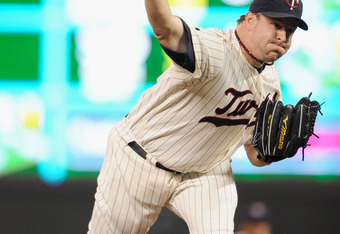 Hannah Foslien/Getty Images
Jason Kubel
Kubel is a classic "Gardy guy" (Twins manager Ron Gardenhire), a bland yes-man who never says or does anything wrong. He's also a model teammate and a Pierre, S.D. native, so you have to imagine he's playing for the hometown club.
Would he leave?
He's been hurt more than he's ever been since early injuries threatened to derail the start of his career. Still, the cheap, versatile player is a good regular-season performer, but, like his teammates, fades in October when it really matters. Of anyone on this list, he's the most likely to be back, if only out of loyalty.
Michael Cuddyer
You can't call this year a career year because Cuddyer's had a 100-RBI season before, and he's also hit 24 HRs in another. On pace for 23.6 HR now and literally carrying the team, he's expensive and overpaid at an expendable position with his heir apparent in right field, the cost-effective Ben Revere, already here.
Where Cuddyer proves most valuable is playing first base, like the final two or three months of the year when Justin Morneau is usually out with his latest injury.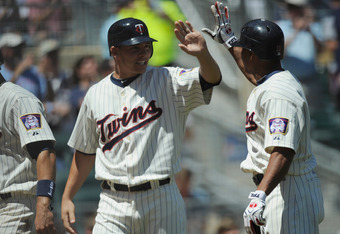 Hannah Foslien/Getty Images
We are really going to miss Cuddyer come next year when the soft-as-a-pillow Morneau goes down again, and there is no safety blanket to mask the lost production. Like (former Twins player) Torii Hunter, he will be missed and I'd love to see him stay and retire with the only organization he's ever known, only at a more reasonable price.
So Where Does the Money Go?
I think the $37.15 million will mainly be allocated elsewhere, in the form of extensions:
Third baseman Danny Valencia looks to be a rising star and is nearing arbitration eligibility in his second year
The front office is clearly in love with Francisco Liriano, having given him chance after chance
Left fielder Delmon Young
Pitcher Brian Duensing
Danny Valencia
Easily the Twins' best third baseman since Corey Koskie (2000-2004), and he's getting better. He's a homegrown pick it looks like the club got right, and would be a safe investment given his first two years. Still very young (26), there's no reason to think the team won't at least entertain the idea of wrapping him up while he's still affordable. I'd consider a five-year, $15 million to 18 million deal is a good starting point, given he only makes $400,000 this year and stands to make much more in coming years.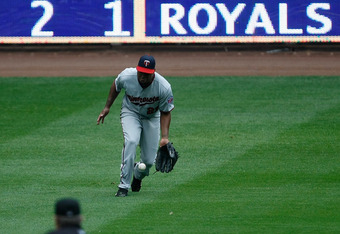 Scott Boehm/Getty Images
With the proposed $3 million in salary he'll make for next year, minus the $400,000 he makes this year is an additional $2.6 million for Valencia on the books for 2012. Subtract that from the original $37.15 million the Twins have coming off the 2012 books, and there is $34.55 million left to spend to equal this year's payroll.
Delmon Young
Of the rest of the players eligible to stay via extensions, or because the club might not want to risk losing them, I think Delmon Young will get more money. He drove in 113 runs last year to everyone's surprise. He's been hurt this year (.256 BA, 2 HR 20 RBI), but he's still very young (24) and full of promise.
He's eligible to leave via free agency after next season and I think the Twins are still very high on him. This is why I think they'll get a deal done now so as not to worry about it next year.
I'd go no longer than four years personally, but they'll likely do a five- or six-year deal given Young's age and potential. He's never been an All-Star and makes $4.65 million this year, so he's probably looking at $6 million to $9 million if given an extension.
Would a six-year, $54 million deal do it?
I'm not in love with the player or this move, but given the Twins' history of not really developing power threats, and with Morneau's future in flux, I guess it makes sense. Otherwise, if Minnesota lets him, go the system only has Ben Revere and Denard Span types—speed and slap hitters—and they are basically the same players already.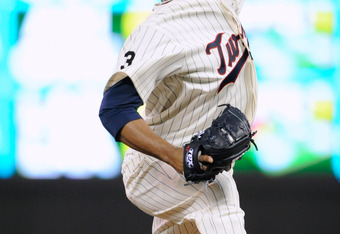 Hannah Foslien/Getty Images
If we do the math on his proposed $9 million salary for next year, the Twins are left with $30.2 million to spend.
Francisco Liriano
After starting the year a horrid 1-3 with a 9.0 ERA, he threw a no-hitter, which renewed many Twins fans' faith in him. Later, he threw a near-perfect game vs. the Texas Rangers that lowered his ERA to around four again, proving he can do it when healthy and motivated. It's hard to envision the Twins letting him go with this kind of potential, even if they really should consider it given how inconsistent he's been (either very good or downright terrible this year).
He's a fan favorite because of his stuff and he's still young (27), but he's also already had Tommy John surgery, meaning any long-term commitment is a risk (see ex-teammate Johan Santana this year as proof). I'd only offer a one- or two-year deal, but he'd probably leave and sign with someone on the free-agent market—San Francisco had him and loves pitching, and the Yankees need a 2012 replacement for scrappy starters Freddy Garcia and Bartolo Colon.
I don't like it but the Twins will likely offer him a decent deal; the question is how much and how long? He makes $4 million this year so he's likely looking at $7 million for next year. Hey, if Carl Pavano can get it, why not Liriano, who arguably has better stuff?
Still $27.2 million away from this year's payroll.
Michael Cuddyer
This is the hardest case to objectively explore. Cuddyer's probably getting paid about $2 million to $3 million more this year than he's really worth, but given Torii Hunter got $18 million as a 32-year-old when he hit the market in 2008, the 32-year-old Cuddyer will likely get a similarly inflated deal from another team.
Could it be the "hometown" Nationals, who are near his Virginia home where he grew up? After giving Jayson Werth $18 million, could Washington do it again? Cuddyer seems to be a safer investment, but can the Nats really justify two $18 million men manning their outfield?
There was speculation last winter the Nationals could make a splash again, but that seemed to be referring to Albert Pujols or Prince Fielder. While either would be a better and safer fit, Cuddyer could be a cheaper fallback plan, even if he gets $18 million.
If not the Nats, then who?
The Angels looking for more offense? Wouldn't shock me. The New York Mets? Bingo. They've got Beltran, Reyes and Rodriguez coming off the books and are always in need of more power and outfield hitting. Remember when they actually got Gary Sheffield and Fernando Tatis? That says it all, and they could give Cuddyer the money. They are in financial trouble now, but money is coming off the books, so look for them to at least inquire.
What About the Rest?
With roughly $27 million under this year's payroll for 2012, where do the Twins put that money? I would say the bullpen, as it will need at least two arms to replace Nathan and Capps. While that doesn't mean two $13.5 million relievers, I wouldn't be shocked if they gave a few journeymen $5 million to $6 million to try and bridge the gap.
The Twins know letting Matt Guerrier, Brian Fuentes and Jesse "at least until the playoffs" Crain go was a mistake, and they know firsthand what their market value is now, given they just lost them. For the first time in a long time it appears the Twins made a grave mistake that will cost them a season, given how awful April and May were. Chances are, they don't make that same mistake again. After all, we know where their weakness lies and what is holding them back.
Statistics and information from ESPN.com directly contributed to the content of this article.