Shannon Stone: A Senseless Loss of Life
July 13, 2011
Ronald Martinez/Getty Images
This past July 7, 39-year-old firefighter Shannon Stone took his young son to a Texas Rangers game in Arlington, TX, to see their Rangers play the Oakland Athletics.
This perfect imagery of father and son bonding took a tragic turn at the middle of the second inning, when Rangers All-Star outfielder Josh Hamilton threw a ball into the stands towards Stone and his son. Stone reached over the railing to catch the ball and lost his balance, falling 20 feet, head first, to the concrete below behind the stadium scoreboard.
This fall, caught on tape, morbidly played out for those in attendance and those at home.
The gentleman next to him tried to grab him.
The announcers expressed their shock.
Stone's young son stood frozen.
In my life, I've only had one foul ball ever hit toward me at a professional baseball game. It wasn't even a major league game. It was a minor league game in Myrtle Beach.
The moment played out in slow motion for me. I had the full awareness that this would be my first foul ball caught at a game. I was in attendance with my girlfriend and wanted it to be something to remember. I took off my hat and stretched out my arm in an attempt to catch the ball in my makeshift jai alai basket.
Of course, I missed it, and I looked like an idiot. But we were in bleachers, and there was no chance for anything to be injured other than my pride.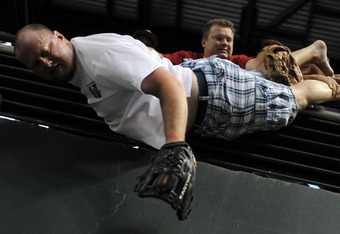 Norm Hall/Getty Images
I've never met Stone, but I imagine this was the first time he had an opportunity to catch a ball for his son. He must have been aware of this surely magical moment. A memory he hoped his son would cherish forever.
A tearful Oakland pitcher, Brad Ziegler, who was on hand after the fall, told ESPN, "They had him on a stretcher. He said 'Please check on my son. My son was up there by himself.' The people who carried him out reassured him, 'Sir, we'll get your son, we'll make sure he's OK.' He had his arms swinging. He talked and was conscious. We assumed he was OK. But when you find out he's not, it's just tough."
Stone went into cardiac arrest while being transported to the hospital and died in transit.
I can't pretend to know what his family, friends or even those around the scene are going through, but I imagine all thoughts go to his son who witnessed horror I just can't fathom. I'm filled with sorrow for this boy, but I also can't deny my disgust for the moment.
This tragedy didn't have to happen.
Ball players throw balls into the stands all the time, so I don't believe Hamilton can be blamed, although I'm confident his grief at the moment is off the charts. I believe the blame lies squarely on Stone. For a man whose profession as a firefighter is an enduring symbol of saving lives, Stone showed an incredible, albeit final, lack of common sense.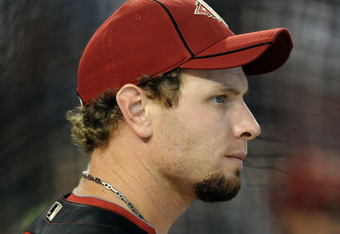 Norm Hall/Getty Images
There are two major rules when a person attends a baseball game that must be adhered to when attending with a child.
Be attentive to each pitch to be sure you can protect said child or children from any flying objects (bats, balls, etc.)
Never let a child hang over a railing.
A third rule, which can't be stressed enough, is something that most people adhere to, mostly out of a mixture of fear and common sense…
    3.   NEVER LEAN OVER A RAILING WHEN YOU ARE IN AN ELEVATED DECK.
This is the second time this year someone has fallen to a grizzly death at a Major League Baseball game. This is also the second time this year it was preventable.
In May, Robert Seamans, while attending a Colorado Rockies game decided to slide down a stadium railing. He slipped off the railing and slammed his head into the concrete. Two days later, he was declared brain dead.
I suppose stadiums could install nets to stop tumbles over a railing, but it's hard to prevent stupidity. In Stone's case, I wouldn't go as far to call him stupid, but I would say he acted in stupid manner. Tragically, he would not get a chance to rectify this lapse in judgment.
There's something almost beautiful in the fact that Stone, in his final moments, was lucid enough to consider his son. His death, while heart-wrenching and sorrowful, could serve as a lesson to all who would put their lives in danger for something as insignificant as a souvenir from a baseball game.
Perhaps the image of a helpless boy, frozen in terror at the sight of his fallen father, could make us all think of those who love us before we make decisions that could impact them for the rest of their lives.