New York Mets' Super Subs: The Team's Best Bench Players Since 2000
July 13, 2011
Nick Laham/Getty Images
The New York Mets, like every modern baseball team, employs quite a few bench players each season. Some do extremely well in their fill-in role, while others completely flounder.
Here's a look at some of the Mets' more successful bench players since the start of the 21st century.
2000
The Mets had a pretty productive bench in 2000, with names like Melvin Mora and Lenny Harris performing well.
However, their best bench player was backup catcher Todd Pratt, who hit .275 with eight home runs and 25 RBI in 80 games.
His .463 slugging percentage and 115 OPS+ led the team's main bench jockeys, narrowly outpacing Lenny Harris in both categories. He also performed very well on the field, boasting a .997 fielding percentage.
2001
Joe McEwing, nicknamed "Super Joe" for his impressive off-the-bench abilities, had a real-bounce back year in 2001.
After hitting only .222 the year before, McEwing improved to .283, tacking on eight home runs and 30 RBI to boot.
But he was outdone by a temporary lodger who spent but a single season with the Mets: Desi Relaford.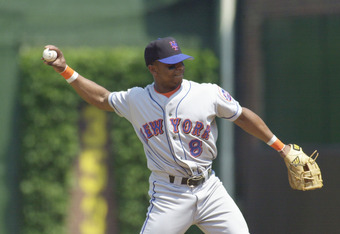 Jonathan Daniel/Getty Images
Relaford, who had a .230 career batting average prior to joining the Mets, hit .302 with eight home runs, 36 RBI and 13 stolen bases for the team from Flushing. He slugged .472, with 27 of his 91 hits going for two bases.
Alas, he was gone following the season as a member of the ill-fated trade that sent Shawn Estes from the Seattle Mariners to the Mets. Estes pitched less than one year for the team, going 4-9 in 23 starts.
2002
The Mets did not have any real standout backups in 2002.
John Valentin played in 114 games for the team, but he hit only .240 with an 86 OPS+. McEwing hit only .199 and Vance Wilson, the backup catcher, had an 81 OPS+.
Perhaps the best sub on the team that year was Tony Tarasco, who played in only 60 games and had a meager 96 at-bats. Nevertheless, he hit .250 with six home runs and 15 RBI—solid numbers but not good enough to keep him around for 2003.
Valentin was not awful either. He had 30 RBI and 15 doubles, though he played considerably more than Tarasco (who had five doubles [and a .490 slugging percentage]).
2003
Tony Clark struggled mightily in 2002, hitting only .207 with three home runs and 29 RBI for the Boston Red Sox. The once solid slugger, it seemed, was on his way out.
That is, until he joined the Mets. In 2003, he whacked 16 home runs and 13 doubles in 254 at-bats. His .472 slugging percentage led all the team's reserves, as did his 43 RBI.
Like many of their solid benchies, however, he was just a hired gun. The Mets dumped him following the season.
2004
2004 saw the emergence of Eric Valent. The former first-round draft pick bombed for his previous teams, the Philadelphia Phillies and Cincinnati Reds, but he put it all together for the Mets in '04.
In 270 at-bats that year, he hit .267 with 13 home runs, 34 RBI and 39 runs scored. He also played incredible defense, posting a .996 fielding percentage.
Sadly, 2004 would be his peak. He struggled in 2005, was sent down to the minors partway through the season and was granted free agency in October.
Shane Spencer deserves an honorable mention, as he performed well in 2004, too. He hit .281 with four home runs and 26 RBI that year.
2005
It was a crying shame when the Mets got rid of Marlon Anderson post-2005 because he performed so well off the bench for them that season. In 123 games, he hit .264 with seven home runs, 19 RBI and six stolen bases.
Despite Anderson's solid performance, however, I think one player did a tad better. Though his average was only .244, catcher Ramon Castro hit eight home runs with 41 RBI, while providing solid defense from behind the plate.
Unlike Anderson, he stuck around with the Mets for quite a while.
2006
The Mets had a pretty incredible team in 2006, so you'd think they would have a pretty incredible bench to go along with it.
But they really did not. Chris Woodward hit .216 and Ramon Castro hit .238. Julio Franco, who hit .273, had an OPS+ of only 81.
Of course, there was this one guy named Endy Chavez who did pretty well. In 133 games, he hit .306 with 12 stolen bases, 48 runs scored and 42 RBI. His defensive was perfect and his offense was fantastic.
And, surely, we all remember his historic catch in that year's National League Championship Series.
2007
The Mets' bench in 2007 was quite a foil to their 2006 reserve-team. It was, as a whole, really quite excellent.
Chavez hit .287, Ruben Gotay hit .295, Damion Easley hit .280 with 10 home runs and Anderson returned and hit .319.
Once again, however, Castro was the team's best reserve. Though he appeared in only 52 games, he hit .285 with 11 home runs, 31 RBI and a 126 OPS+.
He slugged .556, which led the entire team, starters included (the starter with the highest slugging percentage was David Wright, with a .546 mark).
That's not too shabby at all.
2008
Fernando Tatis came out of nowhere in 2008, hitting .297 with 11 home runs and 47 RBI in 92 games.
He was the team's main left-fielder that year, despite starting only 28 games at the position. He spent more innings in left field than any other player.
Nevertheless, I still think he qualifies as a "bench player" for this exercise.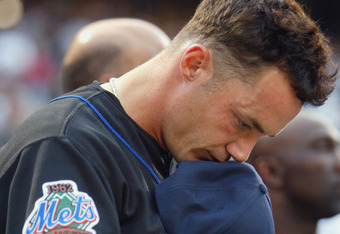 Jamie Squire/Getty Images
Damion Easley also performed quite well off the bench, hitting .269 with six home runs and 44 RBI in 113 games. He spent quite some time filling in for Luis Castillo, the Mets' oft-injured second baseman.
2009
Tatis earns the honor of best bench player yet again. He played all over the field in 2009, appearing in at least 20 games at first base, third base and left field—and he did pretty well on the diamond, committing only three errors.
Offensively, he hit .282 with eight home runs and 48 RBI in 125 games.
It should be noted that in 2009, the Mets had so many injuries that the line between "bench" and "starters" became rather blurred.
That is, many of the bench players spent quite a bit more time starting than anyone would have expected them to.
2010
The Mets' bench was rather unimpressive in 2010—not a single reserve with at least 25 appearances had an OPS+ greater than 100.
I have to hand it to Chris Carter, however. He was not much of a big leaguer prior to the 2010 season, having appeared in only 13 games between 2008 and 2009.
He performed respectably off the bench in 2010 however, hitting .263 with four home runs and 24 RBI in 100 games.
2011
We're only halfway through the 2011 season, so it is difficult to say who the Mets' top bench player this year will be—but there are quite a few candidates.
Both Dan Murphy and Justin Turner have provided solid bats while filling in for David Wright and Ike Davis, and Scott Hairston has an impressive .458 slugging percentage.
Time will tell who the Mets' standout super-sub becomes for 2011.
Before I close out this piece, I have to say a word about Joe McEwing. How can a player, who Mets fans all over the nation lovingly dubbed "Super Joe," not be named one of the team's best utility players?
Though in any given season McEwing was not the team's best reserve, he may have been the best overall in the past 10 or 11 seasons. Most of the guys in this piece were flashes in the pan, staying for a year or two and departing soon after.
McEwing, on the other hand, spent five seasons with the team. He played all over the diamond and pinch hit, endearing himself to Mets fans with his hard-nosed, no-nonsense play. Indeed, he is what every manager should want available to come off the bench.
Well, that's that. They don't get much of the limelight, but bench players are often just as vital to a baseball team's success as the club's biggest names. Coming into games when called upon, these yeoman do as they're told without any fanfare and, oftentimes, respect.
Nevertheless, they do their jobs and try to help their teams achieve the number one goal: victory.