2011 MLB All-Star Game: 3 Major Flaws with the Midsummer Classic
July 13, 2011
Christian Petersen/Getty Images
The Major League Baseball All-Star Game is one of the most prestigious exhibition games in sports. It is a culmination of the many great players of our national pastime and a celebration of arguably the most iconic American sport. Honestly, what's better than beer, hot dogs and nine innings of watching the best players in baseball taking the field at once?
Being a lifelong baseball fan, I have always anticipated this event, looking forward to seeing my favorite Red Sox players participate in the festivities such as the Home Run Derby as well as the game itself. As joyous a show as the Midsummer Classic is, it has a few blatant flaws which tend to irk me year after year, and it sometimes lessens my enjoyment of the game.
There are three major things that bug me about the MLB All-Star Game: fan voting, the fact that it dictates home-field advantage in the World Series and the fact that all 30 teams must be represented.         

Fan voting
Okay, this one is obvious. Fans are simply given way too much power when it comes selecting starters for the All-Star Game. I understand that it is a neat way for fans to get involved, but the only problem is they are all—what's the word I'm looking for—biased.
Naturally, most fans are homers (some are just idiots) and will stuff the ballots with their own team's players even if some have no business getting a vote. Each fan is given the opportunity to vote online 27 times, which in itself is ludicrous. When voting for the president of the United States we don't get 27 votes, we get one.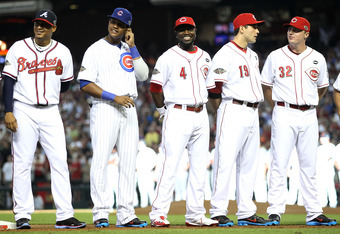 Christian Petersen/Getty Images
As a result, big-name players who are having crap years (Derek Jeter) are voted in as starters, while truly deserving, yet lesser-known players such as Asdrubal Cabrera are forced to make it to the team via player selection. This problem happens far too often, and it's time Major League Baseball alters the way players are selected to the team.

Perhaps fans vote for the reserves instead of the starters. Another possibility is that fans share voting responsibilities with players and coaches, with the fans' votes counting for a third of the ballot.
For example, if right now 1,000 fans voted for Jose Bautista, he would have 333 fan votes (one-third of the total vote) instead of 1,000. Coaches and players would then be responsible for the other two-thirds, totaling Bautista's final count.
In essence, what I am proposing is that Major League Baseball should still allow fans to vote for All-Star starters, while placing less emphasis on their votes and more on the votes of players and coaches. Then perhaps players like White Sox first baseman Paul Konerko and Pirates outfielder Andrew McCutchen will have less of a chance of being left off the roster. Just for the record, Konerko and McCutchen were recently added to the roster as reserves.
Look, I'm not saying we should revoke fans' rights to vote. In a way, it is necessary. In my opinion, we need to reconfigure the format for voting so that we put that year's best players on the field and not grant players the honor on nothing but past accomplishments (*cough* Jeter *cough*).
Home-field advantage in the World Series
This is one of my biggest pet peeves in all of sports and for good reason.
Let's get one thing clear: The All-Star game is an exhibition game and nothing more.
Bud Selig is trying to assign value to a meaningless game by raising the stakes. As most people know, the winning league in the MLB All-Star Game gets home-field advantage in the World Series. That is one of the most ridiculous things I have ever heard of in sports.
Imagine this: Team A from the American League, an absolute powerhouse, wins 100 games during the regular season and advances to the World Series. Team B (National League) on the other hand, wins 88 games and squeaks into the playoffs via the wild card and makes it to the World Series. If the National League won the All-Star Game that year, guess who gets home-field advantage in the World Series? Yep, the 88-win wild card team from the National League.
Doesn't that sound silly? That being said, it is a step up from the previous system, pre-2003, when home-field was simply alternated between the AL and NL (that's even dumber). Honestly, I have a problem with Bud Selig on almost everything he does but this takes the cake.

The All-Star Game is supposed to be a stress free, fun-filled evening of baseball and nothing else. Please Commissioner, get rid of this stupid rule and let the better team have home-field advantage on baseball's biggest stage.     
All 30 teams must be represented
This is one of the rare times I understand wholeheartedly what the commissioner is trying to do, and I'll even go as far as to say I applaud it. In order to give fans from small markets such as Houston, Florida and Kansas City incentive to watch the game, Major League Baseball instituted a rule that all 30 clubs must be represented by at least one player.
However, this spawns another huge issue because players who have almost no credibility are sometimes selected to the team. Oftentimes, the best player on a bad team is taken even if the player is having a mediocre year. By doing this, Major League Baseball is not only filling the roster with a bunch of illegitimate All-Stars but is taking roster spots away from deserving players.
If only 20 of the 30 Major League teams are represented in the game, I say so be it. Not all 30 NBA teams are represented in the All-Star Game—there are barely enough spots on the roster for each team. Not all 28 NHL teams are necessarily represented in the NHL All-Star Game. Not all 32 NFL teams are necessarily represented in the Pro Bowl (who watches that anyway?).
Ultimately, there needs to be a realization that not every franchise has a player worthy of making an All-Star appearance, and that's fine. Certain players should not artificially be given the recognition if they don't truly deserve it.     
As a lifelong baseball fan, I look forward to watching the MLB All-Star Game every year. It's a celebrated event despite its major flaws. Commissioner Selig, I am asking you to address these complaints which may spoil baseball fans' enjoyment of the show.

A native of Wellesley, Massachusetts, Aashish is a lifelong fan of the Red Sox, Patriots and Celtics. He graduated Wellesley High School in 2008, and is currently a senior at the University at Buffalo in Amherst, New York. You can follow him on Twitter  @aashish1989.
Like us on Facebook: http://www.facebook.com/BostonSportsRadio.net
READ MORE AT BOSTONSPORTSRADIO.NET