Miami Dolphins
Miami Dolphins 2004: The Year That Sent the Fins into a Downward Spiral
A. Messerschmidt/Getty Images
July 14, 2011
The Dolphins are no longer the kings of South Beach.
That is according to this Fox Sports article and the numbers may back that, but in my mind the Dolphins will always own Miami.
However, it makes you think just how did a storied franchise like the Miami Dolphins get to this point?
Unlike the rest of the World, I do not place the blame (for anything negative) on the Miami Heat's "Big Three."
The Dolphins' struggles to hold their own town's interest all started in 2004.
In the seven seasons since 2004, the Dolphins had just one winning season. Prior to 2004, the Dolphins had just two losing seasons since joining the NFL in 1970 (the Dolphins did have four straight losing seasons while playing in the AFL from 1966-69).
The terrible decisions in 2004 started in the front office.
First, the Dolphins hired Dan Marino to be the senior vice president of football operations. Marino quit three weeks later.
Then, the Dolphins promoted Rick Spielman to be the team's general manager.
Spielman then traded a second-round pick for QB A.J. Feeley. Traded for WR David Boston. Gave up a sixth- and seventh-round pick for a seventh-round pick (low picks, I know, but who trades up in the seventh round and gives up a sixth-round pick to do so?). Traded away star DE Adewale Ogunleye for WR Marty Booker.
All that wheeling and dealing lead the Dolphins to only have a first-, fourth-, fifth-, sixth-, and two seventh-round picks. The only pick out of those 2004 draft picks, that has done anything worth noting, was the first-round pick OT Vernon Carey.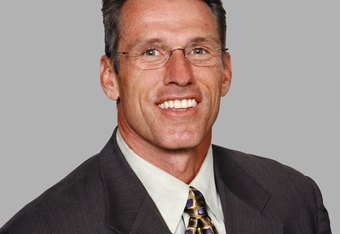 Dolphins GM failure Rick Spielman
Getty Images/Getty Images
Needless to say, but none of those moves worked out for the Dolphins and Spielman was fired after just one season.
While the front office was a mess, Ricky Williams emerged as a mess as well. Right before the 2004 season, Williams retired.
At the time, it was unclear why Williams retired but it was later discovered that Williams had failed his third drug test and was tired of being overused by coach Dave Wannstedt.
Williams' retirement was crippling to an offense that heavily relied on him for its success.
While the front office and ownership were messing up the personnel decisions, they also messed up the coaching decisions in 2004 as well.
After an 1-8 start to the 2004 season, Coach Wannstedt resigned. Defensive coordinator Jim Bates, who had been the coordinator since 2000, was named the interim coach.
Promoting Bates was actually a wise move by the front office. Bates had developed the best aspect of the Dolphins' teams from 2000-04: the defense. Making household names out of lesser known guys such as Zach Thomas and Jason Taylor.
The Dolphins went 3-4 under Bates to finish off 2004 and actually showed signs of life in those seven games.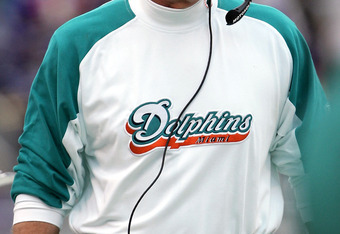 Would things be different had Jim Bates stayed on as Head Coach?
Doug Pensinger/Getty Images
Many Dolphins fans, like myself, wanted Bates to stay on. Many Dolphins players, like TE Randy McMichael, wanted to play for Bates.
"People say we're a different team under him, and it's true," TE Randy McMichael said of Bates. "I will play for that man anywhere, any day of the week."
Instead, the Dolphins went with the "sexy" hire and gave the job to Nick Saban. The Dolphins went 15-17 under Saban and he swore he was not going to the University of Alabama...he then went to the University of Alabama because he is a coward and a liar.
Sorry, I got a little personal there, but I am only apologizing to my readers, not Saban.
The bad moves and decisions just continued after that, but it all started in 2004.
I know many of you already knew this story, yet no one ever talks about these things when trying to determine why the Dolphins have struggled.
I honestly believe that had the Dolphins handled 2004 better, these last seven years of futility would have never happened.
Like the new article format? Send us feedback!