2011 Top Ten Centers: Mangold Leads Young Group
August 12, 2011
Jonathan Daniel/Getty Images
1. Nick Mangold - Jets
Mangold has brought himself to be an almost unanimous choice as the best center in football. He anchors one of the best offensive lines in the league, and has as much strength and as much athleticism as any center in the sport. He also is very smart, providing valuable awareness to young QB Mark Sanchez. He can stop elite NTs by himself. At a young age, expect him to get even better.
2. Maurkice Pouncey - Steelers
Possibly the most impressive offensive rookie this year, Pouncey has used his rare athleticism for the position to become an elite center in this league. With injuries plaguing the Steelers line, Pouncey did an incredible job allowing Mendenhall and Big Ben opportunities to succeed. He'll improve more with experience, but to his credit, he has learned very fast in this league.
3. Alex Mack - Browns
Another great young center in the AFC North. He has excellent technique with a well-rounded skill-set for the position. His progression has been key in the much improved Browns offense featuring Colt McCoy and Peyton Hillis. He also has the athleticism to move into the second line very well, and has the strength to hold his own with nose tackles. A rising star.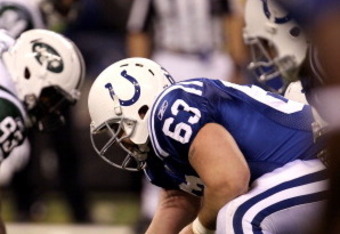 Jonathan Daniel/Getty Images
4. Jeff Saturday - Colts
A very smart player who continues to lead the line that protects Peyton Manning. He is aging and his athleticism is starting to fall, but he remains among the best pass blockers in the league, and the most experienced elite center in the league. The run blocking isn't superior, but he remains an integral part of the Colts offense with his tandem with QB Peyton Manning.
5. Ryan Kalil - Panthers
The Panthers have struggled, but they have a good run game in part because of Kalil's presence in the middle. He is a sound technician, using his hands effectively to help the Panthers win the battle in the middle. Not the biggest guy, but uses his athleticism well to hold off the bigger rushers in the passing game.
6. Andre Gurode - Cowboys
Gurode is an excellent run blocker and a very good center, but an off year and injuries have dropped him on the list this year. The man who famously frustrated Albert Haynesworth, Gurode has been a perennial Pro Bowler for the AFC, and was deserving. Once he gets healthy, he certainly is among the league's best, and the Cowboys need him to rebound in order to improve on the line.
7. Matt Birk - Ravens
A solid experienced veteran leading a relatively strong offensive line, Birk makes those around him better on the line. But he is going through knee surgery in the offseason. However, sources say he'll be healthy early in the season, and was a major reason Ray Rice continued to shine in Baltimore last year. A good center able to help in all ways of the position.
8. Nick Hardwick - Chargers
A hard-working player who is productive when healthy. Problem is, he's been injured frequently. On the field, he overcomes his lack of size with good technique and athleticism. He keeps Phillip Rivers off his back, even with the Chargers dealing with holdouts on the offensive line last year. An experienced and respected player in this league.
9. Dan Koppen - Patriots
A very smart player who will make nearly no mistakes as Brady's center. On a very good line, Koppen is responsible for a lot of the line calls made. He's also overlooked due to the presence of linemen such as Mankins, Vollmer and Light. However, with Light getting older and Mankins in a holdout, the Patriots line stayed strong. That's a testament to Koppen.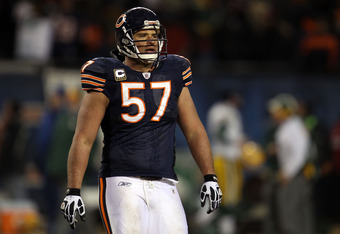 Jonathan Daniel/Getty Images
10. Olin Kreutz - Saints
A lot of people think he's losing his ability with his age, but I'm not totally buying it. He's not the All Pro he once was, but he is a leader whose awareness and technique will help his new team. The Bears may regret letting Kreutz go this year, who was by far the Bears' best lineman last year. Throughout his career, he's been one of the best centers in football.
Also Considered
Eric Wood - Bills: underrated lineman who was gifted guard and now moving to center
Jason Brown - Rams: big center who has been and remains on cusp of the top ten
Jamaal Jackson - Eagles: well-rounded center who helps his explosive offense
Scott Wells - Packers: great technician, but sometimes overwhelmed with bigger D-Lineman
Jeff Faine - Buccaneers: paid like a top-tier center, and usually lives up to the contract
Chris Myers - Texans: one of the top 10 run-blockers, but needs to improve pass protection
Mike Pouncey - Dolphins: if he's anything like his brother, Miami should be excited about the rookie