Cincinnati Reds: It's Time for Francisco Cordero to Pass the Closer's Torch
July 12, 2011
Andy Lyons/Getty Images
My least favorite part of any Cincinnati Reds game lately has been the ninth inning.
Fans of MLB teams with guaranteed closers usually relish the ninth as a stadium exit strategy to beat the postgame traffic because they trust the game in their closers' hands.
If you're a Cincinnati fan though, the ninth inning is stressful, nerve-wracking and especially sickening to your stomach if the Reds are only sporting a one-run lead because you know who Dusty Baker is warming up in the bullpen: Francisco Cordero.
CoCo is the single-most unreliable closer on any competitive MLB team at the moment.
Want proof?
The last seven days, he's given up eight hits, seven earned runs, four walks and has only notched one strikeout.
The Reds just wrapped a crucial road trip with stops in St. Louis and Milwaukee for a seven-game stretch coming into this All-Star break. CoCo blew three saves in four days of this trip. It's enough to drive even the most casual of fans crazy.
Friday's game against the Brewers was perhaps the most excruciating to watch.
The Reds were up 7-5, bottom of the ninth. CoCo got Rickie Weeks to fly out, and I felt a little better.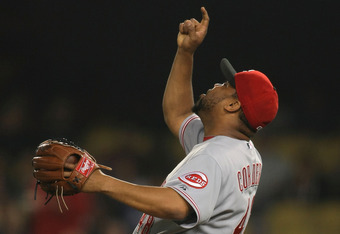 Victor Decolongon/Getty Images
Then he walked Kottaras and gave up a triple to Nyger Morgan. The game was now 7-6, with one out and a runner on third. Sweating yet?
Corey Hart (not the "Sunglasses at Night" singer) hit an infield chopper, and rookie Zack Cozart made a brilliant play on the ball, hitting catcher Ryan Hanigan as Morgan was charging toward the plate. Like a page out of "Catching for Dummies," Hanigan took a Buster Posey-like licking at the plate, knocking his mask off, but he hung on to the ball and the Reds' lead. 
Since Cozart and Hanigan saved CoCo's butt, I honestly believed this was meant to be for the Reds; if the Brew Crew were going to win this game, they would've tied it on that play at the plate. 
But Ol' Reliable CoCo loaded the bases on a walk and an infield hit, then gave up a bases-clearing, game-ending, heartbreaking stand-up double to Mark Kotsay.
I couldn't believe it.
I looked to the sky—much like Cordero does when he actually notches a save—and asked, "WHY?!"
Why is this $12 million man still allowed to be the closer for this baseball team?
I know a lot more goes into closing out a game, but in a nutshell, I can't help but liken it to a kicker on a football team (which ironically the Bengals had problems with when Shayne Graham was still in town). 
Both are entrusted with one job: kick the ball or close the game.
When either or both falter, the scrutiny surrounding them is that much greater, but it's greater because of the basic job description I just provided: kick the ball or close the game.
I'm not saying Cordero is totally incapable of performing this basic function—the man doesn't have 307 saves by accident.
What I am saying is that he, for whatever reason, is incapable of performing this basic function at this moment, and it's a moment crucial to the Reds' season.
Because of this, Cincinnati has a choice. 
They can either keep putting CoCo out there until he gets over this slump he's in, or they can call another guy out when the all-important ninth rolls around.
How about the $30 million Cuban missile, Aroldis Chapman?
I know Chapman has had some Rick Vaughn-esque control problems, but at least he throws heat. Compared to CoCo's last seven days, Aroldis has given up one hit, no earned runs, walked one and struck out nine. If he's the future of the bullpen or perhaps a rotation ace somewhere down the line, why not use him in the closer's role now instead of waiting for CoCo's contract to expire this year?
It's time for Cordero to pass the torch in the bullpen, even if it is the last year of his contract. This might come off as a snap judgment based on the streak he's been on, but how many other closers on contending teams are this untrustworthy? How many other fans out there look at a one-run lead and think, "Wow, not enough insurance when we bring this guy in to close it out"?
If the Reds want to make some noise the second half of this season, they have to detonate the missile and leave CoCo on the shelf until the winter.