NFL Lockout News: Retired Players Face Troubles of Their Own
July 12, 2011
Gene Sweeney/Getty Images
For retired NFL players, it's put-up or shut-up time.
Andre Waters, a former Philadelphia Eagles player, committed suicide at age 44. Having known Andre, it shook me to the core.
I met Andre when I signed him to his first NFL contract in 1984. He was a self-confident and enthusiastic young player—even though he was a free agent and had been passed over in the NFL draft.
Andre played special teams and earned the name "dirty waters" because he was such a hard hitter.
After Andre died, his brain was studied by Dr. Omalu (a professor of pathology and a medical examiner) to determine the effect of successive concussions he received during his football career.
The doctor concluded that Andre's brain damage was consistent with a man in his 80s or 90s who suffered from dementia.
From at least as early as the NFLPA press conference held at the 2010 Super Bowl, DeMaurice Smith (the executive director), recognized the need to address the financial and medical needs of the pre-1993 players.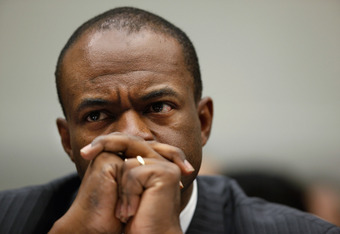 Chip Somodevilla/Getty Images
Smith commented that, "When it comes to benefits for pre-1993 players, the current system is not working." 
In answer to a reporter's question during the press conference, Smith stated that in his opinion, current players that ignored past players would be making an "immoral decision."
Retired NFL players have zero legal standing and cannot force the current players' representative, Smith, to address their issues, nor does Smith have any legal or fiduciary duty to negotiate additional benefits for retired players.
Retired players do not have a representative at the bargaining table, (notwithstanding that they filed a lawsuit on the Fourth of July to try to force this issue), and they cannot require current players to include new benefits for them.
Pre-1993 NFL players are dependent on the current players and owners to do "what's right."
Moral and ethical concerns appear to have been sincerely expressed by both Smith and Goodell. In an open letter to the fans in March 2011, after the collective bargaining fell apart, Goodell reiterated the owners' commitment to establish a new "legacy fund" of $82 million for pre-1993 retired players.
The recent scuttlebutt behind the scenes, as reported by Judy Battista at the NY Times, indicates that both the agents representing the rookies and the attorneys for the players have objected to diverting dollars out of rookie compensation or within the salary cap to create a legacy fund for pre-1993 retirees.
Both players and owners agreed to create a "legacy fund" for retired players out of the reconfigured rookie wage scale.
Now that we are heading into the final lap of labor negotiations, will this be another labor contract where promises made to retired players (who were in the league before 1993) are broken at the last hour?

Leadership is the ability to recognize what's morally right and institute programs that might be unpopular but are necessary. If the designated leaders, Smith and Goodell, remain true to their public comments, they will back up their words with actual deeds by making sure the legacy fund is part of the agreement.
Our society has a tendency to forget yesterday. I urge fans to reflect back to the exciting football years of the '70s and '80s—when players like Andre Waters brought so much heart and passion to the sport—and support these retired players.
Compared to the billions of dollars that are currently on the table, this is a small price to pay for the former gridiron players who made the game what it is today. 

Susan Tose Spencer is an award-winning author, entrepreneur, successful business owner and is the only female GM in the history of the NFL. She currently owns a meat trading company, hosts a radio show (Business Buzz) on Women's Radio, is a guest lecturer at UNLV's School of Entrepreneurship and is a blogger (www.briefcaseessentials.com/blog).