San Francisco Giants: Panda May Be This Year's Posey, Could Win Gold Glove
July 11, 2011
Thearon W. Henderson/Getty Images
His 21-game hitting streak sparked a struggling Giants offense in the month of July, and with his production plus the usual outstanding pitching performances by San Francisco's starters seemingly game after game, a club that was 41-39 at the beginning of the hit streak was 58-44 by the end of it.
Sound familiar?
Well, we're not talking about what's happening this season. We're rewinding to July 2010, when Buster Posey wowed Giants fans and the baseball world with his offensive capabilities.
That the Giants, who would eventually go on to win the World Series in 2010, went 17-5 during Posey's hitting streak, is no coincidence.
It was Posey's and the Giants' red-hot July that propelled them into the playoff race last season, and a year later, with Posey out for the rest of this season, Pablo Sandoval is doing his best Buster Posey impersonation.
Sandoval, who matched Posey's 21-game hit streak in Sunday night's Giants victory over the New York Mets to wrap up pre-All-Star break baseball around MLB, is starting to replace the offensive productivity lost when Posey went on the disabled list. 
Along with hot-hitting Nate Schierholtz, who is hitting .425 in July and has raised his batting average 24 points since the beginning of the month, the Giants are starting to see some life in what has been a sluggish lineup for most of the first half.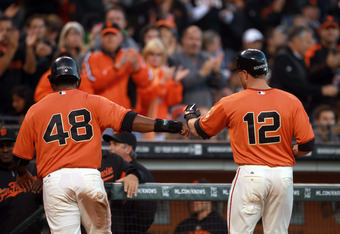 Ezra Shaw/Getty Images
Buster Posey brings so many unquantifiable elements to the game, including the confidence he generates in the ball club and his leadership on the diamond, and these certainly can't be replaced.
But the Panda has intangibles of his own that he brings to the table. He generates a light-hearted and loose clubhouse atmosphere and can always be seen encouraging teammates and being one of the most visual celebrators of on-field success the team has.
Statistically speaking, Sandoval is well on his way to replacing the offensive numbers that were lost with Posey's season-ending injury May 25.
Last season, Posey hit .305 with 18 home runs and 67 RBI. And let's not forget that last season was a terrible trial offensively for the Panda, who put up impressive numbers in a 2009 rookie campaign.
In 2010, while Posey led the way for the Giants offense, Sandoval hit just .268 with 13 homers and 63 RBI (by contrast, in '09 he hit .330 with 25 HR, 90 RBI).
With Sandoval's recent hot streak and what has proven to be consistently solid offensive performance throughout the first half (.303 BA, 8 HR, 29 RBI) despite missing several weeks with a hand injury, Sandoval could be the Posey equivalent the Giants are looking for down the stretch this season.
If that happens, and other emerging role players like Nate Schierholtz continue to hit well, the Giants could be in a good position to make another run deep into the postseason with the same formula that worked so well last October: near-flawless pitching and timely hitting.
Pablo Sandoval isn't Buster Posey, but having a hot-hitting Panda in 2011 is like adding a new offensive threat to the 2010 Giants, who couldn't rely on their star third baseman for help with the bat last season.
A Gold Glove for the Panda?
Pablo Sandoval had a lot of trouble getting to sharply hit balls to his right and left as he patrolled the hot corner for the Giants last season.
One possible culprit for the Panda's limited range was his weight.
Now that he's about 40 pounds lighter, Sandoval seems to be coming into his own as a defensive player.
While the Panda has been making headlines for his hot bat, he's also showing some great range and quick footwork at third base lately.
If this keeps up, Sandoval, who had some early season struggles defensively even this season, could put himself in a position to compete for a Gold Glove award.
After being named an All-Star for the first time in his young career, Sandoval could make 2011 even more special for himself by earning an award for defensive excellence should he continue to snare smashes down the third base line in the second half.