MLB Trade Rumors: The Cincinnati Reds Look to Trade Ramon Hernandez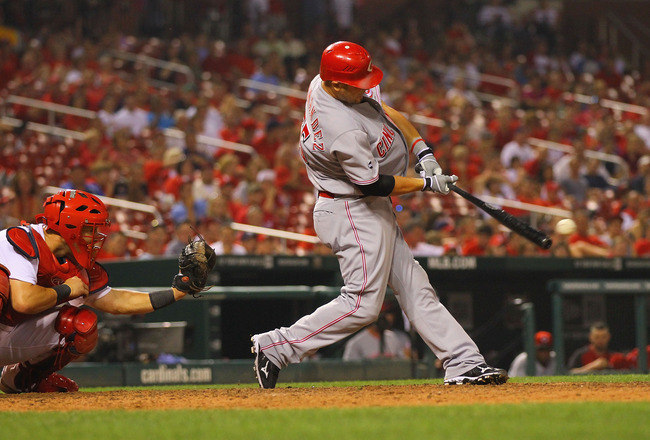 Dilip Vishwanat/Getty Images
According to the San Francisco Chronicle, the San Francisco Giants are interested in the Cincinnati Reds' veteran catcher Ramon Hernandez.

Since Buster Posey's season-ending injury in late May, the Giants have been scrambling to find a solid replacement. They are currently using Eli Whiteside (.229 BA) and Chris Stewart (.172)—two guys that aren't making the cut for manager Bruce Bochy's standards.

Hernandez turned 35 in May, but is playing as if he had just hit his prime. The Venezuela-native is hitting .322 this season with 10 home runs and 26 RBI. His on-base percentage is .377, which is significantly higher than lead-off hitter Drew Stubbs (.324).

What's in it for the Reds, you ask?

With Hernandez making just $3M this year, Cincinnati has the cap and the depth to part with him. Ryan Hanigan is reliable, and the 2007 first-round draft pick Devin Mesoraco is an up-and-coming MLB prospect.

Jonny Gomes, Chris Heisey and Fred Lewis—Cincinnati's carousel of left fielders this season—have a combined batting average of .242 while knocking 23 balls out of the park, 77 RBI and 141 strikeouts. These numbers aren't awful—especially the 23 homers and 77 RBI—but their .213 batting average with runners in scoring position is a kyrptonite to the Reds' lineup.

The Giants' right fielder, left-handed batter Nate Shierholtz, has played in 83 of the team's 92 games so far, grinding out 65 hits in 222 at bats (.293) this season. He has 15 doubles—Gomes has eight in 206 at bats—and has hit seven HRs with 31 RBI.

He's also on a tear as of late, hitting .526 with three home runs and seven RBI in his last five games.

The 27-year old slugger has an on-base percentage of .343 and has struck out only 33 times—Gomes is at 70.

And Shierholtz only gets paid $432,500, making way for Cincinnati to request for a young pitching prospect from San Francisco's farm system as well.

This move would alter the Reds' lineup a little, potentially sending Gomes to Louisville Triple-A, allowing him the opportunity to get his swing back. Heisey and Lewis would battle for playing time (and their jobs). Shierholtz would probably bat in Gomes' place in the seven-hole behind Scott Rolen. He'd be asked to start in left field, while Drew Stubbs and Jay Bruce continue performing well at their defensive positions.

And with the non-waiver trade deadline ending on July 31 (not to mention a needed roster adjustment for the Reds), a move is bound to be made.

Here is why this trade needs to happen and its benefits to both organizations.
The Benefits for the San Francisco Giants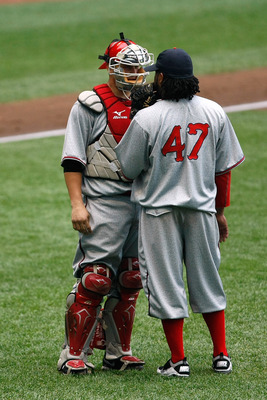 Scott Boehm/Getty Images
Ramon Hernandez has been nothing short of excellent for the Cincinnati Reds.

So far through 2011, he has career-bests in batting average (.322), slugging percentage (.539) and on-base plus slugging percentage (.916). He's already hit more home runs (10) than he has since 2008 (15) and is on pace to strike out less than 40 times.

On another plus-side, Hernandez thrives at the plate against NL West opponents (other than the Giants), in which he is hitting .321 with 13 RBI and a homer since 2009.

Baserunners have been caught stealing by his cannon-like arm 325 out of 738 times (44.0 percent) throughout his career—16 of 27 in 2011 (59.3 percent). It's hard to steal from Hernandez, and his superior ability to make the throw to second in time is extremely valuable.

With Buster Posey out for the remainder of 2011 and the Giants' current catching staff performing poorly, the move to grab Ramon Hernandez is inevitable. He would make the team better, help aid to a possible return to the World Series, and be a free agent when this season is all said and done.

A quick and clean deal.
The Benefits for the Cincinnati Reds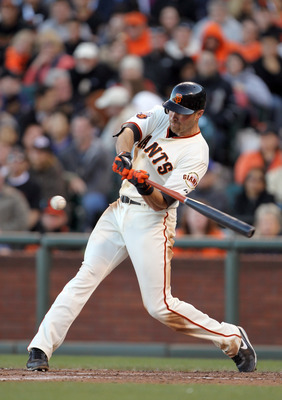 Ezra Shaw/Getty Images
Nate Schierholtz is hitting .291 and 22 RBI with runners in scoring position this season, something the Cincinnati Reds desperately need.

His athletic versatility allows him to bat left and throw right. The outfielder is hitting .308 versus right-handed pitchers this year and would be a solid addition to a lineup that already has two left-handed batters.

But three is company, right?

Schierholtz only has one error in 109 chances so far this season. That means he's going to make the play 99.1 percent of the time.

This is almost as good as Lysol is at killing germs.

Another upside for Cincinnati is that Schierholtz is only 27 years of age. This is about the time when players hit their prime.

For example, when Alex Rodriguez was 27-29, he combined for a .302 batting average with 131 home runs and 354 RBI. Albert Pujols hit .337, 116 homers and 354 RBI during this span, as well.

Sure, these comparisons to some extent are a bit far-fetched, but you get the idea.

There's no doubt that Ramon Hernandez's presence would be missed in Cincinnati, but in the big picture, this is most likely the best opportunity the Reds will have to part with him. He's 35 years old, which brings him to about 42 in catcher years. Hernandez still has some gas left, but it's probably best to let him go when he still has value to his name.

This will also let Cincinnati see what catching prospect Devin Mesoraco can do at the major league level. He's hit safely 89 times in 294 at bats (.303) so far this season for the Louisville Bats (Triple-A), with nine home runs and 49 RBI.

He also has a ridiculous 30 doubles to add to that list.

Mesoraco bats cleanup for his minor league team and could be a potential 20-plus home run player in the MLB. If this trade doesn't go down, be prepared to see him in the big leagues in 2012 when Hernandez's contract expires.

However, I believe this trade is a must before the July 31 deadline for both teams.
Keep Reading

Cincinnati Reds: Like this team?