Grant Green and the Top Performers from the MLB Futures All-Star Game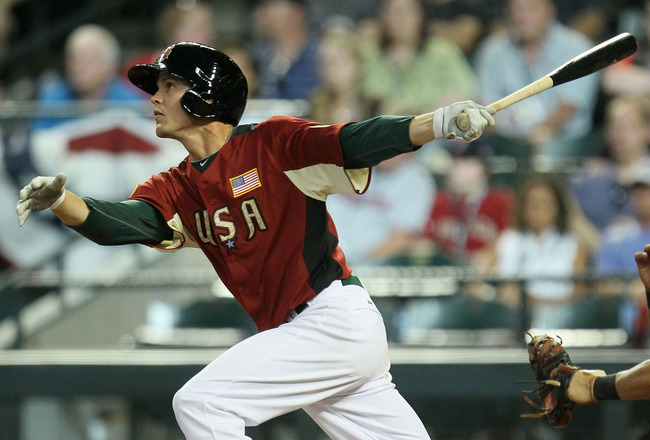 Jeff Gross/Getty Images
By all accounts, this year's version of the Futures Game, pitting the top prospects in all of baseball against each other, was the best in a very long time—possibly the top contest ever.
The game was filled with probably the greatest collection of prospect talent in it's history, with almost two dozen pitchers who were capable of producing mid-90s heat, and one of the top offensive prospects in minor league history.
More than a few prospects have utilized this game to catapult themselves into their team's frame-of-mind, establishing themselves as top-flight prospects, and future stars in the big leagues. Prince Fielder, Josh Hamilton and Justin Morneau all appeared and starred in the game...and then went on to bigger and better things.
A few players (and appendages) stood out in this game, and in order to give them the credit they sorely deserve, here are the top performers from the 2011 MLB Futures All-Star Game.
Bryce Harper's Throwing Arm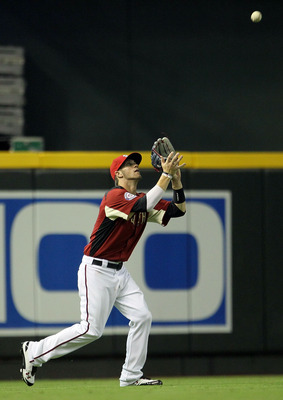 Jeff Gross/Getty Images
You didn't have to be a scout to see that Harper looked lost at the plate. He struck out looking in his first at-bat, barely getting the bat off his shoulder and sandwiched another strikeout around two groundouts.
In the field, he looked bewildered as well, although he does get a bit of a pass for playing out of position in left field.
Still, defensive misplays aside, on a night that featured more than a dozen guys capable of hitting 94, 95 mph on a radar gun, the most impressive cannon belonged to the Team USA outfielder.
Although he admitted to showing off (surprise, surprise), Harper gunned a throw an estimated 330 feet, according to Baseball America, from near the wall all the way to home plate needing just one bounce to arrive at the glove of Austin Romine.
Here's Harper, in his own words, in an except from a great game recap from the Washington Post.
Afterwards, Harper admitted he was merely trying to get on Top Plays on ESPN's "SportsCenter."

"Just trying to show off my arm," he said. "That's pretty much it."
Grant Green, SS, Oakland Athletics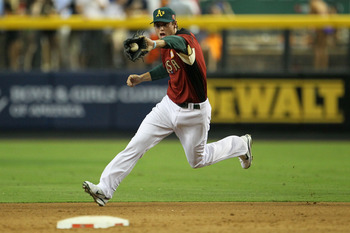 Jeff Gross/Getty Images
Green was no stranger to the Futures Game, not only appearing in last year's contest, but going 1-for-2 with an RBI.
This year he took his game up another notch.
After unexpectedly being asked to move over to second base after not taking any groundballs there for months, Green handled all of his defensive chances better than anyone expected.
At the plate, he took over for Jason Kipnis as the lead-off hitter and proceeded to go 2-for-2 with two doubles and an RBI. He also scored a run.
Not only was he one of just three players (Jose Altuve and Austin Romine were the others) to notch two hits, but he also won game MVP honors after scoring the game-tying run in the bottom of the eighth inning.
Austin Romine, C, New York Yankees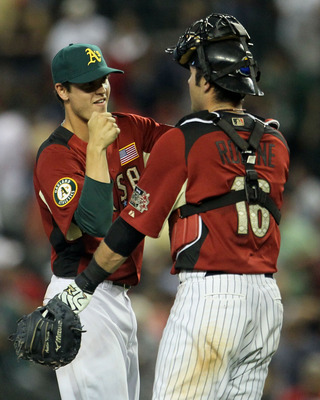 Green and Romine teamed up to lead the U.S. team to victory
Jeff Gross/Getty Images
From the moment he came into the game (in the top of the sixth-inning), Romine made an impact.
Yes, his first inning was the one that saw the World Team score four runs, but in the bottom half of the inning the Yankees catcher picked up his first hit of the game. He was stranded at second when Nolan Arenado grounded out, but he still had damage left to do.
In the bottom of the eighth-inning, Romine hit a two-out single on the very first pitch he saw from World Team pitcher Kelvin Herrera. The base knock drove in the go-ahead run that put the U.S. team up for good. Romine himself came around to score two pitches later, when Arenado drove him home with an RBI double.
Romine still wasn't done though.
In the top half of the ninth inning, he made possibly the play of the game. Rangers shortstop Jurickson Profar popped a ball high behind the plate. Romine gave chase towards the netting behind home-plate, and just when you though the ball was going to end up in the stands, he stumbled backwards and the ball ended up in his glove.
That play secured the second out of the inning, and one groundout later, Team USA was celebrating a 6-4 victory.
Alfredo Silverio, Of, Los Angeles Dodgers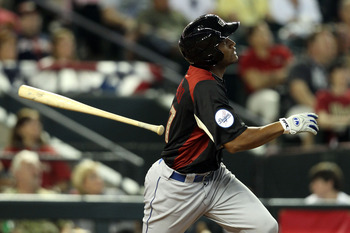 Silvero watches his two-run homer, one of only two hit in the game
Christian Petersen/Getty Images
Silverio was one of the lesser-known prospects named to either team's roster, but he made sure he grabbed a few headlines with his two-run homer in the top of the sixth inning.
After a one-out single by Dayan Viciedo, Silverio clocked a 93 mph fastball from Indians prospect Drew Pomeranz to left center. The two-run blast jump-started a four-run inning for the World Team which headed into the bottom of the inning with a 4-3 lead.
Silverio made a huge splash, despite having very little prospect clout heading into the game. He wasn't named to Baseball America's Top 30 Prospects List from the Dodgers organization, ranking seventh at the right-field position.
He didn't let that pre-season ranking affect the outcome of his season, however, as he's gotten off to a hot start for the team's Double-A affiliate. Through the team's first 84 games he was hitting .314 with 28 doubles, 12 triples, 10 home runs and 57 RBI. He was also responsible for 56 runs of his own and had 10 steals.
Even though he's already 24-years old, I'm sure Silverio will find a spot in the top-30 next year.
Jarred Cosart, RHP, Philadelphia Phillies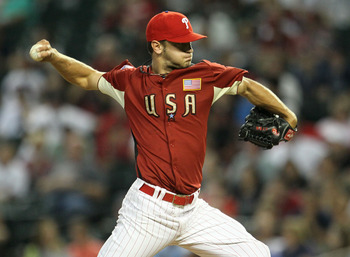 Jeff Gross/Getty Images
Cosart replaced Twins prospect Kyle Gibson to start off the eighth inning and the Phillies prospect needed only 10 pitches to retire the side.
The first batter to step in against him was Mets prospect Jefry Marte. Marte had a great day in the field for the World squad, but against Cosart at the plate he was helpless. The right-hander set him up with three consecutive fastballs, none lower than 96 mph, then put him away with a 76 mph curveball.
Next up was Silverio, owner of a two-run homer in the sixth inning. Silverio jumped on the very first pitch, a 97 mph fastball that was high and inside, and popped out to Wil Myers in right-field.
Two up, two down.
The last batter Cosart faced was Red Sox prospect Chih-Hsien Chiang. Cosart blew a 96 mph fastball in for strike one, and after another 96-mph bullet, this one a ball, went back and got him swinging on another pitch of the same speed. He tried to get him to chase another fastball down low, but Chiang didn't bite. Finally he went back to his off-speed stuff and got him to chase a changeup that was way outside.
Three batters, two strikeouts, one easy pop fly. No problem.
Despite the fact that two other pitchers (Carlos Martinez and Matt Moore) were clocked at higher velocities, Cosart stood out the most to me.
Matt Moore, LHP, Tampa Bay Rays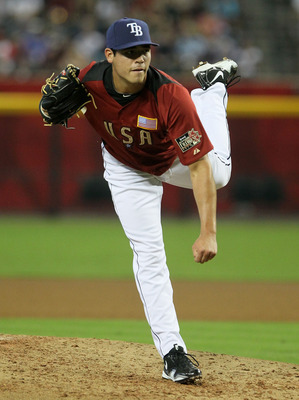 Jeff Gross/Getty Images
As mentioned in the previous slide, Moore was one of just two pitchers to reach 98 mph on the radar gun last night.
Moore, widely regarded as the top left-handed pitcher in the minors, checked in for duty in the top of the fourth inning.
Like Cosart, he was pitted against Silverio and Chiang, but first he had to tackle Futures Game veteran Alex Liddi.
He caught Liddi off-guard with a first pitch fastball, clocked at 96-mph, right down the middle. He reached back for a little extra and Liddi couldn't catch up to a 98 mph fastball, swinging right over the pitch. After fouling off another 98 mph laser, Liddi went down on strikes against a 86 mph slider that the Mariners prospect swung right threw.
Like Cosart, Moore retired Silverio on the very first pitch of the at-bat, a 97 mph fastball that Silverio grounded out to third baseman Will Middlebrooks, who made a perfect throw to first baseman Paul Goldschmidt.
His final at-bat against Chiang was the toughest battle of the night for Moore.
After catching him looking for strike one, Moore went to the slider again, twice. Both pitches were way outside, but Chiang took a hack at the second slider and missed badly. After fouling off another 98 mph fastball, Chiang took a ball, before grounding out sharply to shortstop Manny Machado.
Moore only threw one more pitch than Cosart and threw nine of his 11 for strikes.
Jose Altuve, 2B, Houston Astros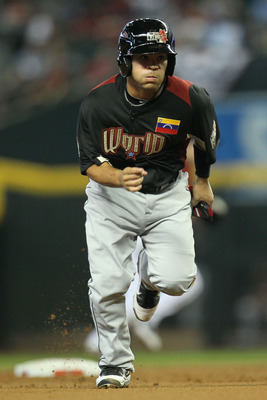 Jeff Gross/Getty Images
Much has been made of Altuve's ridiculous first-half numbers for High-A Lancaster and Double-A Corpus Christi.
Coming into his first Futures Game appearance, the diminutive second baseman from Venezuela (signed in 2006) was hitting a combined .387 in 85 games. That number was tops in the minors. In that time he had also racked up 135 base hits, which was also the best number in the minor leagues. His ten triples ranked in the top-ten.
Not bad for a guy who checked in at No. 28 in Baseball America's preseason Top 30 ranking of the Astros organization.
Their 2011 Prospect Handbook has this to say about Altuve:
"Altuve fits no profile. He doesn't lack tools, but he's difficult to compare to other players. He has a unique build, compared by some scouts to a fire hydrant, and some say he is two inches shorter then his listed height (5-foot-7)...Defense is his best attribute. He has quick, strong hands that work well at the plate and in the field. He's agile and at times a dazzling second baseman, with arm strength to turn the double play well...Offensively, Altuve shows enough power to punish mistakes but mostly plays a No. 2 hitter's game. He uses the whole field, has excellent baserunning skills that augment his average speed and shows the bat control to move runners. Altuve plays with an energy that makes him a team leader and keeps winning people over."
Consider me one of the many people that Altuve has won over this season. It only took one at-bat. Luckily for us all we got to see him get three.
He got the game off to a fantastic start, ripping the first pitch he saw from Tyler Skaggs, a 92 mph fastball, to left field for a one-out double. Unfortunately, three batters couldn't move him from second base.
His second at-bat came against highly-touted Cardinals pitcher Shelby Miller. He worked the count to 1-and-1 against Miller, before ripping a pitch right back up the middle for a single. Again, however, Altuve was stranded on base.
In the fifth- nning he came to bat for the final time and popped out to Bryce Harper in left field on the first pitch of the at-bat.
Altuve finished the day 2-for-3 and was one of only three players who racked up more than one hit.
Shelby Miller, RHP, St. Louis Cardinals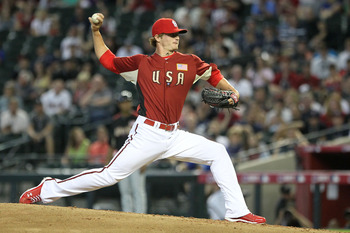 Jeff Gross/Getty Images
Altuve's opponent in his second at-bat of the game, Miller also threw a magnificent inning, even though he was touched up for one hit and issued a walk.
Miller came into the game riding a hot arm, one that had garnered some talks of a possible promotion later this season, straight past Triple-A to the big league squad. He clearly had a lot of pressure on him, but came out looking great.
He showed some hesitancy against his first opposing batter, Rays farmhand Hak-Ju Lee, one of the hottest hitters in the minors, working his way into a 3-and-1 count. He calmed down and got Lee looking with a 91 mph fastball on the outside corner, before putting him away with another fastball, this one at 92 mph, to record his first out.
Miller fed Lee nothing but six consecutive fastballs, ranging in speed from 90-93 mph.
Starling Marte was his next victim. Marte got caught looking at a first-pitch curveball, Miller's first breaking ball of the day, for strike one. Miller came back with a 93 mph fastball, high and inside, that Marte drove into the ground right in front of the plate. Catcher Devin Mesoraco scooped it up and threw out Marte and first base.
Miller ran into some trouble against the spark-plug Altuve, surrendering his first base hit and Altuve's second. He did, however, throw his first changeup in this at-bat, and it was a filthy pitch that caught the Astros prospect off-guard for a strike.
Miller then engaged with Red prospect Yonder Alonso, a guy who could arguably be in the Majors for any other team besides Cincinnati, in a seven-pitch at-bat. Miller threw him five fastballs, one changeup and one curveball, the latter of which looked very good, before missing just high and away to send Alonso to first base with his second walk, and Miller's first.
That brought Dayan Viciedo to the plate with men on first and second and two outs. After taking a first-pitch fastball for strike one, Viciedo took a hack at a 78 mph curveball, but couldn't get enough on it, grounding out to Manny Machado, who tossed to Jason Kipnis covering second for the force out.
In all, Miller threw 20 pitches, 12 for strikes. His fastball looked great, his changeup amazing and his curveball serviceable.
Jason Kipnis, 2B, Cleveland Indians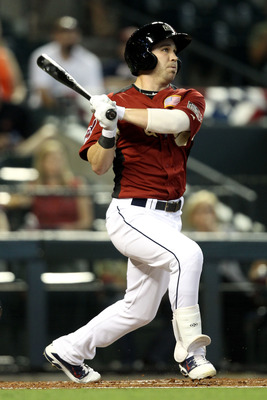 Christian Petersen/Getty Images
Scouts, experts and fans alike have been wondering how long the Indians are going to carry on with Orlando Cabrera at second base.
Not only is Cabrera hitting .252 with an on-base percentage of .279, but Kipnis is tearing it up for the second consecutive season. Building on his break-out campaign of 2010, the second baseman is hitting .297 with 14 doubles, nine triples, 11 homers and 51 RBI in 83 games. He's also drawn 41 walks and has an OBP 101 points higher than Cabrera's.
And if the Indians front-office needed further proof of Kipnis' readiness, he provided it with a 3-ball, 2-strike solo home run off of arguably the most talented pitching prospect in baseball, Atlanta's Julio Teheran. Kipnis worked the count to 3-and-2, laying off of a curveball that was out of the zone, before crushing a 93-mph fastball right down the heart of the plate just over the fence in right-field.
Kipnis grounded out in his second at-bat of the night, against Seattle's James Paxton, but his damage was done.
I'd expect to see him in Cleveland before the end of the month.
Gary Brown, Of, San Francisco Giants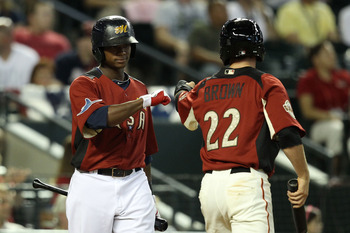 Christian Petersen/Getty Images
The rich just keep getting richer in San Francisco.
The team's first-round pick from a year ago, Gary Brown, had a terrific showing at the Futures Game. Not only did he look tailor-made for centerfield in San Fran's ballpark, but he also showed great ability at the plate and on the basepaths, neither of which should come as any surprise, considering he's hitting .316 on the season with 35 stolen bases.
Brown worked a 3-and-1 count in his first at-bat against Minnesota's Liam Hendriks, before grounding out softly to third base.
In his second at-bat he also worked the count to 3-and-1, this time against the probable second-ranked lefty in all of the minor leagues, Martin Perez from Texas, before getting a pitch he could handle, a mid 90s fastball that he lined into right-field for a single.
The damage didn't stop there, however.
Once on base, Brown took off before the first pitch to Grant Green and swiped second easily, off of Perez and catcher Wilin Rosario, who is one of the top defensive catchers in the minors, and owner of a 40 percent career caught-stealing rate.
Brown took third base on a balk from Perez, and late scored on Grant Green's RBI double that tied the game at four a piece.
I wouldn't be surprised to see Brown get a bump to Double-A before the end of the year.
Keep Reading