Chicago Cubs: Tom Ricketts Isn't the Owner Chicago Expected
July 11, 2011
Jonathan Daniel/Getty Images
Maybe Tom Ricketts deserves a reintroduction, because he's nothing like the owner that Cubs fans expected.
Things looked rosy in October of 2009, when Thomas S. Ricketts and his family took over majority ownership of Chicago's north side baseball team. After years of the Tribune Company maximizing profits first and focusing on baseball second, finally the Cubs had an owner who was passionate about winning.
Ricketts was a fan, just like the millions around the world who had suffered through year after year of disappointment. He met his wife in the Wrigley Field bleachers. 
What more could Cubs fans ask for?
Mark Cuban, some of them said. But surely, baseball never would have allowed that. The north side faithful were optimistic that they got the next best thing. Ricketts was rich, and he certainly was willing to spend whatever necessary to win a World Series. 
So why wouldn't Cubs fans be confident?
They had to be.
Less than two years later, they got to know the real Tom Ricketts.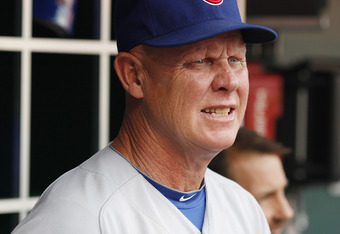 Joe Robbins/Getty Images
The first thing Ricketts did as owner was raise ticket prices. Cubs fans would pay a little extra to see a legitimate contender year in and year out. They've wasted money on tickets for over 100 years, so what's a couple more bucks?
When general manager Jim Hendry found a way to get rid of Milton Bradley, things started looking up. Bringing in Marlon Byrd and his "miracle worker" hitting coach Rudy Jaramillo made Cubs fans feel like Ricketts might have their back.
But the 2010 season went like many had gone before. The Cubs fell out of contention early, and it seemed as though the game had passed by manager Lou Piniella. Piniella retired midseason, and bench coach Mike Quade took over. 
The longtime assistant led the Cubs to a 24-13 record to end the season, all while long out of contention.
Ricketts made his first big baseball move that offseason, placing his stamp of approval on Quade to become the team's full-time manager. Ricketts passed on Cubs great Ryne Sandberg for the job, who excelled for the 80s and 90s teams that Ricketts supposedly rooted for.
A short while later, the owner forgot about his commitment to recruitment and player development, and let Hendry trade away three top prospects for Matt Garza.
David Banks/Getty Images
The Cubs hung around .500 while playing an easy schedule to start out 2011, but eventually fell straight out of the division race and became one of the worst teams in baseball. Cubs fans wanted answers, but Ricketts remained silent.
The Cubs kept losing, and it became clear that Quade was in over his head.  Even though his roster is littered with Jim Hendry mistakes, the team easily has enough talent not to have baseball's second worst record. 
What's going on Tom?
But all Cubs fans heard was crickets. Not Ricketts.
The businessman didn't talk publicly about his team until June 15, and said everything that Cubs fans didn't want to hear. 
Quade and Hendry were totally safe.  Nothing was wrong with the team, there were just lots of injuries. And of course, "We think we'll turn it around."
What about the players that are under-performing, and the manager that has no clue how to manage a pitching staff or write an effective lineup?  You have 100 percent confidence in Hendry?  Why?
Its scary to think that Ricketts could actually know less about baseball than the Tribune Company didn't care about baseball. Ricketts can preach all he wants that the Cubs are going to follow the Boston Red Sox model of success, there's just one problem: the Red Sox have an owner who knows what he's doing.
What should we expect now Ricketts?
Crickets.