Derek Jeter Has Reached Another Milestone: What's Next for the Yankees Captain?
July 13, 2011
Nick Laham/Getty Images
Derek Jeter's pursuit of hit No. 3,000 finally came to an end on a beautiful Saturday afternoon in the south Bronx. The Yankees' No. 2 hit his second hit of the game in the second inning right at 2 p.m. local time. Coincidence? Fate? We will never know.
What we know is that on July 9, 2011, Jeter drilled a pitch of Tampa Bay's David Price into the left field bleachers and became only the second player in history to reach 3,000 hits with a home run. He also became the 28th player overall to reach 3,000 hits and the first in Yankees' history. Mr. November has added yet another milestone to his glorious career.
Jeter, 37, has two more years left on his current contract with an option for 2014. The aging face of baseball's most storied franchise will be confronted with new challenges. What will the future hold for Derek Jeter?
It's highly unlikely that Jeter will rebound from his struggles on the plate. His numbers will continue to decrease and his age will sooner or later become a major obstacle, especially at the shortstop position. Moving him to the outfield? Making him the DH? The Yankees' options are limited, so what to do with their beloved captain?
Let's assume Jeter is able to contribute as the team's shortstop throughout the 2013 season and won't take the option for 2014, the Yankees would have to pay him $3 million and No. 2 would become a free agent. This means he would be able to sign with any other team or retire. Jeter wearing anything other than a pinstripe jersey seems as impossible as Pete Rose getting into Cooperstown.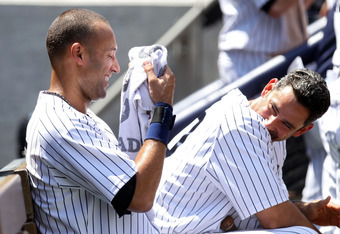 Nick Laham/Getty Images
Will he become the next Yankees' GM? Brian Cashman became the Yankees GM in 1998, and despite contributing to four titles he's most famous for overpaying players and creating conflicts and turmoil. Most recently on May 14, when Jorge Posada took himself out of the lineup before a game against the Boston Red Sox. Cashman couldn't hold back and commented the situation during the game.
"I don't know why he made a statement during the game. I don't understand that. That's the way he works now, I guess," Posada said afterwards.
Cashman, who seems to have lost his composure over the last couple of years, is in his final year of a three-year contract. Despite recent disputes with players, Cashman has what other GM's can only dream of—money to spend—so he most likely will sign an extension and stay in New York.
If Jeter can't become the 20th GM in Yankees' history, he might have a shot at becoming their 35th manager. Coincidentally, if Jeter retires after the 2013 season the Bronx Bombers will be without a manager. Joe Girardi's current contract ends 2013.
There should be no doubt about Jeter's leadership skills; he has proved it year after year. It is just difficult to imagine Jeter and Cashman as the Yankees' next manager/GM duo, not after Cashman made Jeter's contract negotiations public this past offseason.
Whatever Jeter's future will be, he is on a good way to become the next Yogi Berra, a beloved and admired baseball legend who gave his heart and soul for the Yankees.