New York Yankees: 5 Bold Predictions for the Second Half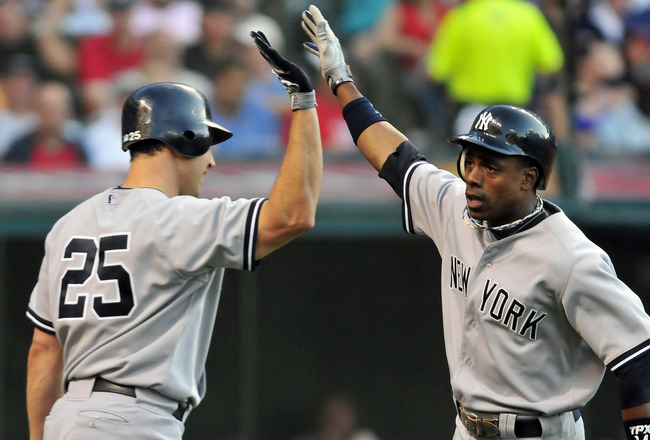 Jason Miller/Getty Images
The second half of the season is when the best baseball players and teams separate themselves from the pack. The New York Yankees have a couple of players on their roster who take this to an extreme level almost yearly.
Every year, Robinson Cano and Mark Teixeira are among the best players in baseball in the summer and fall months. The Yankees will need them both to step up even bigger this year, because Alex Rodriguez will be out up to a month with a knee injury, which will require surgery.
While the starting rotation was a question mark coming into the year, nearly every starter has been a pleasant surprise. They'll need to keep it up if the starting pitching market is as thin as it seems to be in trade season.
The bullpen has been ravaged by injuries, but the ever-consistent Mariano Rivera and the upstart David Robertson have anchored a solid unit. The only concern left there is a matchup lefty in case Boone Logan can't get the job done.
The Yankees are right where we expected them to be at the All-Star break, fighting for first place. If they want to get back to the World Series, they'll need an even stronger second half.
5. Eduardo Nunez Will Hit .300 While Filling in for Alex Rodriguez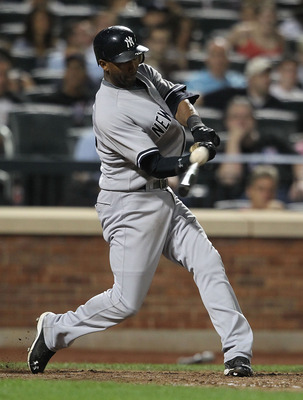 Nick Laham/Getty Images
Eduardo Nunez had his issues in the field while filling in for the injured Derek Jeter. One thing he proved while the captain was on the disabled list, though, was that he is no slouch with the bat in his hands.
Nunez had 20 hits in 59 at bats while taking Jeter's place, raising his average from .218 to .278 in the process.
Getting more consistent at bats will help Nunez regain that rhythm, and the All-Star break will help him get healthy enough to get back on the playing field.
At 26 years old already, Nunez may not be the Yankees "shortstop of the future," but he'll do just fine as a fill-in infielder for now.
He will also be counted on to hold up his end defensively on the left side of the field, now teaming up with the man whose spot he held not more than a week ago.
4. Mark Teixeira Will Hit 25 More Home Runs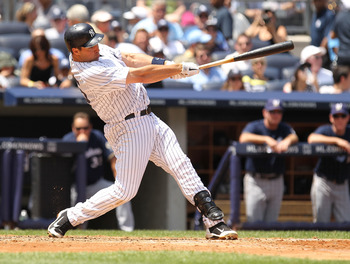 Al Bello/Getty Images
Over the last three seasons, Mark Teixeira has 55 home runs and 192 RBI in 1,020 at bats and a .267 batting average prior to the All-Star break.
After the break, those numbers go to 50 home runs and 159 RBI in just 764 at bats and a .310 batting average. That's only five less homers and 23 less RBI in nearly half a season less of at bats.
Teixeira's career high of 43 home runs came in the 2004 season, and his Yankee high of 39 came two years ago. This year, he has already tied a career high for home runs before the All-Star break with 25, and the thought here is that he'll replicate that number from July to September.
Teixeira has become known for his monster second halves, and I don't think this year will be any different. The only thing that will change is that he'll likely have Robinson Cano hitting behind him for about a month due to Alex Rodriguez's injury.
3. C.C. Sabathia Will Win 10 More Games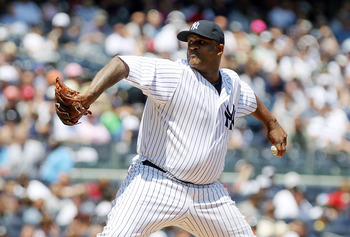 Nick Laham/Getty Images
Carston Charles Sabathia gave himself a nice springboard to a big second half with a dominating performance in a win over the Tampa Bay Rays on Sunday.
C.C gave up just four hits in nine innings and struck out nine on his way to a complete game shutout,
He'll come back after the All-Star break fresh and ready to go after he was shockingly not voted in despite leading all of baseball in wins with 13. Sabathia has been the anchor on the Yankees' staff since he signed in New York, and has more than justified the big investment they put in him.
If he can keep it up, he may opt out of his current deal, but don't expect him to leave the Bronx. The Yankees have a chance to win it all every year, and they'll pay him what he's worth, too.
2. Mariano Rivera Will Pass Trevor Hoffman as All-Time Saves Leader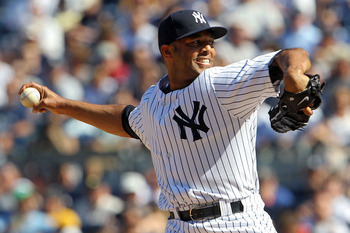 Michael Heiman/Getty Images
Nearly every year, people start to chatter about how the end has to be coming soon for Mariano Rivera.
And then nearly every year, he goes out there and proves them wrong by throwing up numbers that look eerily like his numbers from all the seasons before it.
Mariano has been the very definition of consistency for his entire career, and this year has been no different.
He's got 22 saves at the All-Star break, and another 20 will put him in a tie atop the all time saves list with the great Trevor Hoffman.
There should be no other way to end this season that will have included Derek Jeter's 3,000th hit than with Mariano becoming the all time leader in saves.
They came up to the majors the same year in 1995 and have been together ever since. It would be fitting for them to both accomplish the biggest milestone of their careers in the same season.
1. Derek Jeter Will Finish the Season at .300 or Better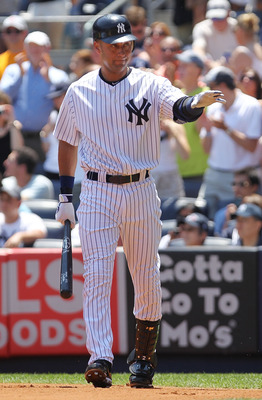 Nick Laham/Getty Images
Derek Jeter's season is already a memorable one, but his numbers so far make this one of the worst statistical seasons of his career.
However, in the six games since he came off the disabled list, Jeter has been red hot. He has 10 hits in the 23 at bats since he came back, including Saturday's 5-for-5 masterpiece which included hit number 3,000.
His batting average is up to .270 now and is creeping toward that always familiar .300 mark.
With the pressure of 3,000 behind him and manager vote Girardi's confidence in batting him first not wavering, Jeter could be in for a nice run over the second half of the season.
Keep Reading

New York Yankees: Like this team?