Baltimore Orioles: Have They Hit Baseball's Rock Bottom?
July 10, 2011
Jim Rogash/Getty Images
The last 24 hours of so have been very telling for the Baltimore Orioles. Even as an outsider looking in at this team I wonder how things have gotten so bad.
Being a Nationals fan, I felt some of the same pain that Orioles fans have felt for the past decade since the revival of baseball in DC, but even for me it is hard to imagine the decade and a half or so of futility that the fan base has collectively endured.
I actually see more Orioles games than Nationals game due to being in closer proximity to the Birds than the Nats and would like to give my point of view on where the Orioles are and where they should go from here.
I'm not sure how all of this will look in the end, but hopefully it will at least be an interesting read and not be a complete misrepresentation of where the Orioles are and where I feel like they should be heading and how they can get there. 
As virtually every Oriole fan knows by now, David Ortiz of the Boston Red Sox and Kevin Gregg of the Orioles "threw down" last night in the Red Sox blowout of the Orioles. The Orioles are losers of six straight in which they have allowed 54 runs, while scoring just 18 in comparison.
Frustrations boiled over for the Orioles and Gregg, who are tired of being the punching bag for the AL East elite who are comprised of superstars both home-grown and acquired.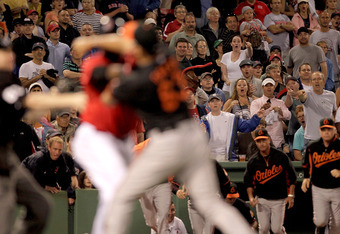 Jim Rogash/Getty Images
In short, Gregg threw inside on Ortiz multiple times, trying to back the DH off the plate before Ortiz started to approach Gregg and benches cleared before warnings were issued.
Ortiz eventually popped out and slowly started jogging to first which Kevin took offense to and after briefly exchanging words. Ortiz charged Gregg and several ejections were issued.
The most telling aspect of all of this are the comments made by the Orioles after the game which contained name calling, and general frustration about being picked on by the bullies of the East, which in last night's episode were the Red Sox.
After a decade of losing, the Orioles may be the only team standing with over 10 years of consecutive losing after this season with the much improved play of the Pittsburgh Pirates.
So, at 36-51 and with a pitching staff that strongly resembles the make-shift ones of past Nationals and Pirates teams, where do Orioles fans look for hope?
The Orioles do have a young core of players who are building blocks:
CF- Adam Jones
RF-Nick Markakis
C-Matt Wieters
3B-Mark Reynolds
SS-J.J. Hardy
RHP Jim Johnson
As well, they have a group of young players who have great potential and have shown it, but not for long enough to establish themselves:
LHP Zach Britton (just optioned to AA)
RHP Jake Arrieta
LHP Brian Matusz
OF Nolan Reimold
RHP Jason Berken
Then there is a group of established veterans who aren't are in Orioles long-term plans:
RHP Jeremy Guthrie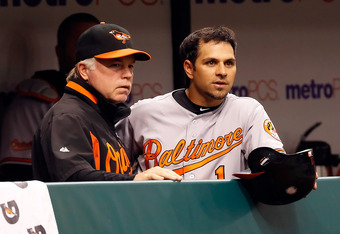 J. Meric/Getty Images
OF/DH Luke Scott
RHP Kevin Gregg
1B Derrek Lee
DH Vladimir Guerrero
RHP Koji Uehara
LHP Michael Gonzalez (fringe)
There is no denying that the Orioles have a solid core of players to build around, but not only to the Orioles lack star power, they lack a real clubhouse leader.
They have holes everywhere. Their rotation coming into this season was built around one above-average starter and a group of unproven, young, yet high-ceiling arms.
The problem is that is a house of cards that was almost certainly going to crash down on them. The Orioles insurance policy was RHP Justin Duchscherer, who is a great arm and has been a great pitcher for a while now, but he can never stay healthy and has been hurt all year.
I can't totally blame the Orioles because very little great starting pitching was available this past off-season, but the Orioles only have themselves and poor scouting, drafting and player development to blame.
The more I look into this club's struggles the more I seem to be wondering how the organization's player development could be so poor. This club reminds me of the San Diego Padres in terms of selecting first round talents over the past decade. Let's review each team's picks from 2000-2008 of #1 overall selections:
Orioles:
2000: RHP Beau Hale
2001: LHP Chris Smith
2002: LHP Adam Loewen
2003: OF Nick Markakis
2004: RHP Wade Townsend
2005: 1B Brandon Snyder
2006: 3B Billy Rowell
2007: C Matt Wieters
2008: LHP Brian Matusz
Padres:
2000: LHP Mark Phillips
2001: 1B/3B Jake Gautreau
2002: SS Khalil Greene
2003: RHP Tim Stauffer
2004: SS Matt Bush
2005: RHP Cesar Carillo
2006: 3B Matt Antonelli
2007: LHP Nick Schmidt
2008: 1B Allan "Cutter" Dykstra
Now, I do believe the Orioles have had the better drafts over that last 10 years or so, but having only netted themselves two players they can depend on (Markakis, Wieters) and one who the jury is still out on (Matusz), something has to be done about how the Orioles draft and develop talent.
I understand that drafting and developing players in baseball is the hardest to do of the four major sports but that still doesn't excuse how the Orioles have missed on so many talents over the past 10 years are so.
I didn't even include 2009 and '10 because I feel as though that isn't fair because most prime talents take 2-3 years to develop and reach the ML level.
Adding 2009 would also bring Matt Hobgood to the table, and Orioles fans are already smelling bust with him due to multiple injuries and big dips in velocity since being drafted fifth overall over two years ago.
The point is that the Orioles need a complete overhaul of their scouting and player development departments because they are picking the wrong players, or failing to develop talented players or both.
Even looking at the Orioles minor league system as it is now leaves nothing to be excited about for the next few years to come, outside of last year's #1 pick in Manny Machado, and he is at least two full years away if not three or even four, considering that he is still just 18 and struggling at Advanced A ball.
I can look at most team's systems and find at least two or three players who are at AA or AAA and starting to knock on the door.
There is the relief pitcher at of UCLA the Orioles draft last year in Dan Klein, but he is likely done for the season, much like how the Orioles were feeling good about Luis Lebron before he had Tommy John about two years back.
Klein's injury is a labrum tear though and is not as serious of an injury from my understanding, but back to my point...
For my Nationals, behind Bryce Harper there is AA pitcher Brad Peacock who at 23 is leading all of the Minor Leagues in strikeouts, and Tom Milone at AAA who was the team's Minor League Pitcher of the Year last year having struck out over a 100 with only a hand full of walks and a mid 3's ERA.
There is even Tyler Moore at AA Harrisburg with 17 Home Runs already in his first stop at the AA level.
Even teams like the New York Yankees have an arguably better farm system. Jesus Montero has been knocking on the Yankees's door for over a year now.
Then their is 20-year old AA Trenton Thunder LHP Manny Banuelos having a solid season with a mid 3's era and decent strikeouts numbers. Who do the Orioles have at this point that is really close?
I will say that the Orioles had the player at the start to the season in Zach Britton, but after starting strong he is already back in the Minor Leagues. After him there is what...? That is the Orioles biggest problem.
Even the Yankees and the stubborn George Steinbrenner eventually realized that they need to put a fair amount of their attention into developing their Minor League system.
The Yanks started paying attention to that sort of thing (ironically) following the Buck Showalter era and it helped lead them to their stellar run in the late 90's to early 2000s as they blended young talent with proven veteran leadership into a legendary playoff run.
As I've stated thus far, the Orioles like any ML club have building blocks. They need to secure the building blocks that don't have long-term deals and move forward. That group would include: Jones, Hardy, Reynolds, Wieters, and potentially Johnson.
The Orioles have to find out what their young pitching staff is made of by acquiring some sort of staff ace or a series of veteran workhorse arms. I don't see the need for the O's to have more than three young, developing arms in their rotation with so many glaring holes both in the offense and bullpen. I feel as though the Orioles should try to find two starters to complement their young talent.
You might now be thinking, "What about Guthrie?" That for me is up in the air.
If Guthrie (much like Scott) can get hot before the July 31 deadline, the Orioles need to get all they can get for those two guys as they could fetch the biggest returns when playing well as they both can be dominate and valuable pieces when "locked in," so if either or both do can manage to do that, then the Orioles need to sell, sell, sell.
I do believe the Orioles also need to trade Vlad and D. Lee for whatever scraps a contender is willing to throw their way if any are willing to add him to their roster.
For the other players I outlined as not being long-term Orioles, I don't believe in trading the likes of Koji Uehara and Kevin Gregg who have proven valuable to the club.
Resigning Uehara should be a priority for this upcoming off-season. I personally would love to have Uehara on my team. He doesn't have overpowering stuff and yet he is a great big-game reliever.
For the 2011-12 off-season and beyond, the Orioles need to answer the following questions:
1. Who's on 1B?
2. What is Brian Roberts' status, and is it time to part ways? 
3. Who gets added/subtracted from the starting rotation?
4. How can we improve our drafting and developing of young amateur players?
5. Who is the face of this franchise (player-wise)?
6. Are we willing to overspend for the likes of Fielder and C.J. Wilson to gain added star power and improve the team's lineup and/or relieve pressure on the young pitchers?
7. Is Nolan Reimold still a potential piece in our future plans or is he the next Lou Montanez?
The Baltimore Orioles honestly looked close to being something special at the end of 2010 as the Buck Showalter era began.
The offense was clicking, the starters were going deeper into games and making big pitches when needed and the team just had uncanny chemistry that was hard not to notice and yet, despite a better overall record than a year ago, the team seems more lost than ever.
The Minor League system is near bare, and the team has started to get their brains bashed in on an almost nightly basis with guys like Alfredo Simon and Chris Jakubaukus starting.
Where do the Orioles go from here? That depends on if they have hit bottom yet. If they have, then their is only up from here, it not, hold on to your hats, O's fans.
I believe the team will have an overhaul of some sort and that things are looking up after the recent drafts of Machado and Bundy, but how long before any of that materializes is unknown.
Hopefully, I am wrong about the Orioles scouting and development personnel, but I don't feel as though I am. The Orioles aren't a year away and likely aren't two or even three, but hopefully Buck Showalter can be the Orioles' Bill Parcells and help build the team up from the rubble, but who knows?
My biggest hope is that the Orioles can put a winner on that field long enough for a group of young fans to grow up to enjoy and love the game and the incredible ballpark that they have the privilege visiting year after year in Camden Yards while it is still in its glory. After almost two decades, it is still one of the best ballparks around. 
Now, I'd like to thank you for reading and all their is left is to see how off-base or on point I am. Comments?