St. Louis Rams: Will Fendi Onobun Take Autobahn to Stardom Like Antonio Gates?
July 9, 2011
Handout/Getty Images
Fendi Onobun's own website reads:
At 6'6" and 260 pounds, Fendi has the potential of being one of the league's elite tight ends in the NFL. His size, natural athletic ability and speed gives him the intangibles of a prototypical star in the making. In only his second year of football since the seventh grade, he has already beaten the odds and has overcome the obstacles of playing the game at its highest level. "It's my faith in my Lord and Savior Jesus Christ that has carried me through this athletic journey," he says.
Although the above statement could obviously be biased coming from his own website, few doubt that "his size, natural athletic ability and speed gives him the intangibles of a prototypical star in the making."
Obviously, when looking at his height and pro day numbers, (as touched on below), he undoubtably possesses more than enough size, athleticism, and speed to succeed in the NFL. 
However, there is another thing that is obvious: He had all of two receptions in one year of college football—his first year of football since seventh grade—and is a raw talent facing an uphill battle to not only find his way to stardom, but to simply make a career of any kind as an NFL player.
Onobun was a sixth-round pick, and the Rams knew he would be a project. However, rolling the dice on a talented player is not that uncommon in the fifth, sixth and seventh rounds, where teams are more likely to gamble on players like Onobun.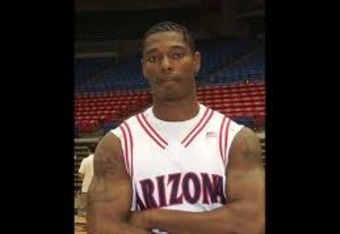 Hopes aren't often high for sixth rounders, but there is something different about former college hoopers who transition to the NFL tight end position: It's been done before with great success.
After all, Pro-Bowler and likely Hall of Famer Antonio Gates was not drafted in any round—he was signed as an undrafted free agent. 
So, talk of Onobun potentially contributing at some point as a weapon in the passing game is not absurd. It's been done before, both with Antonio Gates and future Hall of Fame lock Tony Gonzalez.
Although Gonzalez did play both basketball and football at Cal, Gates had even less college football experience than Onobun: none. 
Lance Kendricks was drafted in the second round in 2011. Michael Hoomanawanui was drafted in the fifth round in 2010. Both are locks for roster spots. If Daniel Fells is re-signed, he is close to a lock as well.  
That likely leaves Onobun to battle with veteran blocking tight end Billy Bajema for the team's final tight end spot.
With the Hall of Fame careers-in-the-making of Gonzalez and Gates, it's crazy not to consider it possible that Onobun could, theoretically, become the next individual to transition from college basketball player to great NFL tight end.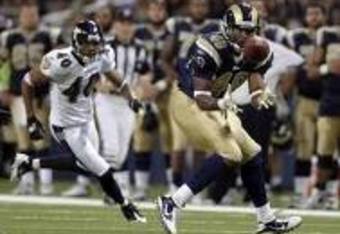 If he does make it in the NFL, it will be because he refines his route-running and receiving skills while utilizing his well-above-average (for the position) height, speed, and leaping ability in the passing game. With that said, he has to be at least adequate as a blocker. Onobun, wisely, has been working on his blocking this offseason as well, as reported by turfshowtimes.com.  
So how could Onobun earn a roster spot and contribute in St. Louis this season?
First of all, he needs to have a great training camp. He will have to show the ability—among other things—to block, run refined routes, show good hands, and make plays in the preseason. 
If he is lined up occasionally off the line of scrimmage, that would make him more versatile and reduce his snaps as a blocker, something he has not yet become proficient at. Tight ends with his athleticism are seemingly used more and more in this manner. If offensive coordinator Josh McDaniels sees him being an option in space, it bodes well for Onobun.
If he makes the team, he will likely need to contribute on special teams. If you remember, he played on special teams last season and would likely be called upon to do so again. If he can make plays there, it solidifies his roster spot.
Offensively, at least two things could set him apart.
One: He's 6'6" and leaped 37.5 inches at his pro day at 252 pounds. He showed more great explosion leading all prospective tight ends with an 11'1" broad jump. These numbers, (along with that 6'6 frame), indicate a potentially powerful red zone force, something the Rams have been lacking.
Two: He's a burner for a tight end, clocking in at 4.48 at his previously mentioned pro day. He has the potential to be a big-play guy, racking up those highly coveted explosion plays. He will have the ability to beat man coverage over the top or to outrun defenders for extra yards after the catch.
If the Rams split him off the line, do defenses put a linebacker on him who Onobun could, in most cases, run by? Do they put a DB on him who would normally be giving up a half-foot-plus to Onobun? 
In short, the potential matchup dilemmas he could pose to a defensive are scintillating. 
If the Rams see the likelihood of Onobun contributing this year, it makes it less likely that Fells is re-signed. If that's the case, it becomes likely Onobun is on the opening day roster for the Rams. If the Rams go with three tight ends—and that's probably unlikely—the belief here is that he will beat out Bajema for a roster spot. 
If they keep four tight ends, Onobun's a virtual lock to land with the Rams in 2011 and become a spot weapon—at least—for McDaniels and his offense. McDaniels is creative in his usage of tight ends and tends to like utilizing them in the passing game.  
As Michael Hoomanawanui said, according to the St. Louis Post-Dispatch:
"The proof is there...What New England's done with their tight ends, hopefully we can do that this year."
Whether Onobun makes the Rams in 2011 remains to be seen. If he does, look for McDaniels to find ways to use him in the passing game, create mismatches, and maximize his abilities as at least a spot weapon for the St. Louis offense.
Shane Gray is a long-time St. Louis Rams fan and covers the Rams year round. To check out the rest of his work, click: http://bleacherreport.com/users/582932-shane-gray