NFL: Worst Field Goal Misses in Postseason History
Jim McIsaac/Getty Images
It's that moment when fans hold their collective breath. It's the end of the game or overtime and your kicker lines up to hit, what would be a winning field goal.
Okay folks, this is what it all comes down, Jimmy Kicker lines up for a 41-yard field goal with four seconds to go. If he hits it, they are on their way to the Super Bowl.
Here's the snap, the hold is good, the kick is up and it's…
Wide right! In the words of Dick Enberg, "Oh my!"
Here are some examples of the worst postseason field goal misses of all-time. There may have been some that I missed, so apologies in advance.
There is no ranking, they all hurt, so I decided to work most recent to oldest.
Jan. 9, 2011: Green Bay Packers vs. Philadelphia Eagles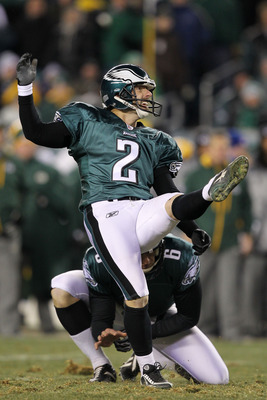 Al Bello/Getty Images
In a NFC Divisional Game, the always reliable David Akers missed two field goals (41, 34), both sailing right. The Eagles lose the game 21-16.
Prior to that game, Akers had an 81.9% average.
Jan. 9, 2010 : Cincinnati Bengals vs. New York Jets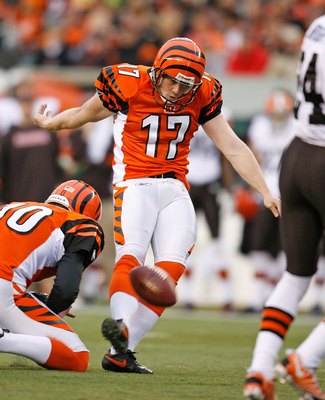 Andy Lyons/Getty Images
In the AFC Wild Card game, the Bengals Shayne Graham missed two field goals. Even though neither field goal was a game tying attempt, they would have possibly changed the complexion of the game.
When Graham missed a chip shot 28-yard attempt to possibly close the gap to 24-17, it basically spelled the end for Graham. He was not re-signed after the season.
Jan. 17, 2010: San Diego Chargers vs. New York Jets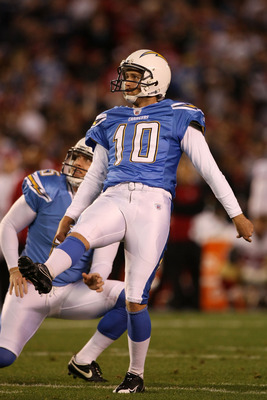 Come on baby, hook!
Donald Miralle/Getty Images
In the AFC Divisional Playoffs, Nate Kaeding, one of the most accurate kickers in NFL history, missed three field goals (37, 57 and 40). The Jets won the game 17-14.
It may have not been a game-ending kick, but the three missed kicks doomed the Chargers' chances of moving on to the Championship game.
Jan. 6, 2007: Dallas Cowboys vs. Seattle Seahawks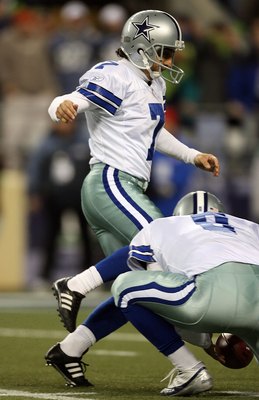 Hang on a second, I got it!
Otto Greule Jr/Getty Images
In the NFC Divisional Game, this simply became known as the kick that never happened. With 1:19 left to go in the game, the Cowboys lined up for an extra point that would have tied the game. The game was Seattle 21, Cowboys 20. If the Cowboys make the extra point, the game most likely goes into overtime.
Quarterback Tony Romo botched the snap and then attempts to run it in, but is stopped short.
No, it's not a missed field goal, but enough to warrant making the list. After the game Romo said, "I take responsibility for messing up at the end there. That's my fault. I cost the Dallas Cowboys a playoff win, and it's going to sit with me a long time. I don't know if I have ever felt this low."
Source: http://en.wikipedia.org/wiki/National_Football_League_playoffs,_2006-07#NFC:_Seattle_Seahawks_21.2C_Dallas_Cowboys_20.
Jan. 15, 2005: New York Jets vs. Pittsburgh Steelers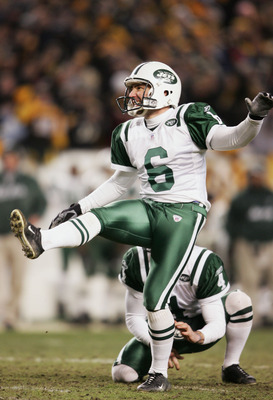 Come on baby, one time!
Andy Lyons/Getty Images
In the AFC Divisional Game, Jets kicker Doug Brien missed two consecutive field goals, one in overtime. The Steelers won 20-17. Brien was released after the season.
It was a heartbreaker for the Jets, who had completely outplayed the Steelers, but that is the nature of the game, and oftentimes heartbreak waits right around the corner and hits when you least expect it.
Jan. 17, 1999: Atlanta Falcons vs. Minnesota Vikings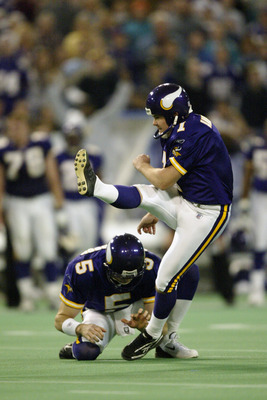 Elsa/Getty Images
In the NFC Championship Game, Gary Anderson, who hadn't missed a kick all year, missed a 38-yard field goal to put the Vikings up by 10. The Falcons scored, sending the game into overtime. The field goal would have assured the Vikings a win and send the Vikings to their fifth Super Bowl in franchise history.
There are some games we can't seem to erase, and this is one of those. Truly, I sat in silence for about two hours after that game. We were "supposed" to go the Super Bowl. I was ready to head down to Miami to watch one of the greatest games between two truly prolific offenses.
Instead, the Falcons go and lay an egg against the Broncos, assuring John Elway two Lombardi trophies.
Super Bowl XXV, Jan. 27, 1991: Buffalo Bills vs. New York Giants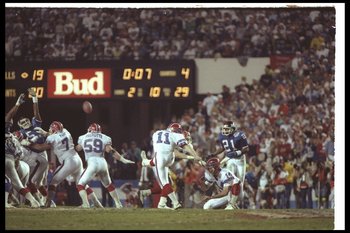 Sorry Bills' fans
Mike Powell/Getty Images
Scott Norwood missed the game-winning field goal with seconds left to play, the 47-yard attempt sailed right. No need to go into detail on this one, Buffalo fans are still in mourning.
Take solace, Bills fans, been there many times.
Keep Reading

New York Jets: Like this team?